Do you have some programs installed on your computer that you don't want anyone to know about? If that is the case, then you can hide programs from showing in the Control Panel and Settings so that others will not know that they are installed, nor will they will be able to uninstall or remove the program. In this post, we've covered a few methods to hide Programs from Control Panel and Settings app. By hiding a program, no one can find out if you ever installed it and the program will no longer be available for uninstallation.
Hide Programs from Control Panel in Windows 11/10
You can hide one or all the installed Programs in the Control Panel and Settings as well so that others will the will be able to uninstall or remove the program, using the following methods:
Create a new DWORD SystemComponent in Windows Registry,
Enable Hide Programs and Features page setting in Group Policy
Use a freeware called Hide from Uninstall List.
Lets us see each of these methods in detail.
1] Hide a specific program from Control Panel using Windows Registry
The Windows Registry is home to many such tricks and hacks. And this just happens to be one of them. To hide a program from the control panel, use the following steps.
Press Win+R and type regedit and hit Enter to open the Registry Editor.
Now navigate to the following key:
HKEY_LOCAL_MACHINE\SOFTWARE\Microsoft\Windows\CurrentVersion\Uninstall
If you are looking for an application which is 32-bit and your system is 64 bit you should navigate instead to:
HKEY_LOCAL_MACHINE\SOFTWARE\Wow6432Node\Microsoft\Windows\CurrentVersion\Uninstall
Now inside this folder, locate the folder for the application that you want to hide.
For example, let us try hiding VLC Media Player. Right-click on the application folder, select New and then click on DWORD.
Name the new value as SystemComponent and give it a value of 1.
Now you are all done, try locating the application in Apps & Features section in Settings app or Control Panel. You can follow a similar approach for hiding other applications. You just have to create a SystemComponent DWORD in that registry folder.
2] Hide all Programs using Group Policy Editor
This is a slightly easy method but has its downside. You can hide all programs by modifying a Group Policy. Doing so would hide all applications and prevent users from uninstalling any application from your computer. Follow these steps to disable uninstallation of all applications on your computer.
Press Win+R and type gpedit.msc and hit Enter to open the Group Policy Editor.
Now go to the following setting:
User Configuration > Administrative Templates > Control Panel > Programs
Double-click on Hide Programs and Features page. In the new box which opens, select Enabled and click Apply.
That is, it, now try uninstalling an application from Control Panel. You will get a message saying Your system administrator has disabled Programs and Features. Doing this will also hide the Apps and Features page in the Settings app which offers another way of uninstalling applications.
3] Using Hide from Uninstall List freeware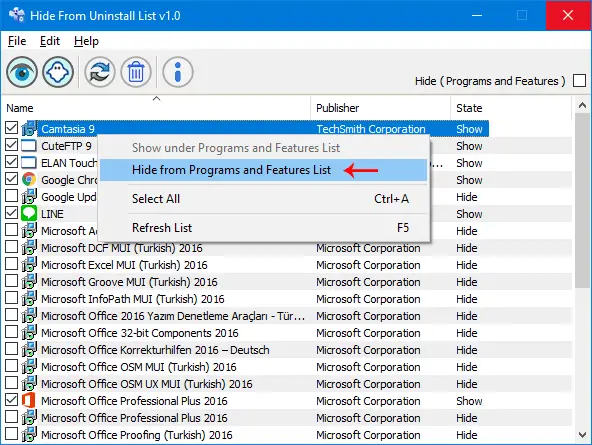 Hide from Uninstall List is a freeware which can be used for the same purpose. It is a very intuitive tool and can let you hide applications from Control panel and Settings app. It is a replacement to both the manual ways mentioned above.
To hide an application, all you need to do is select it from the list then right-click and select the Hide option. Similarly, you can disable hiding and make the application visible again in uninstall lists. It also supports disabling the Programs and Features page, to do so enable the checkbox above the program list.
The tool is super simple and lets you quickly do the job. If you want to hide/unhide the applications quickly and repetitively, I would suggest using this tool instead of manual methods. Click here to download Hide from Uninstall Lists.
These were three quick methods to prevent uninstallation of an application. You can use any of them to your rescue. Remember, all these methods involve playing around with your system so make sure you take a backup before you modify anything.