Having hardware support capabilities like a camera and microphone in your Windows 10 lets you make Skype video calls, record videos, and do more. Many third-party apps like Facebook Messenger and other services require access to the camera or microphone for enabling their special features. However, sometimes, when someone tries to video chat with a friend on Facebook, they end up seeing an error message on their screen –
An error occurred when trying to get access to Camera and/or Microphone: Hardware Access Error.
Facebook then deliberately attempts to bring the customer to a support page, suggesting some basic troubleshooting tips like making sure no other apps are running in the background, checking Internet connection, restart browser and computer and others.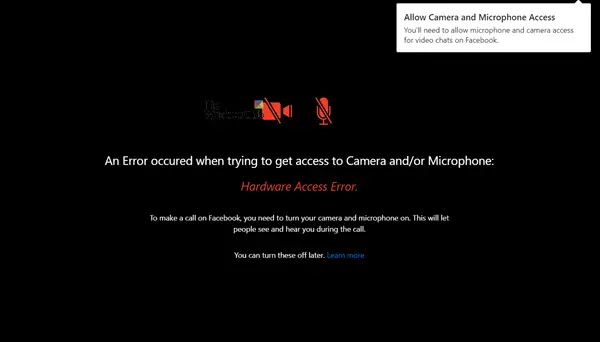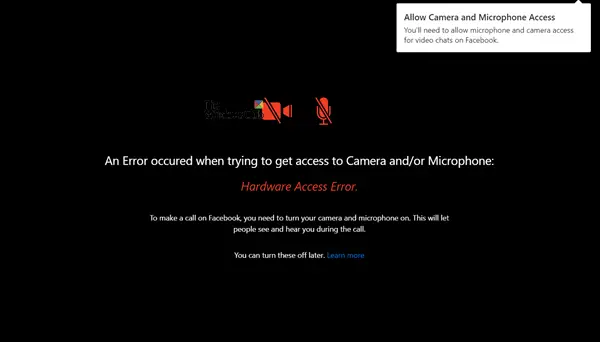 This is not a problem with Microsoft's very own app – Skype. It works just fine! If you are facing this issue, this guide will help you tide over the problem.
Hardware Access Error when using Facebook Messenger
If an error occurred when trying to get access to Camera and/or Microphone – Hardware Access Error – when using Facebook Messenger in Windows 10, then read on.
Press Win+I to open Settings. Select Privacy > Microphone.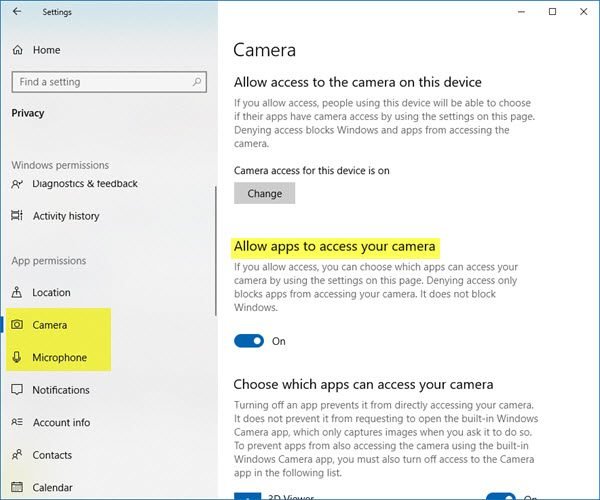 Make sure that "Allow apps to access your microphone" is set to the On position. Do the same for Camera.
This should help.
If it does not, create a system restore point and then type 'regedit.exe' in the search box, right-click and select 'Run as administrator' option.
When the Registry Editor opens, navigate to the following address on your Windows x64:
HKEY_LOCAL_MACHINE/Software/WoW6432Node/Microsoft/WindowsMediaFoundation
Double-click the folder to expand its menu and go to the sub-tree below.
Select 'Platform folder'. If the Platform Key is not available, right-click on WindowsMediaFoundation and select New option to create one.
Now, switch to the pane on the right-hand side and right click any empty area to create a new 32-bit DWORD.
Set the name of this 32-bit DWORD as EnableFrameServerMode.
When done, double-click the value 'EnableFrameServerMode', change its value data to 0, and click OK button to save changes.
That's it!
Hereafter, you should not see the 'Hardware Access' error.