Storing your important files and folders on Cloud has become a lot more convenient. Services like Microsoft OneDrive, Google Drive, and Dropbox offer reasonably affordable options to get started. Once uploaded, the files, can be accessed from anywhere just by opening the website or its corresponding app. An unbiased comparison between Google Drive and Dropbox by us may help you choose the right service.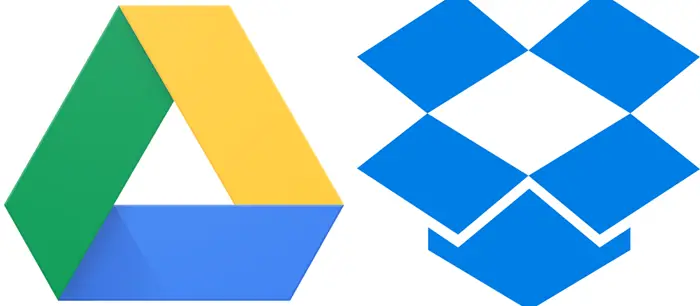 Google Drive vs Dropbox comparison
The best part of using a cloud storage service for storing files and folders is you can view and edit your file types from virtually any computer without having to install applications on your local computer. We'll compare the 2 services based on the following,
Free storage space availability
Paid Storage space availability
File Size uploading limit
Sharing and Collaboration
Search Support
Syncing options
Let's get started!
1] Free Storage Space availability
In comparison to Dropbox which grants users just 2 GB of free storage space, Google Drive offers the first 15GB of storage for free. So, when it comes to free space availability, Google Drive offers a better option to store, share, and access your files and folders from any mobile device, tablet, or computer.
2] Paid Storage space availability
If you would like to upgrade from a free storage service to a paid one, Google Drive has plans for you starting from as low as $2 approximately (100 GB) to $9 (2TB) for a monthly subscription. The latter includes benefits like access to Google experts, an option to add your family, and other extra member benefits. You can even choose to prepay the entire amount annually!
Dropbox has similar plans for a single user (Plus) and multiple users (Family). Dropbox Plus monthly subscription for $9.99 (when billed yearly) gives you 2,000 GB of encrypted cloud storage for a single user whereas its Family plan for $16.99 / month offers the same amount of space, shareable by up to 6 members. In Family Plan, a single person, the Family manager is assigned with the task to manage the billing and memberships for the entire members. If you need Dropbox for work, Try Dropbox Professional.
3] File Size uploading limit
In the case of Google Drive, an individual user can only upload 750 GB each day between My Drive and all shared drives. Users who reach the 750-GB limit or upload a file larger than 750 GB cannot upload additional files that day.
On the other hand, files uploaded to dropbox.com have a maximum file size of 50 GB but there's no file size limit for files uploaded through the Desktop or mobile apps.
4] Sharing and Collaboration
Google Drive is a safe place to back up and access all your files from any device. You can also invite other users who have a Google account to view, edit, or leave comments on any of your files. Moreover, you can share your storage across Google Drive, Gmail, and Google Photos.
Dropbox service has a unique collaboration feature it calls Dropbox Paper. With Paper, the members of the Dropbox Team can centralize their work in one collaborative environment. They can share everything from team meeting agendas to project outlines. And it's easy to add images, video, and even code to team projects. You can even seamlessly embed SoundCloud clips and YouTube links.
5] Search support
Google Drive embeds powerful search capabilities that offer unmatched speed, performance, and reliability. Its AI feature – Priority helps users find relevant files and suggest certain measures based on their own day-to-day actions.
Similarly, you can search for content in your Dropbox account by name, file extension (for example, .docx or .xslx) or a person who edited the content. In addition, you can filter your search by the type of folder the file is located in, and content type (for example, Document or Image files).
6] Syncing options
Fast syncing can help you save space and the maximum individual file size that you can upload or synchronize with your Google Drive account is 5 TB.
When using Dropbox you can save a file to the Dropbox folder on your computer and it will automatically synchronize across all your devices. Moreover, the service's cloud file syncing makes the synced file available across multiple platforms (Windows and macOS).
That's all there is to it!
If you have any questions, ask them in the comments section given below!