Data can be anything ranging from a simple array of numbers to a set of complex data obtained through sophisticated sensors. Visualizing complex data can be sometimes difficult and data journalists often face difficulties in representing complex data. While there are many other forms of representation available like charts, images, diagrams and etc. Let me introduce you to the most upcoming form of data visualization and that is Data GIFs. Data GIFs can accommodate a variety of data and the all-new Data Gif Maker by Google News Lab lets you make these Gifs that can compare two topics.
Google Labs Data GIF Maker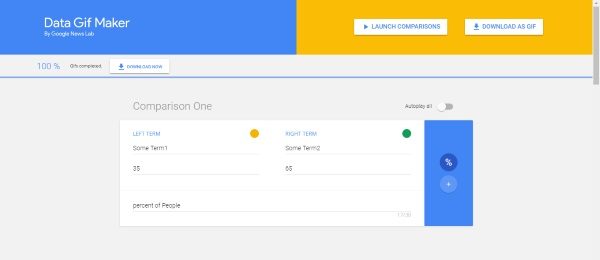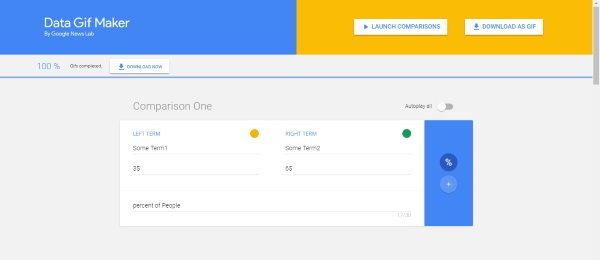 Recently in a blog post, Google revealed this amazing tool to the public. Data Gif Maker is a pretty simple neat tool that lets you create visually aesthetic Gifs for two competing topics. You can create up to 5 comparisons in a go and also change a few other settings.
To create a Gif, all you need to do is open Data Gif Maker in a browser window. Enter the left term for comparison and then the right one. Now all you need to do is enter the corresponding data value. And in the third field enter the description for the data point and you are almost done.
Now choose the colors corresponding to both sides and then the data sign. You can choose between a percentage symbol or a plus sign. When you are done, hit the 'launch comparisons' in the upper right area to view the comparisons in your browser. Alternatively, you can download these Gifs so that you can use them somewhere else in your presentations, blogs and etc,
Very similarly you can enter the data for the remaining four comparisons and create a Gif altogether. While you choose to download the Gif, the web app will prompt you to choose between a low-resolution or a high-resolution Gif file. You can choose a resolution based on the target device you are going to display the Gif.
Once you hit the Download button, it will take up some time to generate and download the file. And to my surprise, the final gif file works flawlessly well and does not have any kind of watermarks or any other branding. The app generates a nice and beautiful Gif file that you'd be pleased to use on your blog.
Click here to go to Google Labs Data Gif Maker.
To be honest, I was expecting a bit more out of this free online tool to create GIFs. Maybe in future updates, we will be able to see some more functions and the ability to handle more types of data. And also generate more complex Gifs. If you are looking forward to some tool that can help you create beautiful data visualizations for any poll, survey or comparison that you conducted then this might be the perfect tool for you.
How do you make a data GIF?
To make a data GIF, you can make use of Data GIF Maker from Google Labs. It is a freeware and online tool that you can use to get things done within moments. Talking about functionality and security, you can expect it to be top-notch. However, you must have a Google account to use this app.
How do I make a GIF with Google?
To make a GIF with Google, you need to use the Data GIF Maker from Google Labs. You can visit this website to give it a try: datagifmaker.withgoogle.com. Whether you want to create a rectangle, circle, and racetrack, you can do everything with the help of this online tool from Google.