If you do not want to use the "Social", "Promotions", etc. tabs in Gmail but instead want to create tabs for Gmail labels, then this guide will show you what you need to do. There is a Chrome extension called Gmail Tabs, which can help you achieve this easily.
If you get tons of email every day from work, friends, etc., it might be quite difficult to manage them all. Thanks to Label in Gmail, you can organize your emails easily. A label is like a category. You can move email from Inbox to different labels according to your wish. For example, you need to reply to an email but you do not have time right now. In that case, instead of keeping that email in Inbox, you can create a label and move the email from Inbox to that label so that you can keep the mail in mind and reply back whenever possible.
However, the drawback of this functionality is the position where Gmail shows all the labels. It shows them in such a position, you can even forget about that label if you have created lots of labels. Therefore, you can turn the important labels into dedicated Tabs in your Gmail interface so that you can see them all the time. To make things easier, you can install the Gmail Tabs extension in Google Chrome.
Gmail Tabs converts Labels to Tabs in Gmail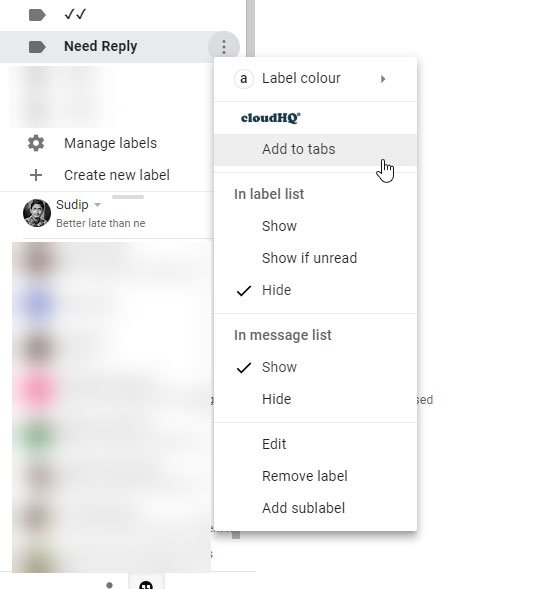 Download and install it on Google Chrome. That is the first step. After installing, open up your Gmail account. Now, you need to select a label on your left-hand side, click the three-dotted button, and select Add to tabs.
That's all!
Now, you can find the tab right next to the Inbox tab.
The best thing is you can add as many tabs as you want. To check email of any particular label, you need to switch to that tab. Another good thing of this extension is that if you have multiple email addresses, and you often sign in to them from your Chrome browser, you can find the options across all the accounts.
If you want to remove any label/tab, you can click the same three-dotted button and select Remove from tabs.
If you like this useful Chrome extension, you can download it from here.