The internet is the home to countless free video editors, and because of that, many good ones fall under the radar. And that is why from time-to-time we will focus on a particular video editor that we believe is good enough to discuss. Now, the video editor in question here is called Gihosoft Video Editor, and it is free to download and use.
Cut and join videos with Gihosoft Video Editor
We should point out that Gihosoft is not the type of video editor that comes with a ton of features. In fact, it is quite basic. If you want to cut and merge videos, then this editor is good enough. However, if you feel compelled to perform other advanced actions, then this is not where you want to be.
Download and install Gihosoft Video Editor
The first thing you will want to do is download and install it.  The size is a little under 40MB when downloaded but larger after installation. You will need more than 130MB of free space on your hard drive to install it.
Add video files
OK, so in order to add a video file, you will need to click on the Add Files button at the top-left corner of the app. Select your video, then hit Open to have it added to the work area.
To the right, there's a video player. Once the video is placed in the work area, it will also automatically play in the video player a single time. But you can manually replay whenever you want.
Cut your videos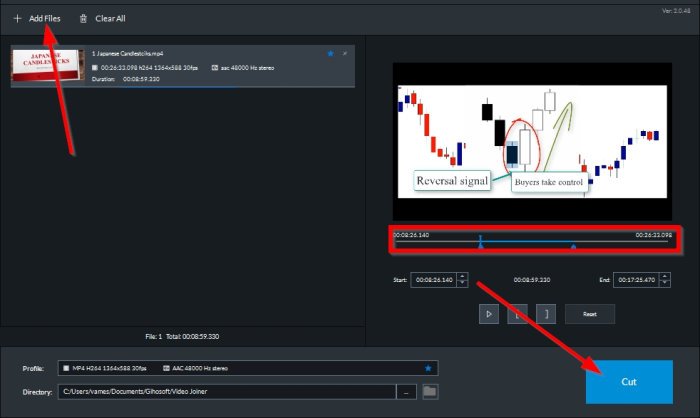 When it comes down to cutting videos, the task is relatively easy to get done. Simply go over to the video player to the right and look for the two blue sliders. Set them to where you want the video to begin and end, then click the blue Cut button, and that's it.
Merge your videos
In terms of merging videos into a single entity, you will need to add two or more videos to the work area.
After adding other videos, you can drag and drop to rearrange them in the right place. Once that is done, click on the Join button to complete the process.
You can download the tool from the official website.