Remember Amanda? The Windows Dancer from Windows XP Media Center 2005 ? Well if you have been missing her since the Vista days, you can now get her back in Windows 7 & Windows Vista. It should work on Windows 8 too.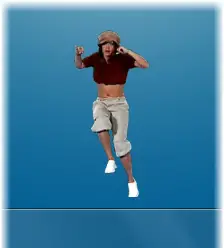 Windows Dancer & MCE Aquarium, Space screensavers
ou can also download the Fish Aquarium, Space, DaVinci and other amazing screensavers.
AMIRZ of WinMatrix Forums has acknowledged guys who have given him the idea about how this could be done and also been at pains to state that since they are not patched applications from Microsoft Plus! Digital Media Edition pack or Plus BUT only Windows Plus Digital Media Enhancements, which were originally from XP MCE 2005, which came FREE with the OS, there should be no legal issues involved. Should there however be any legal issues involved, do let me know; I can have this post deleted.
Do read the WinMatrix Forum thread for full details & download links!
NOTE: I am using the Dancer on my Windows 7 with no issues. While my NOD32 or KAV did not report it as malware, some AV report it as malware. It may or may not be a false positive. So please use your discretion and decide whether you'd like to download it or not.