When it comes to choosing a computer, whether to pick a Mac or a computer running Windows OS is overwhelming. Both Windows and Mac have their own pros and cons, making both viable choices. While Windows is popular and is known for its great performances at an affordable price, Mac is known for its stylish design.
If you are unhappy with the Windows user interface, there are many personalization options to improve the visuals of your computer. One of the viable ways to make your boring desktop look visually appealing is using some bunch of colorful mouse cursors.
Get Mac Mouse cursor on Windows 10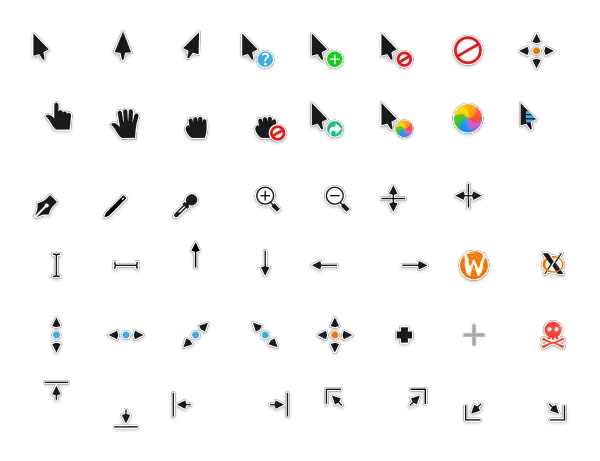 If you have used Mac before, you may know that Mac focuses mainly on aesthetics. Mac has some bunch of colored and animated mouse curses that will make your system look unique. If you want to get rid of the old default mouse cursor and looking for personalizing your Windows with Mac style mouse cursor, then you are in the right place.
The Mac-style cursor pack for Windows gives a refreshed look for your Windows laptop with a bunch of colorful mouse cursors and a responsive keyboard. Additionally, the cursor animations of Mac style cursor is quite cool as that of the default Windows Mouse Pointer. The Mac-style cursor is supported by both 32 bit and 64-bit Windows version. In this article, we explain how to get Mac style Mouse cursor or pointer on Windows 10 using Capitaine mouse cursor.
To begin, download the Mac-style mouse cursor pack for Windows 10 from Github. The download is an x-cursor theme inspired by macOS.
Once done, open the downloaded folder and right click on the RAR folder. Click Extract files from the drop-down menu.
In the extracted folder, double click on Install file to get cursor package on your system.
Once the insallation is complete, navigate to Control Panel.
Click Mouse option and go to Pointers tab in the Mouse Properties window.
Click the option Scheme and choose Capitaine cursors from the drop-down menu.
Click OK to apply the changes.
This will change the entire mouse cursor scheme for Windows.
Let us know if you like using this new scheme.
Read: How to make Windows 10 look like Mac.