Virtual Desktop Manager is a tool that helps the user to distribute and organize the workload on a computer. These programs allow users to manage the virtual space of a computer – it acts like a Virtual Desktop Infrastructure (VDI) to organize the desktop clutter. These virtual desktop software are designed to extend the physical limit of the screen's display area.
There are two ways in which Virtual Desktop Managers or VDM software work. By creating a single virtual screen beyond the size of the physical device and switchable virtual desktops, SVD allows a user to create a virtual replica of the virtual image and by extending them by running a single virtual desktop thread console.
Free Virtual Desktop Manager for Windows PC
Today we will look at some of the best free Virtual Desktop Manager software for Windows OS.
Sysinternals Desktops
Dexpot software
VirtuaWin
VirtualDesktopManager.
If you are a Windows 11/10 user, then this post will show you how to use Virtual Desktops in Windows.
1] Sysinternals Desktops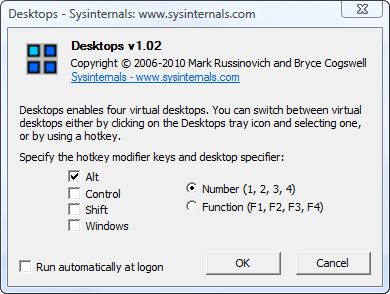 Desktops v 2.0 is an old program from Sysinternals that allows the user to extend the screen up to four virtual desktops. The tool helps the user to distribute work clutter on its four virtual desktop console. The tool creates a Windows desktop object for each virtual screen and keeps in memory which virtual monitor has stored and running. By default, Windows doesn't have a feature to move the Explorer program from one virtual screen to another; hence, it makes the program lightweight and less resource-hungry application to run. Grab it from Microsoft.
2] Dexpot software

Dexpot is a third party virtual desktop manager that allows the user to create up to 20 virtual screens, each console offers its customization options like screen resolution, wallpaper, keyboard shortcuts, navigation functionality, etc. Switching between different consoles can be done with the help of hotkeys or from the tray icon. The user interface of the application is pretty neat and tidy and offers easy to use & configure the application on the go.
Apart from virtual desktop sharing, Dexpot also offers enhanced features like 3D transition effect, stylish wallpaper customization, mouse events, desktop slideshow, etc. with the help of additional Dexpot plugins.
3] VirtuaWin

This is yet another free but powerful tool available for Windows computer, just like other virtual desktop manager application VirtuaWin allows the user to create up to four workspaces. These workspaces are highly customizable, each screen on the different virtual console can be easily turned on or off, and Windows can be moved from one virtual console to another.
The functionality of VirtuaWin can be increased by using different plugins or modules that are available for the application. VirtuaWin is also available in a portable version that can be used on multiple computers. You can get it here.
4] VirtualDesktopManager
VirtualDesktopManager is a third-party Open Source free tool to help users get more than one user interface simultaneously on a single computer, to basically help you distribute your workload.
This simple-to-use ingenious portable Windows app requires no installation. Simply download the app from the link highlighted at the end of the article as a zip file, extract the contents of the file and run the application VirtualDesktopManager.exe.
Once done, it adds an icon to the system tray to indicate which desktop you are on. It is essential that you have at least two virtual desktops set up, so as to switch to a different desktop. The desktops are invariably identified by their number. Whenever users switch desktops, the number updates automatically.
For convenience, the app user can use Task Scheduler to launch the app whenever he logs in so he does away with the need to launch it every time manually.
The default key to change the desktops is Ctrl+Win+Right/Left. But the tool helps you add a hotkey for this purpose so, you don't have to perform the Ctrl-Win-Left operation multiple times to get back to your first desktop. Just one operation and you are there. The program is specifically designed for people who prefer using Windows 10's built-in Virtual Desktops, but who don't like the default key-binding. It is available on Github.com.
Among them all, VirtuaWin is the best virtual desktop manager application that offers many advanced features with the help of an enhancement plugin and is available for free. We at TWC strongly recommend using a virtual desktop manager to manage your desktop console if you do multiple tasks and are looking for a clean desktop UI.
Did we miss your favorite software? Please do share it in the comments section.