Microsoft Excel is a commonly used spreadsheet software for organizing and managing data. Like all other spreadsheets, Excel allows you to calculate data with formulas, use graphing tools, build charts, create macros, and design pivot tables. Whether you have a large-scale business or a small one, Excel spreadsheets are excellent to analyze data, plan events, produce charts, calculate budget and expenditure, and many more.
Project Management Templates for Excel
Project management is an important criterion to meet any business goals. You can use Microsoft Excel as a project management tool in addition to using it as a spreadsheet. Excel has some of the best project management templates that allow you to turn simple spreadsheets to the project management dashboard. The Excel project management templates allow you to manage projects, plan events, manage inventory, manage budgets, analyze the data, effectively manage and schedule the project by time. Depending on the projects you undertake, you can make use of the most suitable project management tools to start your project. In this article, we round up some of the best Excel Project Management Templates for building a well-managed and structured project.
Best project management templates for Excel are:
Work Plan Timeline
Simple Gantt Chart
Event Planner
Activity-based Cost Tracker
Idea Planner
Group Project Task List
Project Performance Tracking & Reporting
Invoice Tracker
Daily Task List
Weekly Assignment Schedule
To find out more about these templates.
1] Work Plan Timeline
A well-planned work is crucial for organizing a project task. Most of the organization rely on the project management lifecycle to address the essential milestone and key tasks in the multiple phases of the project. The Work Plan Timeline allows you to represent the essential milestones of a project or a program in chronological order on a timeline. It is a free project planning tool that comes preinstalled in Excel and allows you to easily showcase the project plans to the stakeholders, teams, and colleagues. Get this template here.
2] Simple Gannt Chart
Simple Gantt Chart is a free graphical tool preinstalled on your Microsoft Excel. It gives a birds eye view of the ongoing project. It allows you to set a  particular duration for your work to complete and, displays the chart with the amount of work done for a pre-planned period. This way, the Gannt chart is extremely useful to the business to get a clear picture of how the tasks are performed and, how well they are suitable for a specified period of time. Additionally, this template also includes project phases. You can download it here.
3] Event Planner
Event planner template from excel is a great tool to remember all the important details of an event. It is used to outline how an event is planned for a business or an organization. It proposes the tasks to implement for the successful completion of a  project from the initiation of an event until the end. Download this template here.
4] Activity-based Cost Tracker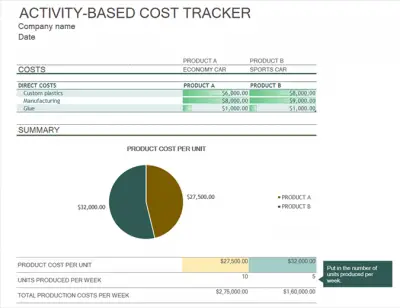 Activity-based cost tracker is a free template for excel used to calculate the acute costs for the products or services. The template gives a clear picture of general, administrative, direct and indirect costs for producing a product or a service. This activity-based cost tracking identifies the activities in an organization and, the resource needed for each activity. Based on the actual resource consumption of each activity, it determines the cost of your products or services. Get this template here.
5] Idea Planner
Idea planner allows you to frame your own planner in Excel. This free template allows you to set a goal and plan your tasks step by step from the initiation of the project till the end. The Idea planner is the must-have template to organize your day-to-day work. The template allows you to plan the tasks, assign the tasks to the team members, set the task status, due date and plan a resource list. Download the template here.
6] Group Project Task List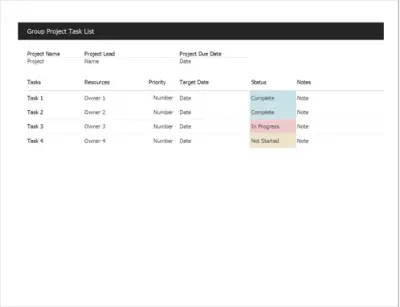 Group project task list is a free template for Excel that allows you to organize and manage an entire team in the project. It allows you to assign a task for everyone on the team, assign a target date for every resource, set task priority and task statuses. This task list template is easily accessible to everyone on the team. It helps with team collaboration and streamlines your work operations. Download this template here.
7] Project Performance Tracking & Reporting

Project performance tracking and reporting is a template used to manage and organize a project. It allows you to create tasks, set priorities, add deadlines, track cost and set task duration in order to streamline your workflow. Get this template here.
8] Invoice Tracker
Invoice Tracker is a simple and free template for Excel that helps to maintain the record of all the invoices. It is useful to monitor accounts and track the invoice statuses. This free invoice tracking tool is useful to track account names, due amounts, paid amounts, outstanding amounts, payment dates, and other account details all in one central place. You can download this template here.
9] Daily Task List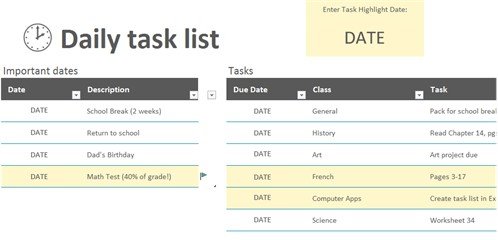 The daily task list is a free Excel template that allows you to plan, and schedule a bunch of tasks that you have to complete throughout the day. This template lets you organize and streamline your workflow by setting priority for the important tasks. This is a must-have tool to stay focussed. Get this template here.
TIP: Download free Word, Excel, PowerPoint, Access, Visio Templates from Microsoft.
10] Weekly Assignment Schedule

Weekly Assignment Schedule is a free template for excel that helps to plan your week and manage your project related assignments by date. It helps to create a detailed list of tasks for the week and allows you to add notes for each assignment by date in a week. Download this template here.
Does Excel have a project plan template?
Yes, Excel has multiple project plan and management templates that you can download from the official website. However, if you have the desktop app, you can get a template from the start screen. The best thing about these templates is that you can use them with Google Sheets and Excel Online as well.
How do I get free Excel templates?
There are multiple sources to get Excel templates from. However, the best one is the official repository, where you can find tons of templates at free of cost. Apart from that, you can search for a particular template in a specific category online and download the template on your Excel desktop app and the Web version.
Suggestions most welcome!