PDF to Word is one of the most frequently used search terms concerning PDFs; the reason is; that everybody wants to edit a PDF in a familiar format, and it is complicated to edit on a PDF. When people try to make changes in PDF files, they typically respond in two ways: they will look for a program that will allow them to edit the document directly, or they will attempt to convert the PDF to another file. There are simple online solutions if PDF editors don't suit your needs. This article will cover the most popular and easy PDF-to-Word converters available online for free.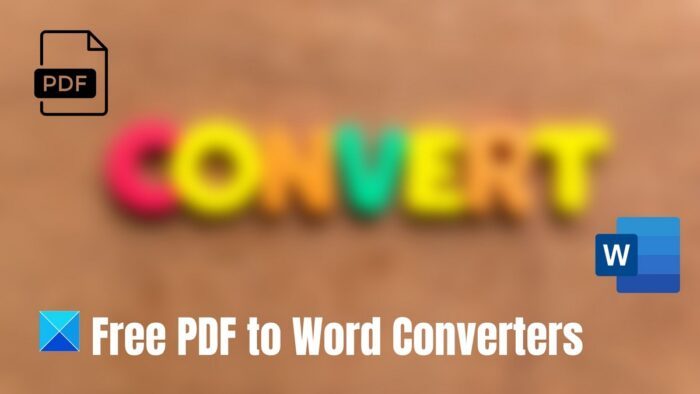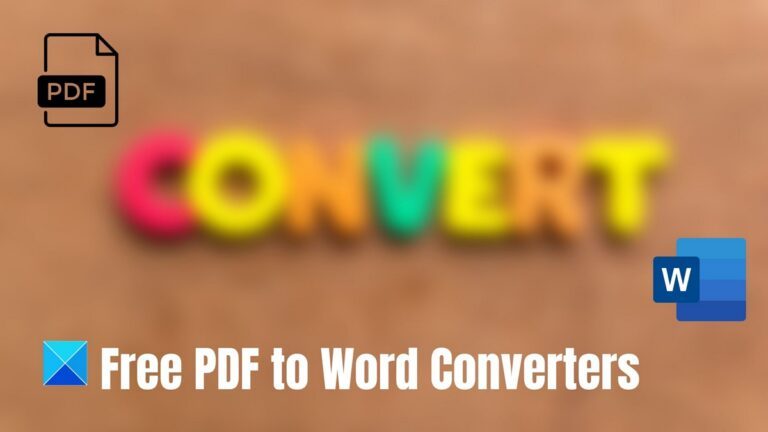 Free PDF to Word Converters For Windows PC
Here is the list of some of the best PDF to Word Converters For Windows PC. Since these are free services, you might face a limit on the PDF size. Hence it is recommended to use it for small files.
Adobe website
Microsoft Word
PDF to Doc
Zamzar
Small PDF
Try each to find out what works best for you, then choose one. Some tools may offer better formatting, while others may offer a larger file size.
1] Adobe website
Adobe Acrobat online converter is a quick and simple tool to convert a PDF file into a Word document. Drag and drop your PDF, and your Word document should be ready for download. Acrobat quickly converts PDF files to DOCX file format while keeping the format of the original documents. You can check out their PDF to Word converter in any web browser.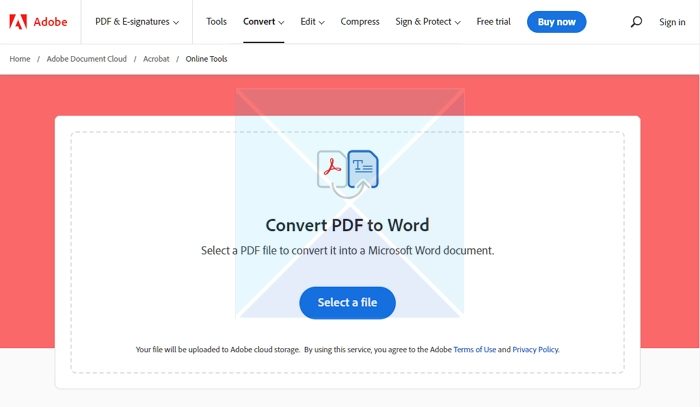 To convert a PDF file into a Microsoft Word document, follow these simple steps:
Visit adobe.com
Drag the PDF into the drop point or select a file.
Choose the PDF that you wish to convert to a DOCX file.
Observe as Acrobat immediately converts the File from a PDF to a Word document.
Download the Word document after conversion.
2] Microsoft Word
Microsoft has a free PDF conversion feature that lets you save your documents in PDF format. So, you can open a PDF in Word to make the necessary edits required for your document. PDFs that are primarily text-based work best for this. Word won't format PDFs of book chapters or documents that appear to be copies of manuscripts. Check out the following steps to edit PDF in Word.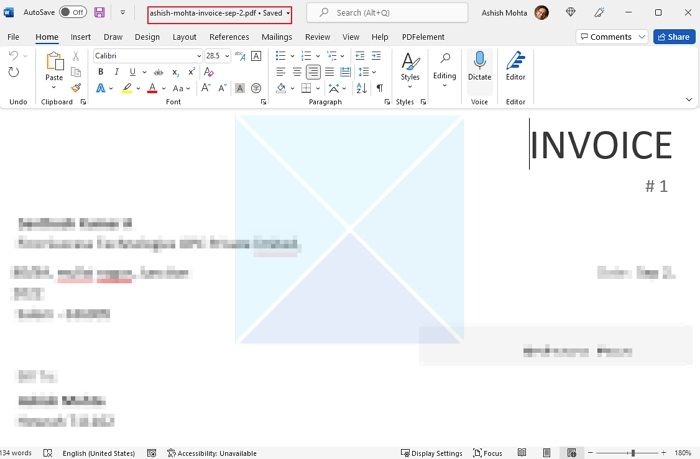 Open Word and select Open on the left pane.
Find the PDF file you want to edit and press Open. Press OK to change your File into a Word document.
Do the required changes in the document. Go to File> Click Save.
Select your destination folder. Click on the drop-down box Save as type and choose PDF from the given list. Click Save.
In the converted document, some details may change—for example, line breaks or page breaks.
3] PDF to Doc
PDF to DOC converter enables you to save a PDF file as an editable document in Microsoft Word DOC format. It ensures better quality when compared to other tools. Both college students and professionals can easily use to tool to make edits. The following steps will guide you on uploading and converting a PDF to a Word document.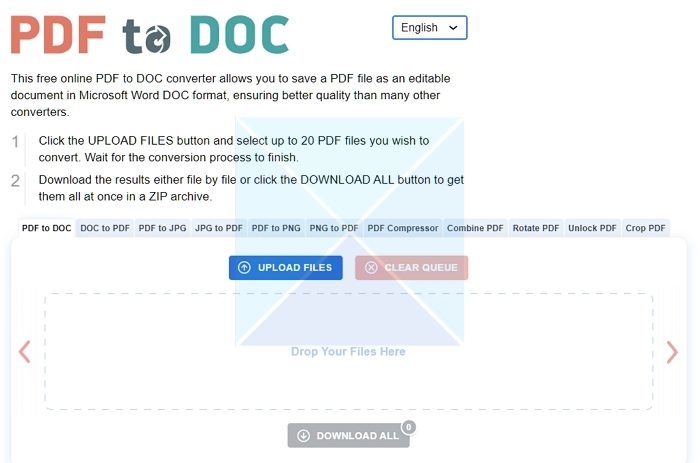 As given in the image, go to the UPLOAD FILES button.
You can select up to 20 PDF files you want to convert and wait for the conversion process to get over.
Download the outputs, one File at a time or all of them simultaneously in a ZIP file by using the DOWNLOAD ALL option.
4] Zamzar
Zamzar is another converter that can easily convert images or documents. Using Zamzar, it is possible to convert PDF files to a variety of other formats: PDF to BMP (Windows bitmap), PDF to CSV (Comma Separated Values), PDF to DWG (AutoCAD Drawing Database), etc. One of the methods listed below makes it simple to convert your files:
By using the converting tool found on their homepage.
By using their desktop application.
By utilizing their email conversions service.
Follow the steps below to convert the file using Zamzar:
Please select the file you wish to convert from wherever it is located on your computer by clicking the Add Files button in the first step of the conversion program.
In the second step, choose a format from the drop-down menu, i.e., WORD
Select Convert Now, which is Step 3.
Once your file has been converted, you can download it from our website. You can optionally give an email address in Step 3 if you prefer to get a link to your converted file.
5] Small PDF
Small PDF is yet another converter that easily converts PDFs to Word docs. You can quickly convert PDF to Word with a few clicks and drag. There is no file size restriction, and using their service does not require registration. Their PDF to Word converter works well on Windows, Mac, or Linux. The free trial version is limited to daily conversions of up to two files. They also give importance to privacy so that all files will be deleted forever from their servers after one hour.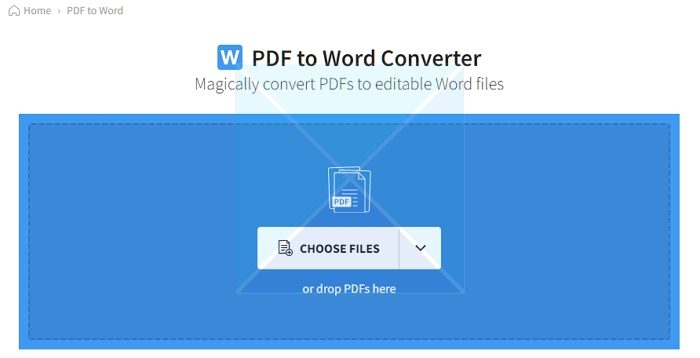 Follow these steps given below to convert your files into Small PDFs.
Drag your PDF or upload it by clicking CHOOSE FILES. Choose your File from its destination and click Open.
A new page will open and show you two options: 1) Convert to Word and 2) Convert to Editable Word (OCR). The first option is free, and the second option requires payment. If you want a free trial, click on the first and choose options.
Your PDF file will be converted into a Word doc and ready for editing.
Check out the online converter.
The main advantage of converting a PDF to Word is that you can directly edit the text on Word. Here, the benefit of an online PDF to Word converter comes to play because making changes to your PDF using an online PDF editor is not practical. Once a PDF has been converted to Word, adjustments can be made quickly using Word or other equivalent applications. You can also easily convert the edited Word document to PDF by choosing PDF format.
Thus, you can visit any website mentioned in the article, and that should get the job done.
How to Add a PDF to your Office file?
Insert a PDF file as an object to add it to your Word document. By doing this, the PDF effectively merges with the Word document. It implies that unless you link to the source PDF file, any changes you make to the source PDF file won't be reflected in the embedded file in the Word document.
Open the Word document into which the PDF should be inserted. Select Insert > Object > Create from File. Find the PDF you wish to insert and click OK.
What are the restrictions of any PDF to Word Converter?
As a result of things being virtually printed onto a blank piece of paper to create PDF files, maintaining the original formatting of your PDF is a very challenging issue after converting it into a Word doc. There are no guidelines on where objects are placed on the page compared to most other file formats (such as papers, presentations, etc.)—because of this, converting PDFs to other file formats is quite challenging.