The latest version of TED Notepad definitely merits a check-out. This free Notepad alternative is small, quick, and boasts of many new unique features. TED Notepad is a chrome-less free notepad replacement, which offers 312 text-processing functions, innovative features, and time-saving tools. All of them on hotkeys, designed for quick advanced editing.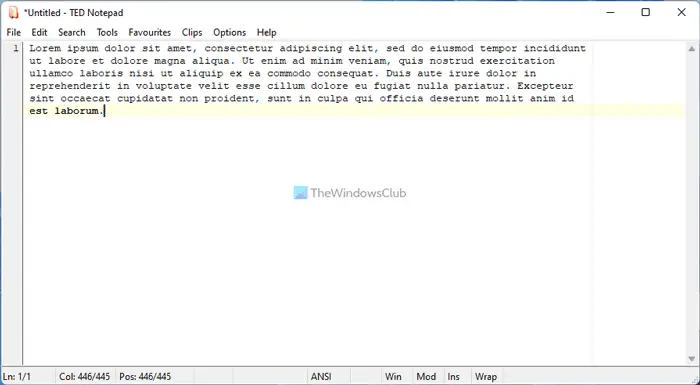 TED Notepad replacement for Windows PC
This light-weight portable text editor fits on any USB flash disk and loads instantly with no installation required.
Targeted at advanced Notepad users, it has a large variety of features, settings, and text-processing tools that could bring your typing, text-working, or coding to the next level:
Its several innovative auto-completion and advanced and automated clipboarding features really enhance its utility.
Once you download this file, you can save it in your Program folder and create its shortcut in your start menu or desktop for easy access.
If you want, you can also replace the default Notepad with this application. To do so, rename the downloaded application as notepad.exe. Now back up the original notepad.exe situated in the System32 folder to a safe location for possible future use.
Next, replace the original notepad.exe with this application. Windows 7 will not let you do so easily as it is a system file, but you can read the procedure on how to go about doing it on the website.
If you are a Notepad power user, this is the swiss-army-knife text editor you may just be looking for. It has so many features, that the developer confidently states on his website that you'll never learn them all!
What is the best replacement for Notepad?
TED Notepad is one of the best replacements for Notepad for Windows 11/10. The user interface of this app is almost similar to the native Notepad app. However, TED Notepad comes with more features and options so that users can get a better user experience. On the other hand, you can also try Notepad++.
What is the best free text editor for PC?
If you do not want to use Notepad to edit TXT documents on your Windows 11/10 PC, you can always opt for Notepad++. It is one of the best text editors you can download for Windows PC. Whether you need to edit a simple TXT file or PHP, JS, CSS, or anything else, you can edit the file in Notepad++.
Head over to its home page to learn more, see the full feature list and download it.