Playing cards or Slot games is not an expensive hobby, and there are plenty of free and popular games to enjoy on your Windows PC, both online as well as offline, i.e. available as free downloads. Card Games &  Casino Slot Games have always been and always will be very popular among many. If you love playing Vegas-style casino slot games or Card games, then this post is just for you. Check out the best free games for Windows 10 PC. You cannot bet with real money – these games are just meant for fun, and you play for points. While some can be played online, some have to be downloaded and installed on your computer.
A word of caution first! Games are often used to push crapware and PUPs. And while we have checked these games and they appear clean, things may change in the future, and some of them may decide to bundle software. We, therefore, urge you to create a system restore point first before installing any game and furthermore, not click on Next Next blindly and opt-out of third-party offers if you see any.
Free Card Games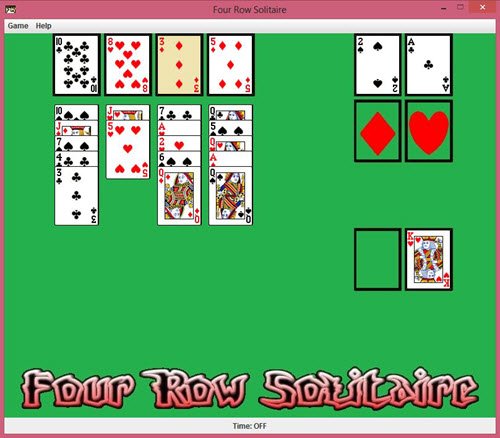 We have listed a few free Card Games to play for Windows PC, check out the list and let us know what you think of them.
Spider Solitaire: This is one of the most popular free games on Windows PC. This classic spider solitaire card game has all basic functionalities and is 100% free. With no advertisements and no pop-ups, this game provides a pleasurable gaming experience. In Spider Solitaire, you have to arrange all same suit cards in descending order from King down to Ace. You can play it here.
Net.Rummy: It is a free card game to be played over the internet with four real people online. As the name suggests, this game is based on Rummy; the popular card game. Net.Rummy is one of the most popular card games available online. Play Rummy here.
Three Card Klondike Solitaire: This card game three cards are dealt at a time, and you have to arrange the cards in increasing order from Ace to King. You get an unlimited number of passes through the deck in this game. Get all cards in the correct order and you can become the Klondike Solitaire Master. Play the game here.
Titan Poker: This is considered as the best free poker online for Windows PC. However, you need to download a free poker software and register there to play this game. With exciting poker promotions and active customer care staff, you will get the best gaming experience with Titan Poker. Play it here.
123 Free Solitaire: 123 Free Solitaire is a customizable card game for Windows PC and features many different backgrounds and card backs. Fine graphics and rich sounds and nine trillion shuffles are notable features of the game. Undo and redo are some common features available in almost every card game online. Download it from 123freesolitaire.com.
Black Jack: It is a free game played with coins and cards. It is an easy game where players place the bet with coins. There are no full-screen ads or pop-ups in the game to disturb the players. This full-featured game gives a good gaming experience to the players. Get this game for Windows 8.1 from the Microsoft Store.
Four Row Solitaire: Easy to learn and play, this game also gives hints when you are stuck in some move. There are three difficulty levels in Four Row Solitaire- Easy, Medium, and Difficult. Four Row Solitaire is actually a mixture of Normal Solitaire and Free Cell. Get Four Row Solitaire here.
PokerTH: It is a popular Texas Holdem poker game based C++/Qt. You can play it against nine computer-opponents as well as with real players online. PokerTH- It is a popular Texas Holdem poker game based C++/Qt. You can play it against nine computer-opponents as well as with real players online. The game also includes a chatbox and a list of timeouts. It also shows the country flags to show that your opponent players belong to which country. Poker TH is available for Windows, Linux, and Mac. You can get it at here.

Sposkpat

: This is a multiplayer card game that turns your PC into a distraction-less Patience card game. It requires no logins and no passwords. The game is quite similar to the Three Car Klondike Solitaire game. Get this game here.
Net

Mau

Mau: This is a free card game to be played online against four opponents. Every player gets five random cards in the beginning. One of the remaining cards is visible to all players, and other cards serve as the pool of cards. The deck is shuffled again if all cards are out. Get it here.
Free Casino Slot Games
Here is a list of some awesome casino machine slot games which are free for Windows 10. Download these games and get a Vegas-type casino experience.
1] Vegas Downtown Slots
Vegas Downtown Slots is a free Windows Store game that brings to you the nostalgia of classic slot machines. Get it here.
2] Microsoft Jackpot
Microsoft Jackpot is a fun-filled, exciting, and adventurous Slot Machine game for Windows 10 PC. Featuring modern video slots, excellent graphics and sounds, huge payouts, and the latest themed slot machines, this game will give you a complete Vegas experience for sure. Each game here comes with a different theme, different challenges, and nice bonuses. You can anytime integrate it with your Xbox account, compete with your friends, and score high. It also lets you track your own gameplay figures and submit your scores to the game leaderboards.
Features of Microsoft Jackpot
Themed slot machines give you a different experience every time.
Interactive bonus games with special scatter symbols
Massive payouts and free spins
Daily bonuses
Xbox connectivity
It lets users pause and resume game as required
Perfect for all your touch screen devices as well as mouse and keyboard controlled devices.
Download Microsoft Jackpot here.
3] Slot Machine
This is one of the most popular Slot Machine games for Windows 10 devices. With over 12.6 billion coins paid out to date, this game comes with 17 different slot machines. Spin more, earn more, and get onto the next levels of the game. You may any time get lucky to hit the top of the leaderboard.
Slot Machine Features
The game comes with 17 different theme slots giving you exciting slot experiences.
Best suitable game for all your Windows 10 devices with wonderful graphics and sound.
New slots are added from time to time.
Each level comes with a new slot machine, different surprises, and free coins.
Free spin bonus with a chance to win extra coins.
Download Slot Machine here.
4] Caesars Slots
Caesars Slots is yet another slot machine Windows Store game that can give you the complete Vegas experiences anywhere you want. With millions of players, this one of the most loved casino slot games for Windows 10.
Features of Caesars Slots
Includes interesting and popular games like Pink Panther, Elvis, Mammoth Moolah, and Lucky in Paris.
Free spin games and super bonus free coins
More than 70 exclusive high-quality slots games
Free contests and exciting promotions daily
Complete with multiple players and atop the leaderboard
Connect using Facebook and get free $25000 bonus points.
Awesome graphics and wonderful sound
Unlockable games at each level
Download it here,
5] Slotomania
Available for Windows 10 and Windows Phone, this Windows Store game has thousands of online players, over 14,000,000 Facebook fans around the globe and more than 100 themed casino slots machines. Playing Slotomania on your Windows 10 PC or Windows Phone is more or less like playing the slot machines in real life.
To play the game online, you first need to register there with your email account and create an account with a password. You can also connect using your existing Facebook account.
Start spinning and winning. Just click on SPIN and the reels will start spinning and revealing the winning slots.
Slotomania Features
The Slotomania- Free Casino Slots comes with all Vegas casino features like Bonus Games, Free Spins, and Wilds.
Some of its most popular Casino features are Re-Spins, Free Spins, Sticky Wilds, and Mega Symbols.
Some other features of Slotomania loved worldwide include- FREE COINS bonus every 3 hours and Special promotions every day!
It also brings some interesting Bonus mini-games giving you a wonderfully exhilarated experience the same as Vegas's Casino Slots. Bonus games are an exciting chance to win big coin prizes. Each game comes with a different Bonus round which is based on the story of that game.
Slotomania also brings JACKPOT where you can get the complete Vegas experience with extra high bonus prizes. Furthermore, you can also play these free slots machines with your Facebook friends, provided you are registered via Facebook.
Download your favorite Slot Machine Games and build your own Vegas Empire on your Windows machines.
Do let us know if we missed out on any interesting free games – online or free downloads. Go here if you are looking for some free Chess games for Windows.