Gmail has become a ubiquitous service. A majority of us rely on the Google ecosystem for getting our work done. Gmail has soared in popularity all thanks to the integration with other Google products like Google Drive and Google Docs. Despite all the new features Gmail still doesn't allow you to mark and forward emails in bulk.
If you want to forward multiple emails at once from Gmail, then this post will help you. Please keep in mind that you can forward only 100 emails in a day if you have a regular Gmail account. However, if you have Google Apps for Work/Edu/Gov account, it is possible to forward 1500 emails per day.
Why do you need to forward email in bulk
More than often we end up backing our Gmail account by forwarding all the emails in bulk. This is especially useful when you are leaving a job (ensure that it is not against the company policy). Bulk forwarding is also useful if you want to transfer work emails from the company account to your personal account.
How to forward or transfer all Gmail emails to another email ID?

CloudHQ's Multi Email Forward Chrome extension
I stumbled upon a free tool that lets you forward all emails to another email address. CloudHQ's Chrome extension does this – and also lets you filter the emails with respect to the label. For instance, you can forward all the emails in Primary to another email address.
The best part is that Multi Email Forward also forwards entire conversation.
Install CloudHQ extension from the Chrome web store
Select all the emails you want to forward
Click on "Select 50 conversations in Primary"
Click the multi-email forward button
Enter the email address you want to forward all your emails to
Click on Forward email.
Multi Forward for Gmail Chrome extension
Download and install Multi Forward for Gmail extension. After that, open Gmail account and select all the emails that you want to forward. You will find a new extension related icon in the 'icon bar,' saying Multi Forward. Click this icon.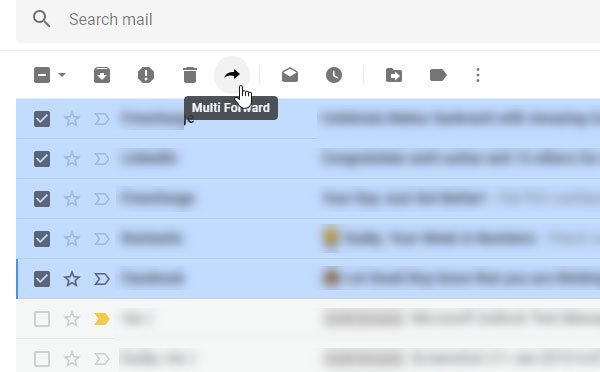 Now you have to allow this extension to access your emails. For that, click the Sign-in button.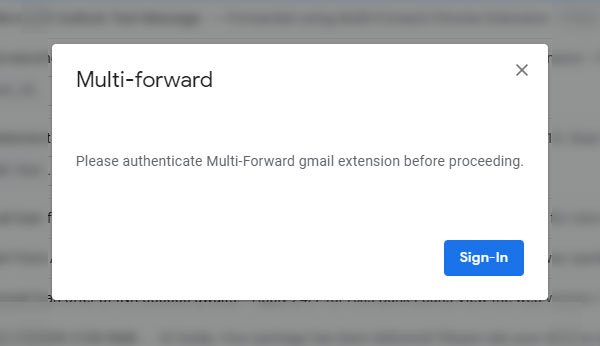 Next, you need to enter your Gmail account's username and password. If you have enabled two-factor authentication, you need to verify that as well. Once you have completed the formalities, you will see a message – Authentication succeeded. You can now forward messages. If you close this window, you will see this-

Here you can enter your recipient's email address. You can enter multiple email addresses as well. Once you click the Multi-Forward button, all your selected emails will be sent.
You can download this Chrome extension from here.
How to manually forward multiple emails on Gmail
As an alternative, you can also forward multiple emails on Gmail manually. In this case, you need to open each email and click on the Forward button.
This method is suitable only if you are forwarding a few emails. The Chrome extension is the easiest way to forward multiple emails.
How to set a filter to forward multiple emails in Gmail?
First things first, filters will only forward new emails, and they are cumbersome to set up. That being said, once set the filter is effective in forwarding new emails to a different email address. This feature works like call forwarding on phones.
Let us take a closer look at how you can set filters for forwarding multiple emails,
Open your Gmail account
Click on the down arrow in the right of the Gmail search bar
Set criteria from the drop-down. You can filter the emails by specifying the name, subject, content and much more.
Select Create Filter
Choose Forward It as the option
Add the destination email address
Check on the box that says "Also apply a filter to matching conversations"
Click on Create Filter.
That's it!
Hope you find this tip useful.