When you are browsing on the Internet, when you click on a link. The new link or tab will open. If you don't want your browser to switch to the link that opens in the new tab, you will have to set your browser so as to force links to open in the background. This way, you continue to remain focused on the same page, while opening the external links in the new tabs. This is how you can do in Internet Explorer, Firefox, Chrome and Opera browsers.
Force Links to open in background in Internet Explorer
In Internet Explorer, you can easily change this setting via Internet Options >  General tab > Tabs button > Uncheck Always switch to new tabs when they are created.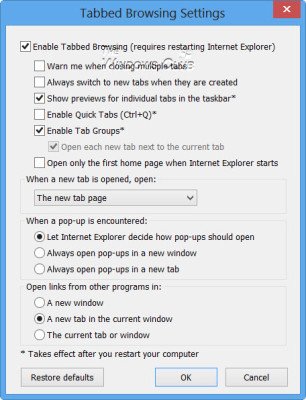 Force Links to open in background in Firefox
Open your Firefox browser. In its address bar, type 'about:config' and hit 'Enter'. Instantly, a warning message will flash on your computer screen. Ignore it if seen and press the 'I'll be careful, I promise' tab.
Proceeding further, try locating 'browser.tabs.loadDivertedInBackground' in the configuration window of advanced settings. Use the search bar to simplify your search process. In search bar, just type "browser.tabs" and hit Enter.
When seen, you will observe by default the 'browser.tabs.loadDivertedInBackground' value is set to false. You'll have to change he value.
For this, double-click on browser.tabs.loadDivertedInBackground and set its value as 'true'. That's it! You can disable this if you want at any point of time by simply settings its value as false again.
Force Links to open in background in Chrome
Chrome does not offer any straight-forward method to force links open in background. Nevertheless, there are some different approaches you can follow and force Chrome to make links open in background.
Move Links to Tab Bar New Tab
Click to move the link on a web page and drop it anywhere in the Tab bar. You will observe that the link automatically gets opened in new tab. You can move the tab anywhere in the address bar you want.


Using Chrome extension
Open _new & _blank in new background tab: Forces all links that have _new or _blank as target to open in a new background tab, instead of a foreground tab. The plugin however does not seem to work for Google Reader entry titles, it will open two tabs instead.
Force Links to open in background in Opera
Open Opera > Tools > Quick Preferences > Ensure Block unwanted Pop-ups is checked.
Next type about:config in address bar and hit Enter. Scroll down to Target Destination.
Type '2.' Save and Exit.
Hope this helps!