Many people have faced an issue that causes different Font size to display in different apps when working with multiple apps on Windows PC. We often need to open multiple software like Google Chrome, Microsoft Word, etc., simultaneously. Now, if they start displaying different font sizes, you may not like that. In this case, you need to follow these solutions to get rid of this issue on Windows 11/10/8/7.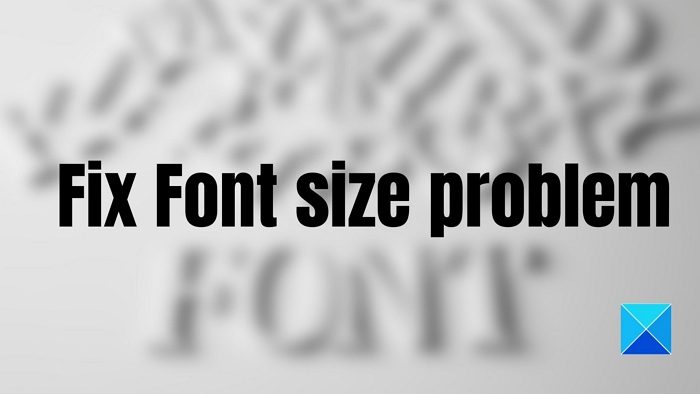 Font size problem when working with multiple apps
For your information, there is no one-click solution to this issue. You can try any of these suggestions and see which of this help you get the same font size on any app.
Change scaling
Change display font size
Use the exact resolution for multiple monitors
Update graphics driver
Rebuild Font cache
You will need an admin user account for most of these solutions.
1] Change scaling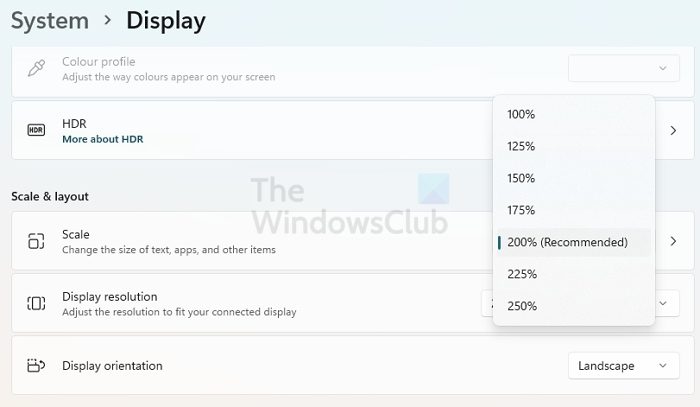 If you have recently upgraded your monitor and started facing this issue, you may need to adjust the display scaling. Although it is always set to 100%, which is recommended, your new monitor will allow you to change this scaling.
To do so, go to Settings > System > Display. On the right-hand side, you should find an option called Scale and layout. Click the drop-down menu, and select a custom scaling. Try a few options till you get the things right.
2] Change display font size
If you are using Windows 10 v1703, you may not find this option, but if you are using an older Windows 10 build or older Windows version like Windows 8.1/7, you will see a Display option in Control Panel. On that screen, you would be able to change the font size of Title bars, Menus, message boxes, icons, etc. The default size is 9. However, if it has been changed, you need to set it to 9 and save your settings.
3] Use the exact resolution for multiple monitors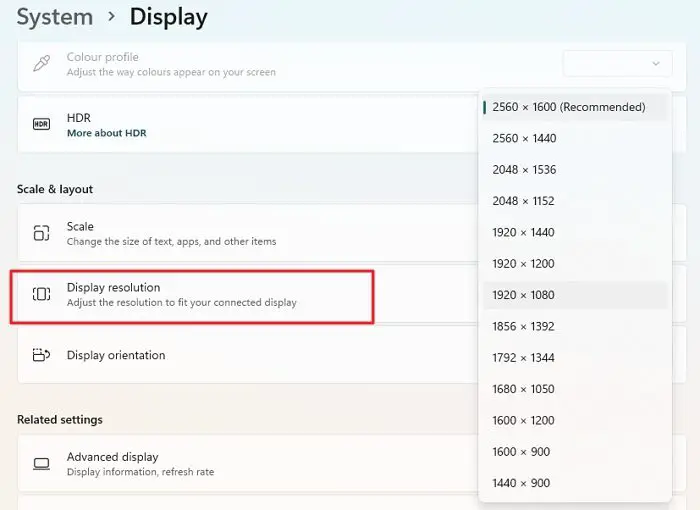 If you have more than one monitor and they have different resolutions, there is a 100% chance that you would face this different font size issue. The higher resolution screen will show a smaller font than the lower resolution monitor.
It is recommended to use the same resolution screen. If you are facing this issue on your multiple monitors, you should check whether both or all of the monitors are using the exact resolution or not. To check this, open the Settings panel > System > Display. Now, select each monitor, and check their resolution under the Resolution section. If different values are set, you need to make the same.
4] Update the graphics driver
You may need to update your graphics driver. If an update is available, you should install that right away. Many times, it has solved such problems. When updating the graphics card driver or any driver, it is best to update it by downloading the installer from the OEM website. Not only will the drivers be the latest, but they also have fixed most of the bugs.
5] Rebuild Font cache
You might want to rebuild the Font cache and see if that helps. When you do that, Windows needs to download the fonts fresh, ensuring there is no difference or any corrupted fonts.
I hope these simple suggestions will be helpful for you.
Why can't you change my font size?
If you cannot change the font size the usual way, the other way out is to use the Accessibility or Ease of Access in Windows Settings to change it. Make sure to experiment based on your resolution and that it fits well and is readable.
How do I fix the blurry font?
You need to adjust the ClearType or turn it on. It makes the text you see on the screen shaper, clear, and easier to read. After that, you need to tune all the monitors or one single monitor with an issue. It will then take you through a series of texts asking which looks good. Once you select and clear all steps, restart the PC, and the fonts should not be blurry anymore.