If you are not happy with Windows Snipping Tool, you can try a third-party screen capture tool such as Floomby that lets you capture the screen and uploads the screenshot to share them directly with anyone. Let's take a look at the features and workflow of this free software for Windows.
Floomby screen capture tool
Floomby is a free screen capture software available for Windows 10/8/7. Although Floomby doesn't come with a lot of functionalities, you can use it for basic purposes, as it allows users to upload the captured screenshot directly. You will also get a unique link for each image that you can send to anyone in case you want to share it.
Talking about features of Floomby, it offers the following:
Capture region or full screen. It is possible to use your mouse to select the area. You need to press Print Screen button to do that. You can press Alt+PrtScr to capture the active window and Shift+PrtScr to capture the entire screen.
Use both clicks of the mouse instead of a dedicated keyboard button to capture the screen.
Show/hide the cursor on the screenshot.
Upload the captured screenshot directly to the server. You will get a link to share it further.
Possible to save all captured screenshots on the hard disk as well.
Choose file format, i.e., PNG or JPEG.
It comes with an editor that lets you do basic editing. You can add an arrow, use the pencil to write something, use text, add color, blur something, and more.
How to use Floomby to capture screen
To use this free screen capture software for Windows, download and install it on your machine. After installing, you should find a window like this-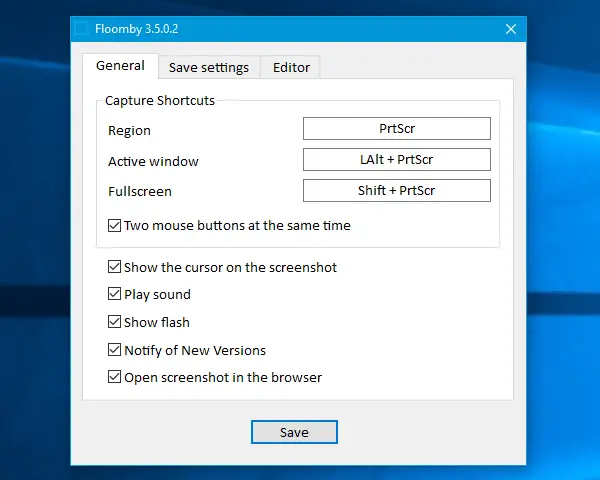 You can set it up according to your requirements. For instance, you can change the default shortcuts, enable/disable mouse usage, change the save location, change file format, activate editor, and so on.
To capture a screenshot, you need to press the button that you have set in the General window of Floomby settings panel. If it is the default key, you need to press Print Screen button. Following that, you can select the region that you want to capture.
After capturing, it will be uploaded directly, based on your settings.
If you haven't enabled the Always activate editor option, you need to press Ctrl along with PrtScr to bring it up.
Drawbacks of Floomby Free version
Although Floomby is a quite useful screen capture tool, it may not be useful for those, who need more options to customize the screenshot.
It doesn't have the option to record the screen. Nowadays, many free screen capture tools allow people to record screen.
It doesn't allow people to edit the screenshot once captured. Even if you use the Editor, you need to make all the changes capturing it.
If you are fine with these drawbacks, you check out Floomby from the official website.