The most commonly used applications on Windows 10 have the names of almost all Office apps right on top. Word, Excel, PowerPoint, and the others form the Microsoft Office Suite, and they cater to a wide range of uses of its consumers. If you are someone who uses one (or more) of these Office applications, especially for professional purposes, you would find yourself uploading your work on your OneDrive server fairly often. But you may, sometimes, encounter an error that states that your upload was unable to go through; 'Upload Blocked', or 'Sign in to save this file' are the kind of error messages that show up. Such matters may require expediency, so today we will show you how you can counter the Upload on OneDrive blocked Error in Windows 10.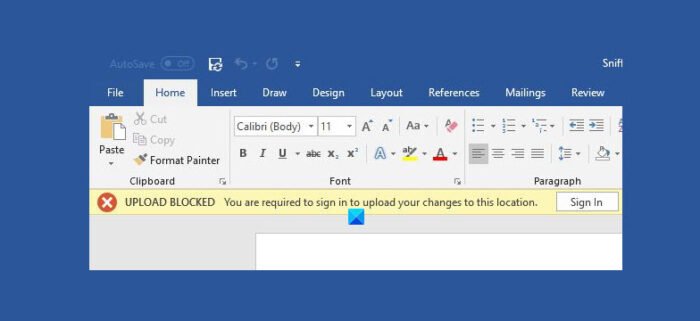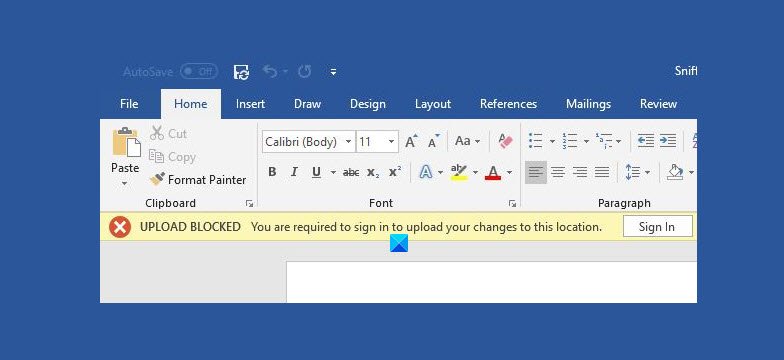 This error, and the ones related to it, signify that there are problems with your service connection. You don't get an explanation as to what has caused the file's upload to block, but there is a very easy and quick fix to it. If this is something that you happen to come across, just follow the steps discussed below.
Fix OneDrive Upload blocked error
To fix Upload blocked, Sign in to save this file or Save a copy OneDrive error on Windows 10, follow these steps:
Open Word, or whichever app that is showing you the error.
From the menu on top, click on File. It is found in the top-left corner of all Office apps.
From the options pane on the left side, select Account.
You will be able to see your OneDrive account under the 'Connected Services' head. Click on it and move further to Remove it. If you have multiple OneDrive accounts synced with your Office apps, repeat these steps and de-link them all.
Now that you've removed all your OneDrive accounts, it's time for you to link them back using the 'Add a service' drop-down menu. Click on the drop-down, select Storage, and further click on the OneDrive ('OneDrive for Business,' if applicable) option.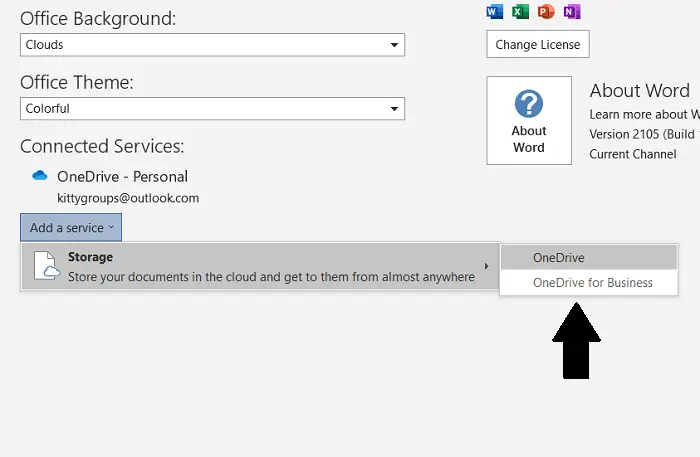 Once you've followed all the above steps, restart Microsoft Office and the change will have taken effect now i.e., you'd now be able to conveniently upload and save your documents on OneDrive.
If the error still persists, you are recommended to check if you're running an outdated version of the Microsoft App in question and there's an update for it. You can find the relevant information in the Account section under the Office Updates header. Click on Updates Options and if there's an update available, select Update Now.
Read: How to fix OneDrive sync issues.
We hope you will now be able to upload files on OneDrive easily.