If you are facing issues while streaming HBO Max, HBO Now or HBO GO content through a VPN, then this guide will help you. HBO is now a popular streaming platform that offers a great range of content in series and movies categories. The subscriptions are increasing with every passing month. If you are traveling or residing in a country where HBO is not available, you can stream the content using a VPN. There are some users who are not able to stream content using VPN. Let's see how we can bypass the restrictions and stream the content on HBO.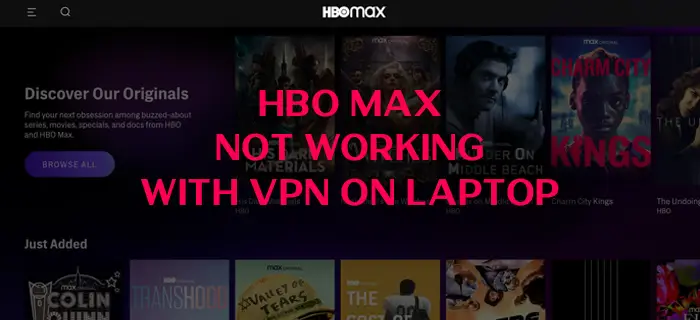 HBO Now and HBO Go are HBO's older streaming services and they are now on the way out. HBO members can use their accounts to access more content on HBO Max at no extra cost.
HBO Max not working with VPN
If you find that HBO Max, HBO Now or HBO GO is not working with your VPN when using a Windows laptop, try the following suggestions:
Select US Server Location
Make sure IP is not blacklisted
Clear Cookies and Cache
Connect to Streaming-optimized Server
Let's get into the details of each process.
1] Select US Server Location
Currently, HBO is not available for streaming in many countries. According to HBO information, the streaming service is available in EU and EEA countries. For the minimal availability in many countries, it is best to connect to a server in the USA via VPN. HBO took its birth in the USA and there are no restrictions on its content there. Connect to US Server on your VPN and enjoy streaming.
2] Make sure IP is not blacklisted
The team behind HBO has blacklisted many IP addresses that many people use to stream HBO content from different locations of the world. VPN service providers are updating their IPs to cater to the demand of users are they are getting blacklisted from time to time. You can also get a dedicated IP in some VPNs to enjoy streaming.
3] Clear Cookies and Cache
The cookies and cache stored on your browser might be blocking the usage of HBO via VPN. Clear them and connect to US Server and begin streaming afresh.
4] Connect to Streaming-optimized Server
Not every server available on VPNs does not support streaming. They do not unlock geo-restrictions to stream content. VPN service providers provide some streaming-optimized servers that are dedicated to streaming content. They mention it beside the server location on the VPN application. Connect to those servers and enjoy streaming.
You can now stream HBO GO without any trouble using VPN. These fixes apply even to the HBO Max or HBO Now streaming service.
Why is HBO Max not working with my VPN?
HBO Max is currently available in a few countries. It is based in the USA and makes sure you are connected to a non-blacklisted IP address located in the USA. The licensing rights and many such issues keep HBO Max away from many countries.
Is it illegal to use a VPN for HBO Max?
It is not illegal as long as you pay the subscription fees of HBO Max. The terms of HBO Max restrict the use of VPN as the licensing of the content available on HBO Max might be bought by some other streaming services. That is the reason they restrict the use of VPN.
Related Read: Fix HBO Max Error Codes 905, H, 100, 321, 420, Can't Play Title.