Nowadays it's quite common to work with a  LAN (Local Area Network) formed by two or more Windows 11/10/8/7 computers. Local networks have always been convenient to share some of the important files with other authenticated users. Providing access to digital media like computer folder or programs over a small local area network is quite simple. All you need to do is enable the file sharing option on Windows OS. While it's quite useful to share your files with other Windows users on the local network sometimes it throws an error message Your folder cannot be shared. You may want to use Advanced Sharing to resolve the issue or there might be a problem with password protection. The following solutions may help you to fix the error.
Your folder cannot be shared
Network Sharing has been a quintessential part of Windows ever since it was released. The feature is especially useful in organizations wherein all the Windows machines are connected to the same network. The speed with which the file transfer takes place is also unprecedented.
1] Disable antivirus software
Disable your antivirus software temporarily and see if it help. If it does, then you may have to add Exceptions for the Shared folder.
2] Give Full Control to All users
Select the folder you wish to share over the local network. Right-click on the folder and click Properties from the menu bar.
Go to Sharing tab and click on "Advanced Sharing " option.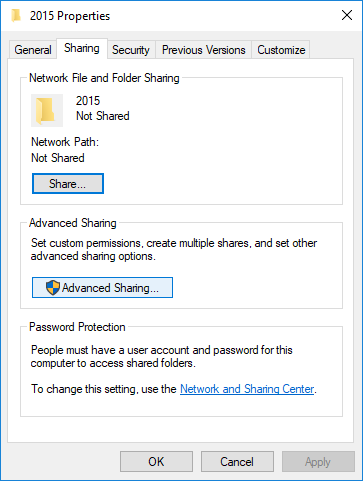 Tick the box with  "Share this folder".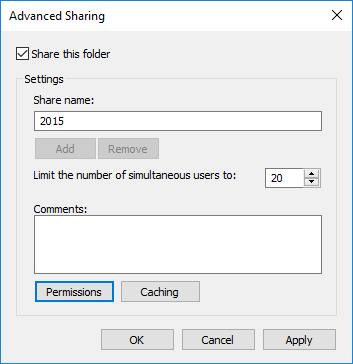 Next, select Permissions and select the Allow box for "Full Control" to set  Full Control permission for everyone that lets you share the folder with everyone.
Remember that by doing this, your files will be accessible to anyone on your local network even if they don't have the password. If you are using password protection, continue by following these steps.
Click on Add and then select Advanced Option and click on Find now.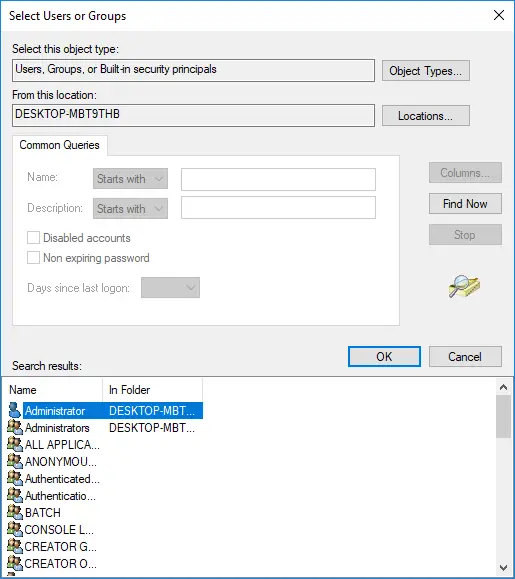 Choose Authenticated users, Click OK and then click Full Control. Click OK and exit.
3] Disable Password Protected Sharing
While this solution is relatively easy, note that it may incur certain risks as you will be switching off the password protection. Though it's convenient to disable password protection, you should be aware that your system may be vulnerable to security threats.
Go to Control Panel and click on Network and Sharing Center.
Click on Change advanced sharing settings.
Click the 'down arrow' under All Networks to expand the settings.
Under the Password protected sharing section, select Turn off Password protected sharing and save the changes.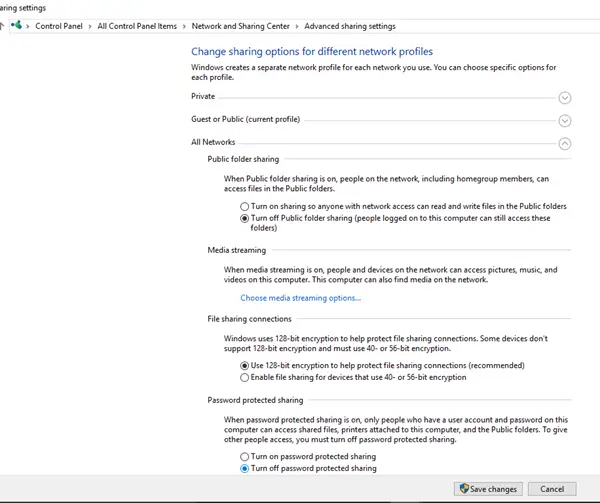 These solutions should work well to resolve the issue. If you still face trouble with sharing the file among the Window users, then there might be a problem with Security Properties. You may want to set up the Security Properties again. Also if you refrain from disabling the password protected sharing, you can create a password for each current user in User settings.
Let us know if this works for you.