BSOD or Blue Screen of Death has always been a matter of grave concern for Windows users. A lot of those users encountered another BSOD. This time, it is caused because a file called FBNetFit.sys. FBNetFit.sys is a digitally signed driver file from Lenovo installed by the Lenovo Vantage App. If the driver file fails to load or run on your system, it causes a Blue Screen.
Your PC ran into a problem and needs to restart. We're just collecting some error info, and then we'll restart for you.
Stop code: DRIVER IRQL NOT LESS OR EQUAL, What failed: FBNetFit.sys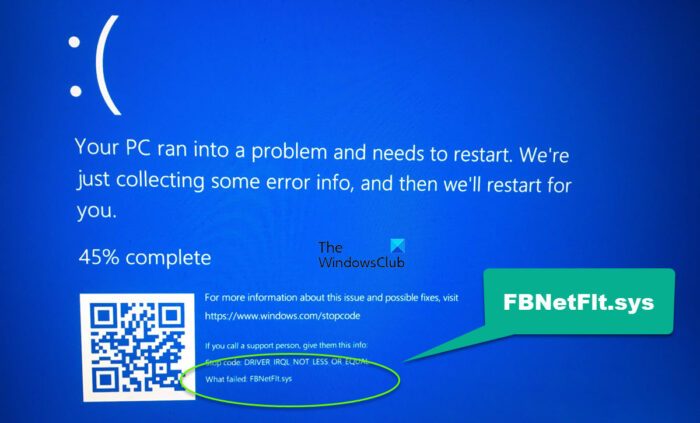 Fix FBNetFlt.sys Blue Screen on Windows 11/10
To fix the FBNetFlt.sys failed Blue Screen of Death on Windows 11/10, execute the mentioned solutions.
Turn off Network Boost in Lenovo Vantage
Uninstall Lenovo Vantage software
Reinstall Lenovo Gaming NetFlt Device Drivers
Let us talk about them in detail.
1] Turn off Network Boost in Lenovo Vantage
To fix the FBNetFlt.sys Blue Screen, you need to turn off Network Boost in Lenovo Vantage as the issue occurs because the Netfilter service is trying to optimize the internet connection for different services, like BattleNet and Discord. You can set some of the apps to prioritize network usage. This feature would be super useful for gamers, but as it turns out, it has been causing Blue Screen and should be disabled.
To do the same, open the Lenovo Vantage app and turn off the toggle for Network Boost. This will disable the feature and hopefully, your issue will be resolved.
2] Uninstall Lenovo Vantage
Lenovo develops the FBNetFlt and the issue has been noticed only on Lenovo computers, so, it is pretty evident that there is something wrong with one of the Lenovo software. As it turns out, the FBNetFlt BSOD is caused due to Lenovo Vantage app. The app can be corrupted or buggy and is causing this issue. To remove Lenovo Voltage from your computer, follow the prescribed steps.
Open Settings.
Go to Apps > Apps & Features or Installed Apps.
Look for Lenovo Vantage.

Windows 11: Click on the three vertical dots and select Advanced Options.
Windows 10: Select the app and click on Advanced Options.

Select Uninstall.
Follow the on-screen instructions and uninstall the Lenovo Vantage app.
3] Reinstall Lenovo Gaming NetFilter Device Driver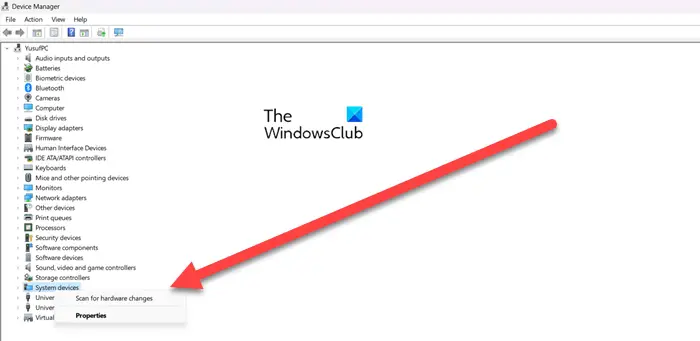 As mentioned earlier, the issue is exhaustive to Lenovo devices and the Lenovo Vantage is the one causing the problem. Now, if you don't want to remove the Lenovo Vantage app or if removing the app doesn't work for you, then you should remove the Lenovo Gaming NetFilter driver from Device Manager and then add it again. In case the driver is corrupted, and is causing BSOD, then reinstalling the driver is the way to go.
Open Device Manager by searching it out from the Start Menu.
Expand System Devices.
Look for Lenovo Gaming NetFilter Device.
Right-click on the same and select Uninstall device,
Click Uninstall again to confirm.
Restart your device and see if the driver is reinstalled, in case, it isn't reinstalled, right-click on System Devices and select Scan for hardware changes.
Once you have reinstalled the corrupted driver, reboot your system and see if the issue is resolved. Hopefully, this will do the job for you.
Read: Where is the BSOD log file location in Windows?
How do I find out what driver is causing my Blue Screen?
Usually, the Blue Screen shows what is wrong with your device. You can check the What failed section to know which driver is corrupted. It usually displays the name of the driver that's corrupted. In case, the BSOD that you see doesn't have the What failed section or you are unable to contemplate which driver is the victim, check our post to find out what's causing the BSOD.
Read: Fix Netflix Blue Screen when watching videos
How do I force Windows Blue Screen of Death?
In order to force Blue Screen of Death, you need to initiate a crash. You can check our post on how to initiate a crash to manually cause a Blue Screen of Death. In case, you just want to prank someone, check out some free fake BSOD generators, they are usually a better option than forcing a BSOD.