This post features solutions to fix Error Code 3304 on Paramount Plus. Paramount Plus is an American subscription video demand service. The content on the platform features libraries of CBS Media Networks, Paramount Media Networks, etc. But recently, users have complained about error code 3304 on Paramount Plus. Fortunately, you can follow these simple methods to fix it.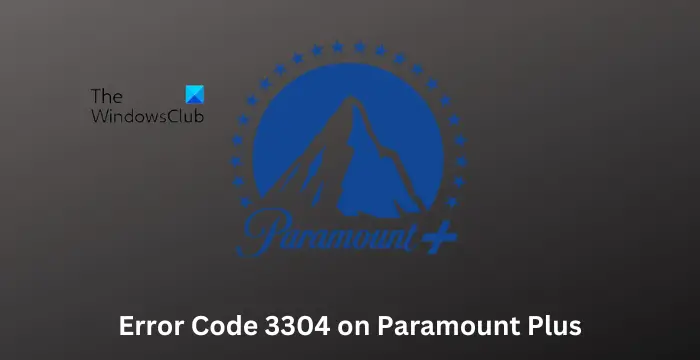 What does error code 3304 mean on Paramount Plus?
The error code 3304 on Paramount Plus usually occurs while a user is trying to stream content. It indicates that the application is facing difficulties in connecting to the server. However, playback issues and corrupted browser cache also cause the error.
Fix Error Code 3304 on Paramount Plus
Firstly, check your internet connection to fix the error code 3304 on Paramount Plus. You can also restart your browser and your PC. Nevertheless, if that doesn't work, try these tested fixes:
Clear Browser Cookies and Cache
Disable VPN and Proxy
Restart your Router and Modem
Disable your Ad-Blocker
Sign out and Sign into your Paramount Account
Try using a different browser
Now let us see these in detail.
1] Clear Browser Cookies and Cache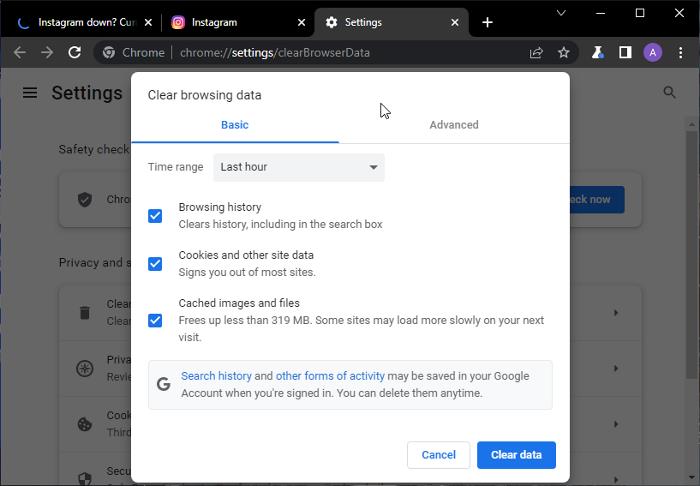 Before getting started with different troubleshooting methods, try clearing cookies and cache data of your browser. Its possible the cache data is corrupted, causing this issue. Here's how you can do it:
Open Google Chrome and click on the three vertical dots at the top right corner.
Click on Settings and navigate to Security and Privacy.
Click on Clear Browsing Data.
Check all the options and click on Clear Data.
These posts will show you how to clear the browser cache in Edge, Firefox or Opera.
2] Disable VPN and Proxy
Server errors can occur if you are connected to a VPN/Proxy server. VPN and Proxy hide your IP address by rerouting your Internet traffic via a remote server. Nevertheless, Here is how you can disable it:
Press the Windows key + I to open Settings.
Navigate to Network & Internet > Proxy.
Here, toggle off the Automatically detect settings option.
Click on the Set up option present next to Use a proxy server and toggle off the Use a proxy server option.
3] Restart your Router and Modem
Errors like this can also happen if you have an unstable Internet connection. Perform a speed test to check if anything is wrong with your Internet connection. If the internet speed is less than the plan you opted for, try restarting your router and modem. However, contact your service provider if restarting your router and modem doesn't work.
Read: Paramount Plus not working
4] Disable your Ad-Blocker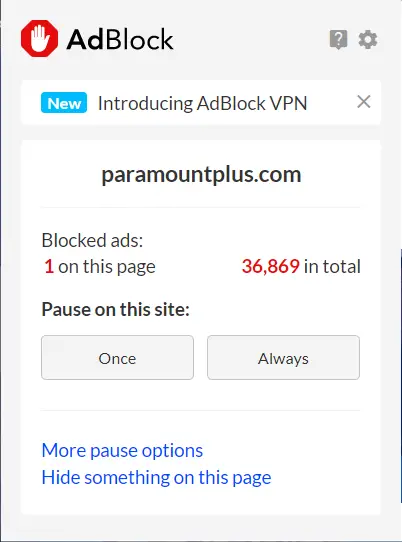 The ad-blocker extension installed on your browser can also be responsible for the error code 3304 on Paramount Plus. Disable the adblocker for Paramount Plus and check if the issue gets resolved.
5] Sign out and Sign in to your Paramount Account
If you're still unable to fix the issue, try signing out of your Paramount account. Further, restart your browser and log into your Paramount Plus account. Doing so has helped many users fix the error.
6] Try using a different browser
If none of these steps were able to help you, the culprit may be your browser. Try opening Paramount Plus in a different browser and see if the error still occurs.