When playing FIFA 22 or launching it, if you receive a message saying There was an error accessing server data, this post will help you resolve it. Server issues cannot be fixed on the client-side, but if the game is being blocked, it can result in the same error. Let's check out some solutions that can help you fix the problem.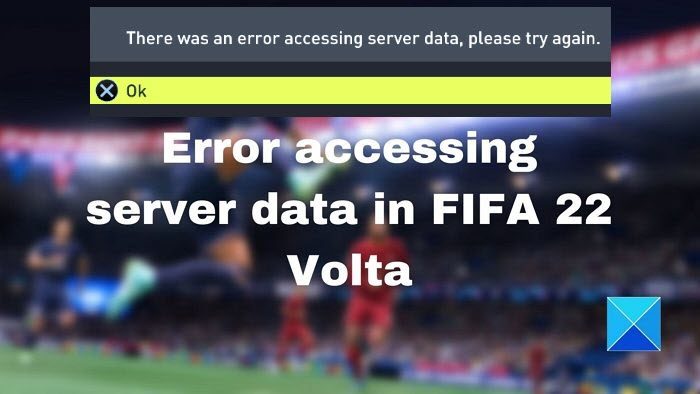 Error accessing server data in FIFA 22 Volta
You will need an admin account to try these suggestions to fix There was an error accessing server data in FIFA 22 Volta:
EA Server Issue
Network Issue
Security System Blocking
Firewall Issue
Before you begin, make sure that your Windows 11/10 OS and the game is up to date.
1] EA Server Issue
All online games have a dedicated server or servers, and if the game cannot make a connection to them, it will result in an error. It usually happens when EA servers are down, or the service has an issue. The best way to find out if the server is down is to check on social media and see if many people are talking about it. Another way would be to check out sites like Downdetector keep track of these. If nothing works, then get in touch with the EA support to get the final statement.
2] Network Issue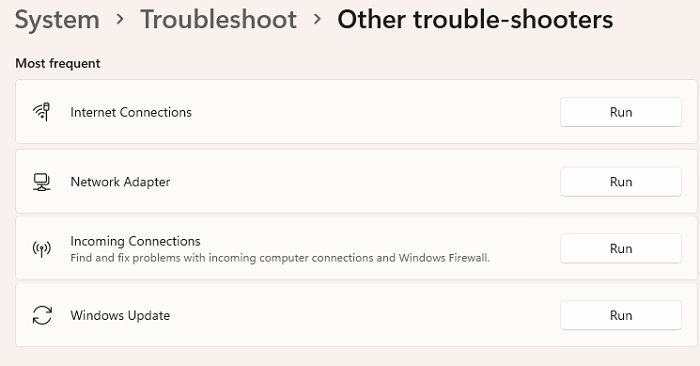 If the EA servers don't have an issue, the next thing you need to check is your internet connection and network. Checking the internet connection is easy. All you need to do is try opening a website and check if it works.
Once through that, it's time to check the Network issue. Windows offers a couple of built-in network troubleshooters.
Open Windows settings using Win + I
Navigate to System > Troubleshoot > Other troubleshooters
Locate the following and run it

Internet Connections – Checks internet connection stability
Network Adapter – Resolves problems with the network adaptor, including wifi.
Incoming Connections – Find and fix problems with incoming computer connections and Windows Firewall.

Run each of them, and then evaluate for the problem.
If the problem is with the adaptor, the issue should get resolved when the troubleshooter completes the process. If you get any indication from the Incoming Connections wizard, you need to check with the firewall settings.
3] Firewall Issue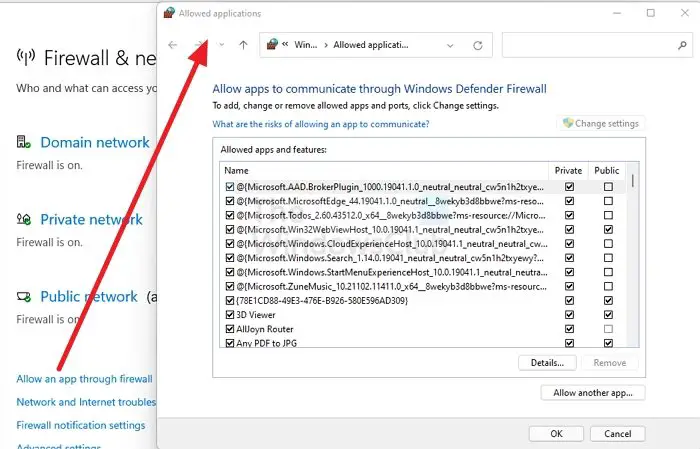 The next in the line is to check if the Windows Firewall has blocked the application. At times Microsoft Security is known to block programs even if they are legit, i.e., false positive.
Type Windows Security in the Start Menu and open it once it appears
Go to Firewall and Network protection
Click on Allow an app through firewall
Click on the Change Settings button on the Allowed applications window
Locate the Fifa application EXE or listing, and check both Public and Private checkboxes
If it's not in the list, click on Allow another app button and then select the FIFA 22 and make the changes
Relaunch the game and check if the issue is resolved.
4] Security System Blocking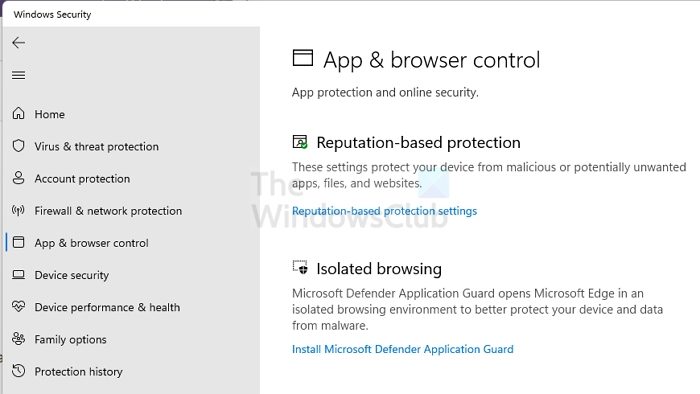 The last in the list is where Security System blocks the application from accessing the internet. The process will vary from application to application. So here I am going to talk about Windows Security software.
Open Windows Security
Navigate to App & browser control > Reputation-based protection settings.
Check if there is a message or notification about FIFA 22 or related file as blocked.
If yes, then you need to make sure to allow it.
These apps are usually listed under Reputation-based protection. So make sure to unblock it from there.
I hope the post was easy to follow, and you were able to resolve the Error accessing server data in FIFA 22 Volta.
Why does FIFA 22 not start?
If FIFA 22 crashes as soon as you launch, check if the PC meets the minimum system requirement. Most of the games usually crash when this happens. It is assumed that the game is not blocked by firewall or system security. The requirements include 64-bit Windows 10, Athlon X4 880K @4GHz or Equivalent / Core i3-6100 @3.7GHz or Equivalent / Memory: 8 GB / Radeon HD 7850 or Equivalent or Graphics card (NVIDIA): GeForce GTX 660 or Equivalent.