Discord plays an integral role within the gaming community these days. It's where gamers come together, creating a network where they can chat and play together, among many other things that the app offers. The chat feature, especially, is very responsive and dynamic, offering all kinds of bots to help make conversation more fun. You may face an issue with loading images on your server, and that can be a bother.
Fix: Discord images won't load on PC
We will be recommending all the fixes you can implement if you're having trouble loading Discord images on your PC.
Ensure stable internet connection
Change your DNS servers
Adjust your privacy settings on Discord
Change your server region on Discord
Try the web version of Discord
1] Ensure stable internet connection
The most common cause behind this issue is obviously an unstable internet connection. If you're having trouble loading Discord images on your PC, you should make sure that your device is connected to an internet network that is working properly.
2] Change your DNS servers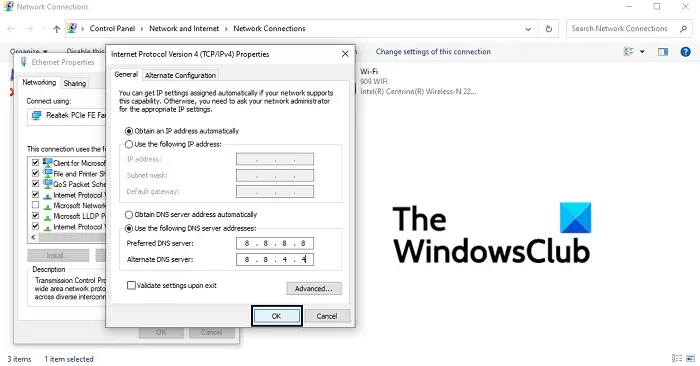 Open the Run dialog box and in the blank space, type 'ncpa.cpl' and press enter to open the Network Connections settings homepage
Here, right-click on Ethernet and open its properties
Then, checkmark the Internet Protocol Version 4 (TCP/IPv4) box and open its properties. In this dialog box, click to input your DNS Server addresses manually. Now, run the following DNS servers:

Preferred DNS server:   8 . 8 . 8 . 8
Alternative DNS server: 8 . 8 . 4 . 4

Click on OK to save these changes and exit the window. Try opening Discord and check if the issue has been resolved
3] Adjust your privacy settings on Discord
Open the discord application on your PC
From the list of servers on the left-side pane, select the one that you want to adjust the privacy settings of
In this pop-up, turn on the option to allow direct messages from the members of the server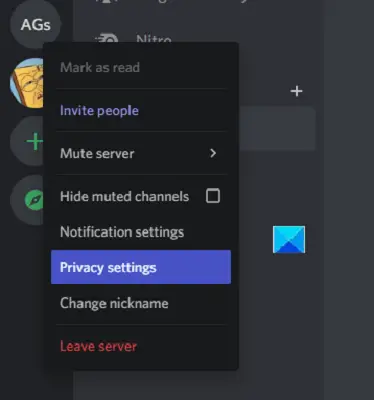 If you want to set up this option for any channels that you may join in the future, you can configure the general user settings.
Click on the user settings icon on the bottom-left corner of Discord's homepage
From the tabs of options to your left, select Privacy and Safety
Here, under the Server Privacy Defaults enable the option to allow direct messages

4] Change your server region on Discord
If the issue is based around your server location, you have the option to switch it as well on Discord. Here's how you can do that:
Open Discord and right-click on your server
Here, select Server Settings, and from the drop-down click on Overview
Here, you can select the server region of your choice. It is best to choose a location closest to yours as that helps to maintain connection reliability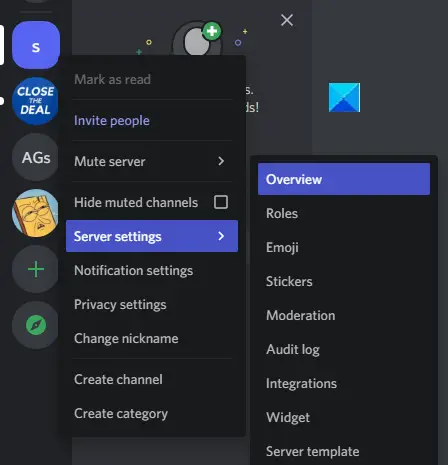 Users should note that the user must have administrative privileges to make changes to the server location.
5] Try the web version of Discord
If none of the above-mentioned workarounds did the trick for you, maybe it is time to give Discord's web client a try. Since this issue was most commonly reported with the PC app version, you can visit discord.com/app, log in with your credentials and check if you can view and upload images properly here.
Lastly, you can try uninstalling and reinstalling the Discord PC client.
Related: How to use Slow Mode on Discord?
How do you fix a blurry Discord PFP?
Another very common error reported with the Discord app is that sometimes a user's PFP (profile picture) gets blurred out after uploading. It is quite annoying to a lot of users. The only fix for this glitch is for users to upload their profile picture via the PC browser and not the Discord application.
How do I clear the cache on my computer Discord?
If you think that your computer's running a bit slow and that you can help the cause by clearing your Discord cache and freeing some space up, you can do that very easily. You can do so on your PC's file explorer by accessing the AppData folder. Search for %AppData% in the search pane of your Start Menu. If you have Discord installed on your PC, you'll find a folder by its name. Click on it and further click on the Cache folder. Press Ctrl+A and delete all the files present in this sub-folder.
Hope this article helped you!