When it comes to selecting the best RSS feed reader, Feedly always tops the list since this is a free cross-platform RSS feed reader that comes with a huge list of features. However, if you are about to start using this feed reader for the very first time, you might not know all the options that enrich this service. Here are some Feedly tips and tricks for new and everyday users that you might want to know.
Feedly tips and tricks
Before you begin, you need to know that all the following tips and tricks are based on the web version of Feedly. You can use them with a free account as well.
1] IFTTT integration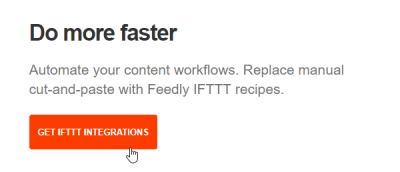 This is probably the best feature of Feedly since you can enhance your Feedly user experience with the help of IFTTT. "If This Then That" or IFTTT is probably the best online automation service and you can utilize that to perform different tasks. For example, you can save articles from Feedly to Google Drive, share articles on various social networking platforms, save items in Evernote or any other note-taking app, and much more. To access this option, click on the Integrations button visible in the left sidebar and then select GET IFTTT INTEGRATIONS. Following that, you need to sign in to your IFTTT account. Here is a list of things you can do with this integration.
2] Import/Export
There are many other RSS feed readers that let OPML files import/export RSS feeds. If you were using another tool and had an OPML file to import, you can do that by clicking ADD CONTENT > Import OPML. Following this, you can select the corresponding file to import. Whereas, if you want to export a subscribed RSS from Feedly, you need to go to this page and hit the Download Your Feedly OPML button.
3] Delete RSS Feed from list
If you have previously subscribed to a blog or website and now want to remove that from your list, here are the steps you need to follow. You can either click on the Settings gear button visible next to the FEEDS text in the left sidebar, or you can visit this page. You can then select a website or RSS feed and hit the cross sign to remove. If you want to edit the entry, click on the Edit button.
4] Browse news conditionally
If you often read the news on Feedly, you want to read the latest news instead of 2 or 7 days old. You can use various filters to check the trending news on the internet. For instance, you can use Most Popular, Popular + Latest, Latest news on Feedly. To get there, click on the three-dotted buttons on the Feedly homepage and select the news you want to read.
5] Create board to organize favorite stories
Although you can save articles on Feedly, it is also possible to create Board and organize your favorite items simultaneously. To get started, click on the Create Your First Board button in the Sidebar > Enter a title. After that, whenever you click on the Star button to save an article, it will be stored on that board.
There's more you can do with Feedly. However, these tips will be helpful for you to get started with this RSS feed reader.