If you are not getting Feature updates, but other updates are available on your Windows 11/10 computer, this guide will help you fix the issue. You might get an error message saying ERROR_SERVICE_NOT_ACTIVE – # The service has not been started, along with an error code called 0x80070426.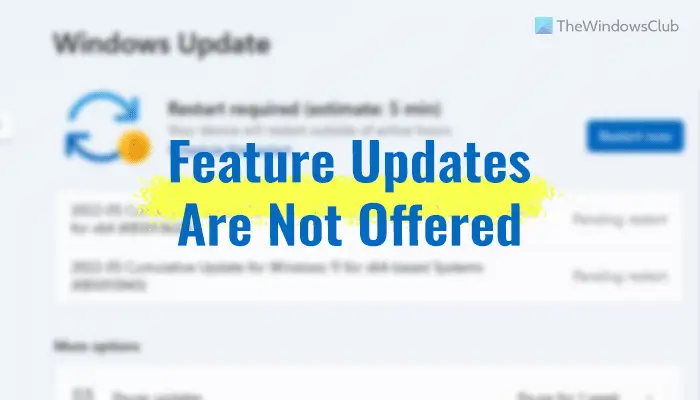 As per the official documentation, the primary reason for getting this error is the HTTP/Proxy that you have set on your computer. In simple words, if the proxy is not set in WinHTTP level and instead it is set in the Internet Explorer or User level, there is a chance of getting this aforementioned error.
That being said, in order to troubleshoot the above-mentioned error, you need to configure the proxy in WinHTTP. It is pretty easy and not much time-consuming as well.
Feature Updates are not offered while other Windows Updates are
If Features Updates are not offered (0x80070426) while other Windows Updates are available, follow these steps:
Press Win+X to open the WinX menu.
Select Windows Terminal (Admin) option.
Click the Yes button.
Open the Command Prompt instance.
Enter this command: netsh winhttp set proxy ProxyServerName:PortNumber
Restart your computer.
To learn more about these steps, continue reading.
First, you need to open the Command Prompt or the Command Prompt instance in Windows Terminal with administrator permissions. In this example, we are going to use the Windows Terminal, but you can do the same with the standalone Command Prompt.
To get started, press Win+X to open the WinX menu and select the Windows Terminal (Admin) option. Then, click the Yes button in the UAC prompt to open the Windows Terminal as administrator.
If Windows Terminal opens the Command Prompt instance, there is nothing to do. However, if Windows Terminal opens the PowerShell instance, you need to switch to the Command Prompt mode.
Following that, enter this command:
netsh winhttp set proxy ProxyServerName:PortNumber
Don't forget to replace the ProxyServerName and PortNumber with the correct details.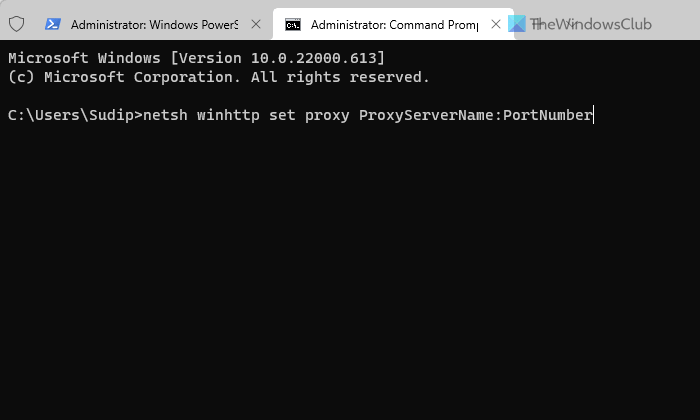 Once done, close the Windows Terminal, restart your computer, and check if it resolves the issue or not.
What are Windows Feature Updates?
Windows Feature Updates are updates that bring new features, UI improvements, and new options. On the other hand, security patches and other updates are for fixing different bugs and glitches. For your information, Features Updates are comparatively bigger in size than other updates.
Will Windows 10 get feature updates after Windows 11?
Yes, Windows 10 has got several Feature Updates even after the release of Windows 11. On the other hand, Windows 11 has also got a few Feature Updates in the meantime. If you have both operating systems in your hands, you can test them separately.
Read: Fix Error 0x80070426 for Microsoft Store and Windows Update,