Some folks have been experiencing problems with Fall Guys not starting properly on Windows 11/10, so with that in mind, we decided to write a post on how to resolve the issue where Fall Guys is not opening or launching on your Windows PC. For those not well versed with Fall Guys, it is a popular battle royale video game that is very popular on Windows. Like all other games in the genre, the player must compete against other real human contestants in the game, and the last person standing wins.
Now, there are times when Fall Guys simply refuse to launch no matter what is done. This is an annoying experience for many fans of the game, so what can be done about it? Well, we have a few ideas.
Fall Guys not opening or launching on PC
If Fall Guys is not starting, opening or launching on your Windows 11/10 PC, here are some suggestions to help you resolve the issue:
Reboot Epic Games Launcher
Log out of Epic Games account
Update the graphics card
Check if servers are down
Open Fall Guys with administrator rights
Run Fall Guys as administrator via Compatibility
Verify Fall Guys game files
Reinstall Fall Guys
1] Reboot Epic Games Launcher
Before getting ourselves into the nitty gritting of this issue, we must try a few basic repairs that could work. For example, ensure you have rebooted the Epic Games Launcher at least once. This is a good option because Fall Guys can fail if the Epic launcher has a temporary bug.
No need to reboot the computer after, just the Epic Games Launcher client.
2] Log out of Epic Games account
Another option is to log out of your Epic Games account, then log back in. Doing this tends to work for minor issues, and were not sure if this is one of those issues. So, without delay, give it a try.
3] Update the graphics card
Now, if the issue with Fall Guys persists, then we suggest updating your graphics card driver. You see, outdated drivers are known to cause countless problems, and the inability to launch Fall Guys could be due to driver issues.
4] Check if servers are down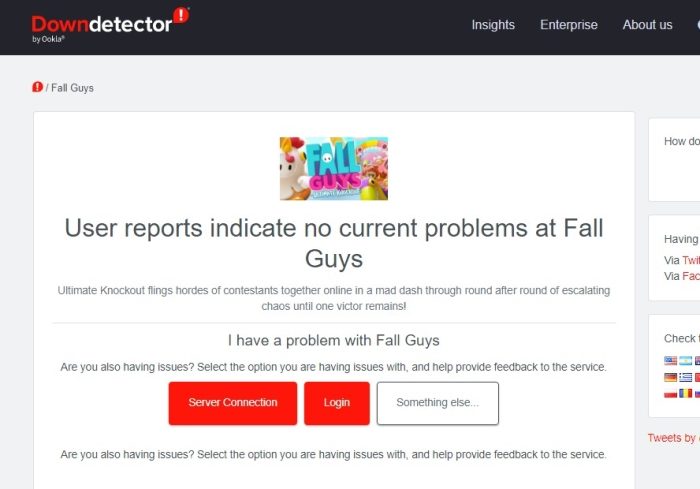 Finally, if you managed to launch Fall Guys but are unable to get online, you should check to see if the Fall Guy servers are down. You can do this by visiting any of these Downdetector websites or checking all social network accounts attached to Fall Guys.
5] Open Fall Guys with administrator rights
If the above solutions have failed to materialize any significant changes, then the next step is to launch Fall Guys using administrator rights. Let us discuss how to get this done right now.
OK, so there are two ways to open Fall Guys as an admin. We can use the traditional method or another. We are going to explain the traditional solution first to kick things off.
Locate the shortcut or executable file for Fall Guys.
From there, right-click on the file.
You should now see a context menu.
From that menu, click on Run as administrator.
6] Run Fall Guys as administrator via Compatibility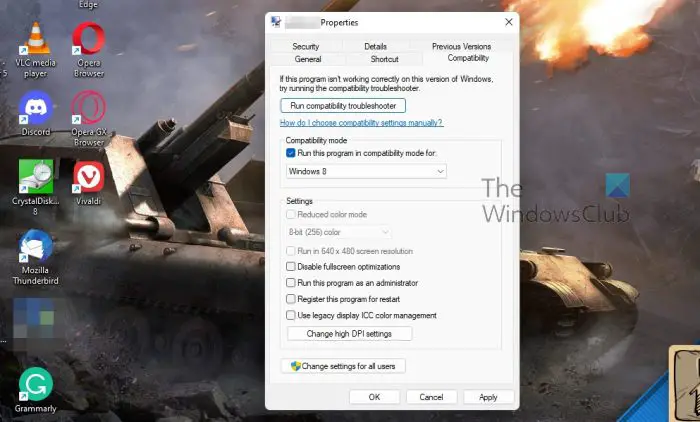 Fire up the Epic Games Launcher.
Navigate to Library located on the left panel.
Click on the three-dotted button under Fall Guys.
From the context menu, please select Manage.
Look for the Installation option, then be sure to click on the Folder icon found next to it.
After that, right-click on the Fall Guys executable file.
Select Properties as soon as you can.
Go to the Compatibility tab, then select Run this program as an administrator.
Click on Apply > OK.
Once the steps are completed, you can now go ahead and launch Fall Guys to see if it is working as intended.
7] Verify Fall Guys game files via the Epic Store
If some of the files connected with Fall Guys are corrupted, then it will be difficult to launch the game. In a situation like this, the best option is to verify game files.
To begin, launch the Epic Games Launcher.
Click on the Library option via the left panel.
Look for the three-dotted button.
Select it right away.
Click on Manage, then hit Verify to scan Fall Guys for any potential problems.
Wait a short while for the verification process to be completed.
Close and open the launcher again.
Attempt to play the game to see if things have gone back to normal.
8] Reinstall Fall Guys
If everything above has failed to work accordingly, then your best bet at this time is to reinstall the game. We suggest doing it via the Epic Games launcher, so let us look at how to get this done.
First, you must open the Epic Games Launcher.
After that, navigate to the Library section.
Once you have done that, please click on the three-dotted button next to Fall Guys.
Select the Uninstall option via the context menu.
Next, choose Uninstall again from the pop-up window.
Finally, you must restart your computer system, then download and install Fall Guys all over again. Attempt to play the game to see if all problems have been rectified.
READ: Fix Problem Finding Match in Fall Guys
Is Fall Guys available on Windows 11?
Yes, the Fall Guys video game is available on Windows 11. But it can also be found elsewhere since the game is cross-platform.
Can Fall Guys run without a graphics card?
No! Every video game requires a graphics card to run, and that includes Fall Guys. In fact, your computer will not operate without a graphics card either so please do not attempt to find out for yourself.
Can 4GB RAM run Fall Guys?
If you only have 4GB of RAM in your computer, then worry not because it is enough to run Fall Guys smoothly. More RAM is always best, but if you cannot afford to go up a notch, then settle with what you have.
Is Fall Guys coming to mobile?
As things stand right now, it is not possible to play Fall Guys on a mobile device through either the App Store or the Google Play Store. However, it is possible to play on mobile via the cloud, so if you have the option, then please take advantage of it. Just ensure your internet connection is up to the required standard before proceeding.