From students to businessmen – Microsoft Excel can be a very useful tool for all who want to create reports, charts, tables and so on. When someone needs to create a chart using a free tool, Microsoft Excel Online is the first tool that should come to mind. Unlike Excel desktop version, Microsoft Office Online is free, and all the files get saved to OneDrive, which in turn can help users manage Excel sheets from anywhere. To get more familiar with this tool, here are some Microsoft Excel Online tips and tricks to help you get started.
Excel Online tips and tricks
1] Use Functions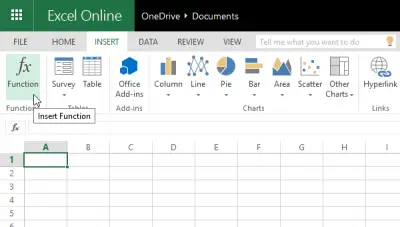 Functions are probably the backbone of the web version of Microsoft Excel. There are different functions available including Cube function, Engineering function, Financial function, Logical function and so on. You can use all these functions from the Insert section. To use this feature go to Insert > Function > Select the function category and enter a Function. Following that, you can utilize it just like the desktop version. Check out this page to know more about Excel Functions.
2] Create a Survey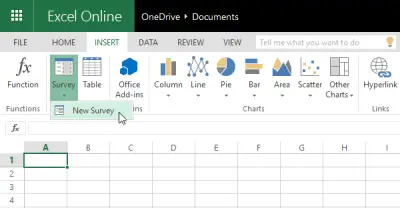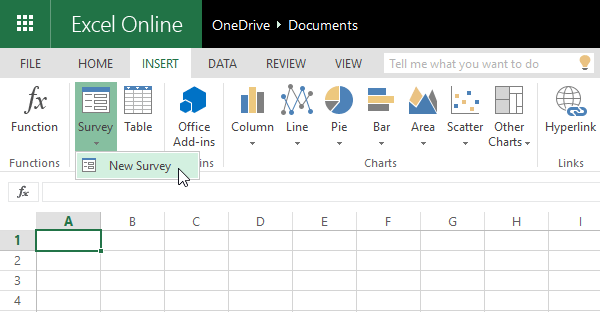 Many times, we need to create polls to get user feedback or gather information. If you use Microsoft Excel Online, you do not have to use any other third party survey makers, since Excel can handle that task easily. It is also possible to share the survey with others. To create a survey, click on Insert > Survey > New Survey > Add questions, mark fields as required (if necessary). Now, you will get two options i.e. Share Survey & Save and View. If you want to share the survey with someone, click on the first option. Otherwise, click on the second option. All the surveys will be saved in that particular Excel file.
3] Install Add-ins to add functionality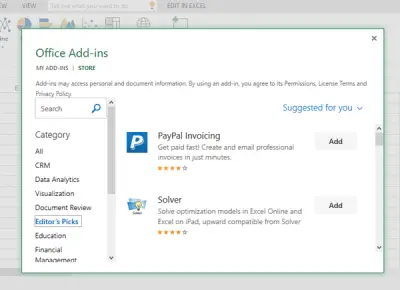 Add-ins help users to do even more. Similar to web browsers, you can install add-ins in Microsoft Excel Online as well. There are tons of add-ins available for Excel Online. To install an add-in, go to Insert > Office Add-ins. Here you can choose an add-in by category or name. Click on the "Add" button and wait for a few moments to get it installed. To start using an add-in, you have to click on START button for the first time after installation.
Related read: Useful Microsoft Excel Online Templates.
4] Share Excel sheet with others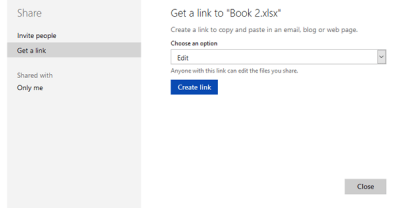 As this is a web tool, you can create a shared Excel sheet and let others view or edit your sheet. There is no need to take help from another tool since Microsoft Excel Online can do that job well. You can share a document with two different privacy settings. The first one will let others edit the file and the second one will let others only view the sheet. To do this, create a sheet > click on the Share button visible on the top-right position. On the following popup, you need to generate the link and select permissions.
Read: Microsoft Excel Tutorial for Beginners.
5] Add a comment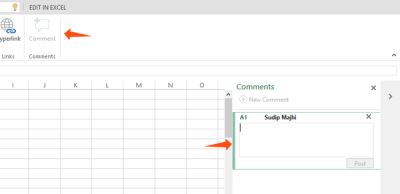 At times, we need to elaborate a particular function or value to understand it better or to act as a reminder in the future. Suppose you have created a shared Excel sheet, and you need to clarify a few things for the benefit of others.
At such times, you can add a comment and write down everything. To add a comment, select a cell > to right-click and select Insert Comment. Alternatively, you can go to Insert tab > click on the Comment button.
Read: Top 15 Financial functions in Microsoft Excel
6] Insert chart and graph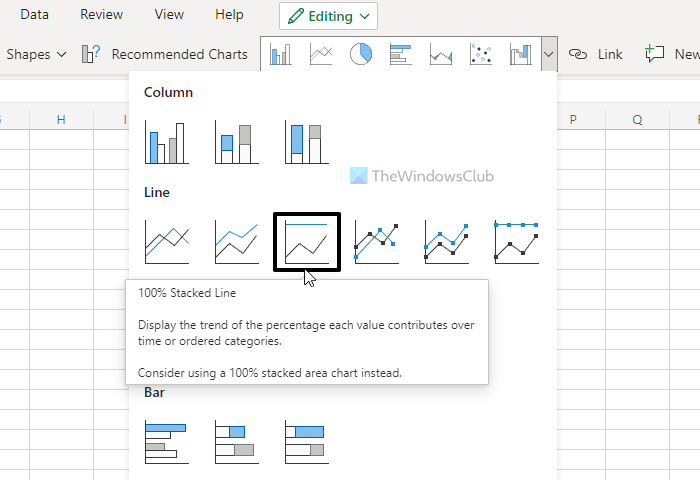 It is possible to insert a chart and graph in any worksheet in Excel Online. Whether you have data on your sheet or want to create the chart from scratch, you can do both on Excel Online. For that, you need to head to the Insert tab and find out the box, which displays all kinds of charts. You can select the data and select a chart or graph as per your requirements.
7] Draw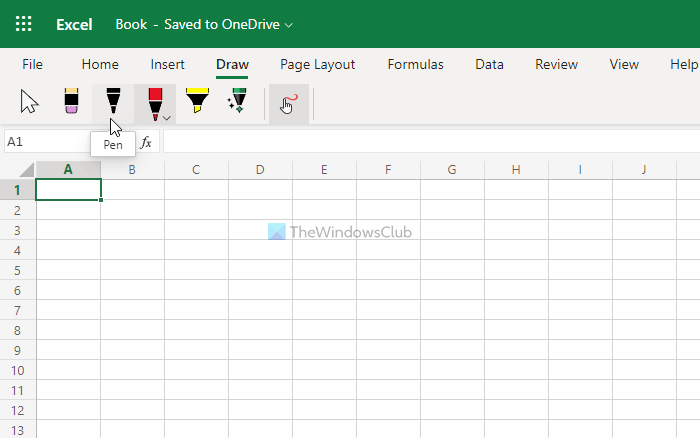 Excel Online includes an option to help you draw on the worksheet. You can have a freehand drawing tool, which lets you draw anything you want. At times, you might need to insert a hand-drawn graph or pie chart in your spreadsheet. In such situations, you can use this option to get the job done.
8] Version history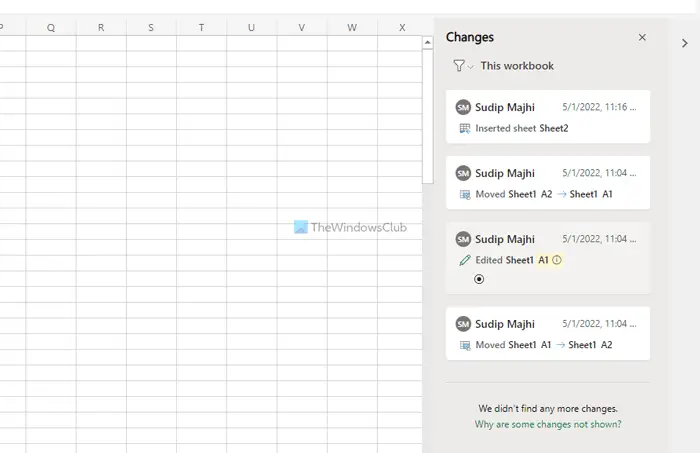 It is possible to check the version history in Excel Online so that you can find what has changed in the current edition. For that, you need to use the Show Changes option. You can find it in the Review tab. After clicking on this option, a panel will open on the right-hand side. From here, you can click on a version to find the changes.
What are some cool Microsoft Excel tricks?
Some of the cool Microsoft Excel tips and tricks are mentioned in the article. For example, you can use functions to be productive, use templates to get a better design, insert graphs and pie charts to showcase data in a better way, etc. Other than these, you can draw on the Excel spreadsheet, remove duplicates, and more.
Does Excel Online have all features?
No, Excel Online doesn't come with all the features and options that the offline or desktop version offers. Although most of the essential options are available in both versions, you may not find some non-significant options here and there. If you have an option to use the desktop edition, it is already recommended to use it over Excel Online.
If you are a Microsoft Excel desktop software user, then these posts are sure to interest you: