When it comes to the best document editing apps for small teams, three big names come up – Evernote, OneNote, and Google Docs. Although Word Online, Dropbox Paper are well-organized, most people try to get a solution that is compatible with all the platforms. If you have a small team, which requires an app to edit documents, you can check out this Evernote vs. OneNote vs. Google Docs comparison.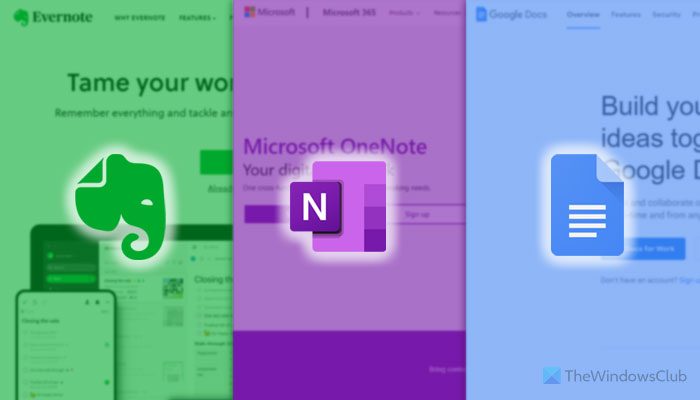 Evernote vs OneNote vs Google Docs
There are several things you need to keep in mind before opting for one solution. Hopefully, this guide will be helping you to decide whether you should choose Evernote or OneNote, or Google Docs.
User interface
The user interface of all three apps is pretty good, and there is no doubt that all of them are pretty concentrated for small teams. However, if you are a writer and often write a lot of documents all the time, Google Docs might be a better tool. On the other hand, Evernote has a pretty good UI when it comes to project management or managing one document by multiple writers.
The best thing about Evernote is that you can find a drag-and-drop UI. In other words, if you create multiple notes, you can organize them quickly by the dragging and dropping technique.
On the other hand, Google Docs allows you to set more than one option to organize the files. You can set a list view or tiles view. It helps you check the file details even before opening it.
Features
In terms of features or editing panel options, all of them are equally rich. However, if you want to get the most options, Google Docs is for you. On the other hand, if you are familiar with Microsoft Word and its editing panel, OneNote will be handy for you. The editing interface of Word Online and the OneNote app is identical, making it users easy to edit any document or page.
The best thing about Google Docs is that you can install add-ons and Google Fonts. At times, you might not like to use the default fonts and want to customize the document in a different way. Although OneNote offers an option to get more fonts than usual or Evernote, you cannot find as many fonts as Google Docs.
The next big thing is that you can save the document in various fonts, add tables, insert images, add videos, etc., in Google Docs. Unfortunately, such things are not possible on other platforms. Although the other two tools offer some of the aforementioned options, you cannot find as many as Google Docs.
App compatibility
Evernote, OneNote, and Google Docs are readily available for almost all platforms. Whether you want to get the mobile apps or use them on the computer, they are compatible with all of them. However, if you want to use Google Docs on Windows, you must download the Google Drive app. The best thing is that you can use all of them on your browser. In other words, if you do not want to download the app, you can use your browser to get the same experience.
Collaboration
In terms of collaboration, all of them are equal. Let's assume that you want to invite someone to collaborate with you on a document for the next project. At such a moment, you can ask him/her to join the Notebook on OneDrive. However, Google Docs has a slightly better advantage. That said, you can show a preview to the recipient without giving him/her access to edit.
None of them has any email address or account barrier. Whether you create your account with Gmail, Yahoo Mail, or Outlook, you can use all of the above-mentioned services without any problem.
Pricing
Evernote, OneNote, and Google Docs are available for free. However, all of them have some PRO or paid versions that offer more features than the respective free versions. The Evernote paid version starts from $7.99/month. On the other hand, OneNote is a Microsoft 365 or Office integrated app. That said, if you have Microsoft 365 subscriptions, you can lift all the barriers. Similarly, you can purchase Google One subscription for $1.99/month, which includes the paid version of Google Docs.
Limitations
Almost all the apps have some limitations here and there. For example, the search option of Evernote is not up to the mark. Apart from that, the free version comes with an option to synchronize data on only two devices. You have 60 MB of storage in the free account. On the other hand, OneNote has no such limitations. However, Google Docs require Google Drive and its storage. That being said, you have 5GB of storage with the free account.
Is Google Docs better than Evernote?
When it comes to editing documents and sharing them with other people, such as teams, partners, etc., Google Docs is certainly better than Evernote. However, if you need a modular user interface, Evernote is better than Google Docs. The bottom line is it depends on your usage and likings.
Which is better, OneNote or Evernote?
Many people like to have a similar editing panel for Word. If you are one of them, you can certainly use OneNote instead of Evernote. However, if you like to use a better UI, more options, etc., you can use Evernote. Nonetheless, Evernote has more limitations than OneNote, even if you use the paid version.
Hope this guide helped you choose an app among Evernote, OneNote, and Google Docs.