Various users have complained that they cannot launch a Virtual Machine created in Hyper-V Virtual Manager as the Ethernet port failed to allocate resources while connecting to the virtual switch. This mostly happens when no vSwitch is configured, configured vSwitch is deleted, or the network adapter is disabled. In this post, we will discuss this issue in detail and see what you can do to resolve it.
An error occurred while attempting to start the selected virtual machine(s). Synthetic Ethernet Port. Failed to allocate resources exists to complete resources to a virtual network.
The accompanying errors could be:
This operation returned because the timeout period expired
Insufficient system resources exist to complete the requested service
Access is denied
Fix Ethernet Port Failed to allocate resources while connecting
After reading the error messages, it is clear our virtual machine is not opening because it doesn't have a Virtual Switch. This can be due to various reasons, such as vSwitch being deleted, vSwitch not being attached to the VM or the network adapter of the switch being disabled. We have solutions for every possible reason below.
Connect a Switch
Create a Virtual Switch
Enable network adapter
Let's get started
1] Connect a Switch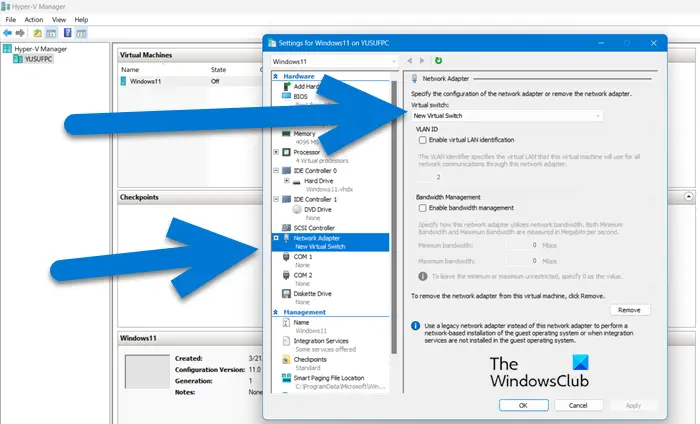 One of the most common mistakes that we do while setting up a virtual machine is not connecting to a Switch. You have to understand that a switch allows the VM to communicate with the network hardware of the base computer. So, follow the steps mentioned below to connect to a switch.
Open Hyper-V Manager, right-click on the virtual machine and click on Turn off.
Right-click on the VM and then select Settings.
Now, under the Hardware list, click on Network Adapter.
Click on the drop-down menu from Virtual Switch and then select the correct switch.
After connecting to the switch, start your VM by right-clicking on it and selecting Start. Hopefully, now you can connect to the Virtual Machine without any issues. In case, you can not find any Virtual Switch in the drop-down menu, move to the next solution to create one.
2] Create a Virtual Switch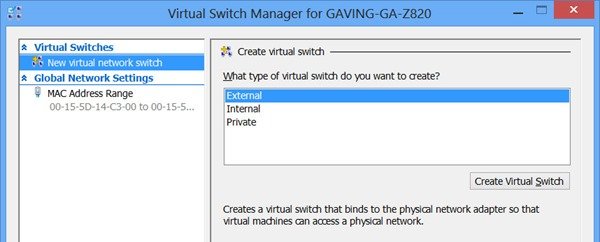 Since there is no Virtual Switch, we are supposed to create one in Hyper-V Manager. Most of us, create one, but it gets deleted due to some reason leaving our VM with no networking driver. That's why, we are going to create one and after creating the Virtual Switch, we need to configure the VM and allocate it to the newly created switch. To create a new vSwitch, we need to follow the steps mentioned below.
Open Hyper-V Manager.
Click on Virtual Switch Manager.
Click on the switch type you want to create one of (External is preferred).
Click on the Create Virtual Switch button.
Give it a name and click on Apply > Ok.
After creating a switch add it to the VM using the first solution.
3] Enable network adapter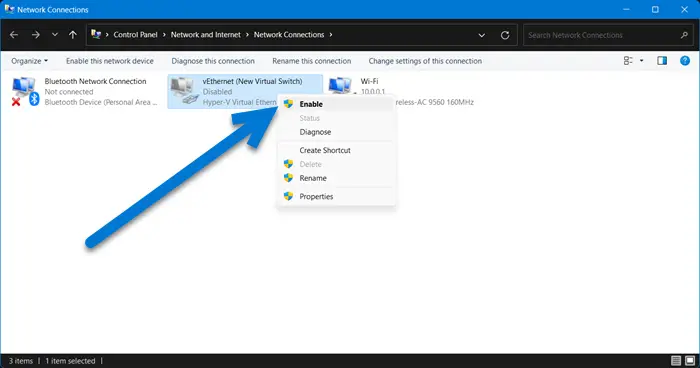 In case, creating a switch and attaching it to the VM doesn't work, it is very likely the network adapter is disabled and needs to be enabled from the Control Panel. Follow the steps given below to do the same.
Open Control Panel.
Go to Network and Internet > Network Connection.
Click on Change adapter settings.
Right-click on vEthernet and click on Enable.
After enabling vEthernet, start your VM and hopefully, this time, you won't get any error messages.
We hope you can resolve the issue using the solutions mentioned in this article.
Read: An error occurred while trying to retrieve a list of Virtual Switches
Why is my virtual machine failing to start?
If Virtual Machine is failing to start, make sure that you are getting it an ample amount of resources, especially memory. If you missed out on allocating more resources, right-click on the VM, go to Settings > Memory, and from there you can configure the RAM. Also, make sure to add a switch to your VM, if not done, there is no way, your machine will launch. To know more about it, scroll up and check out the first and second solutions.
What is a virtual Ethernet switch?
Virtual Ethernet Switch aims at bridging the gap between the physical network card and the virtual network. It allows the Virtual Machines to connect to the Internet or communicate with each other. In case, there is no vSwitch configured and added to the VM, it won't start. In that scenario, we need to configure the appropriate vSwitch for our machine.
Read: Fix Error applying Virtual Switch Properties changes in Hyper-V.