If you see a dialog box saying – Error copying file or folder, Unspecified error while copying the WhatsApp folder from your phone to PC, then this article will show you how to troubleshoot the problem. This error message can appear when copying files or folders from Windows 11/10/8/7 PC to phone or SD card and vice versa.

Error copying file or folder, Unspecified error
The options you have to fix this issue are:
Convert file system
Format if the target disk is corrupted
Force Stop WhatsApp
Stop file manager on your mobile.
1] Convert file system
If you are trying to copy files from PC to SD card or phone memory and getting this error message, there is a high chance that the target disk is a FAT32 file system. FAT32 files cannot copy a file/folder, which is more than 4GB in size. So you need to convert the file system to either exFAT or NTFS. If you have an SD card, this is possible – but you may not be able to do the same with the phone memory. So, insert the SD card, open This PC, right-click on the SD card, select Format. Next, select either exFAT or NTFS from the File system drop-down menu and click on Start button.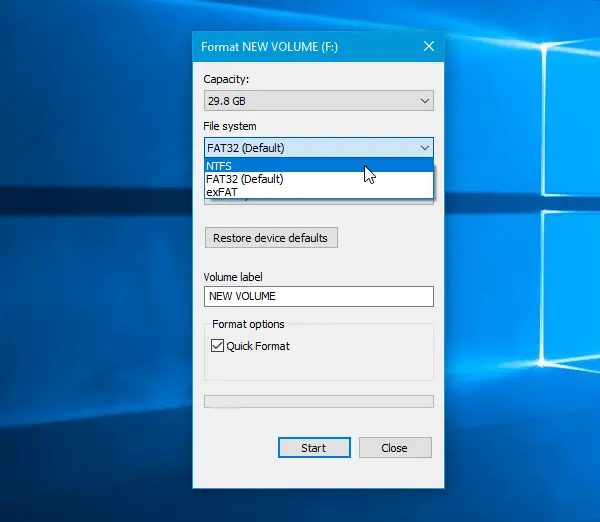 Then, try copying the same file.
2] Format if the target disk is corrupted
If the SD card or phone memory is corrupted, you can get this error message as well. To confirm, check whether you can carry out some other jobs with the phone memory and SD card or not. If you face the same issue, it may mean that the SD card or your phone's apps are corrupted as well. There is a high chance that you can fix the issue by formatting it.
3] Force Stop WhatsApp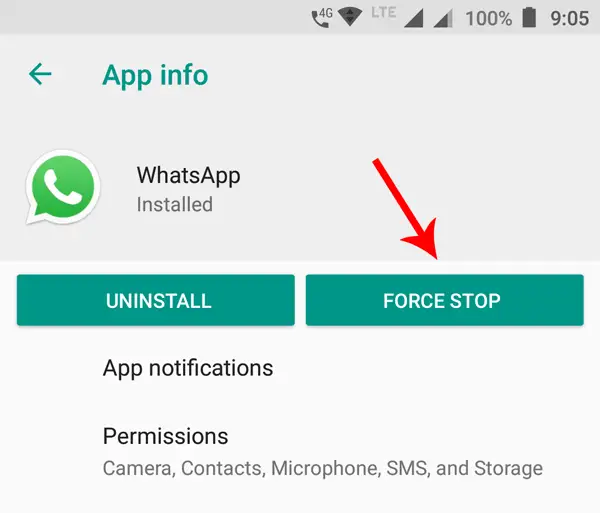 Error copying file or folder, unspecified error issue occurs when you try to copy the WhatsApp folder from SD card/phone memory to PC. The WhatsApp folder has some sub-folders such as .Shared, .trash, Databases, Media, etc. All these folders are synchronized with the WhatsApp app on your mobile. If the WhatsApp is running and you are trying to modify the synchronized folders, you will get this error. In this case, you need to Force Stop WhatsApp and then copy folders. On your Android mobile, open Settings > Apps & notifications > App Info. Here you can find all the apps installed on your mobile. Find out WhatsApp and tap on the FORCE STOP button. Then plug in the phone and copy the folder. This path is for stock Android Oreo users. However, you will find a similar path to other versions as well.
Read: Error Copying File or Folder, Catastrophic failure
4] Stop file manager on your mobile
When you install a third-party file manager on your mobile, it synchronizes all the files and folders. When you try to copy a file/folder after connecting the device using USB cable, the file manager keeps using the same file/folder, and hence, it displays such an error message. Therefore, you need to stop the third-party file manager first, and then transfer files from phone to PC.
How do I fix low or out of memory errors while copying files in Windows 11/10?
The low or out of memory error is related to your system's RAM. If your system displays this error message while copying the files or folders, first of all, close all the running applications. If this does not help, restart your computer and try again. In most cases, restarting the computer fixes such types of minor issues. If nothing helps, you have to modify Windows Registry. But before doing that, create a System Restore Point.
How do you solve the system cannot find the file specified?
The system cannot find the file specified error occurs in Windows 11/10 due to many reasons, like missing or corrupted system files, missing or corrupted drivers, missing or corrupted files required by a particular software, etc. First of all, check for Windows updates. If an update is available, install it. Next, run the System File Checker and DISM tools to repair the corrupted system files. If these things do not help, uninstall and reinstall the required drivers.
Hope you will find these tips helpful.
Related: The library, drive or media pool is empty – File copy error.