While updating Office apps on Windows 11/10, you may receive an error message, Something went wrong. Sorry, we ran into a problem, Error Code 30088-26 or 30010-45. If you face this issue, then we suggest two ways that will potentially help you to get out of this mess.
Error Code 30088-26 or 30010-45 when updating Office apps
In order to fix Microsoft Office Error Code 30088-26 or 30010-45, you have two options:
Repair Office Installation
Uninstall and Reinstall Office
Let us see them in details:
1] Repair Office Installation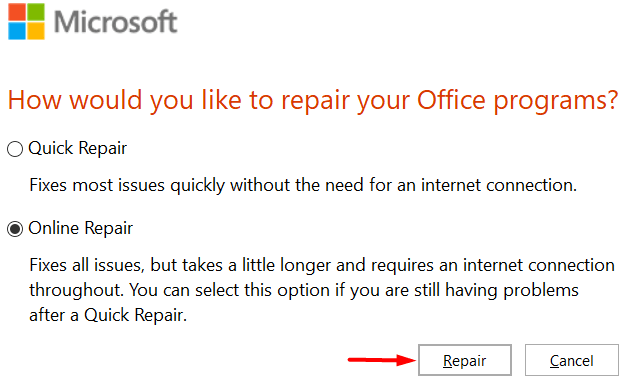 To repair the Office Installation, you first have to open Control Panel in your Windows device and then click on the Programs and Features option.
Once you're in there, you will see the list of currently installed programs. Here you can uninstall, change, or repair the programs as per your needs.
Select Microsoft Office from the list. After that, go to the command bar and select the Change option.
On the next page, you need to select the type of repair you prefer.
The first one is Quick Repair, which doesn't need an internet connection to run the process and alongside this, it fixes most of the issues quickly.
If you're still having the problem even after a Quick Repair, then you may go with the second method i.e. Online Repair. This repair method is able to fix all types of issues, but it takes a longer time and needs a data connection during that time.
To do this, select the radio button next to the Online Repair > Repair and then follow the onscreen instructions to get out of this mess.
After repairing the office installation, check whether the updating problem is fixed now.
Read: What is the difference between Microsoft Office and Office 365?
2] Uninstall and Reinstall Office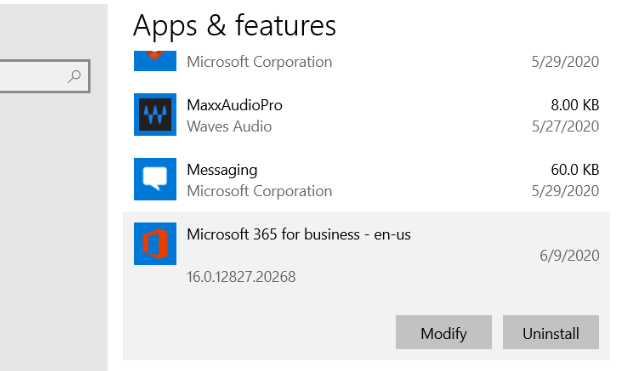 If the Error Code 30088-26 or 30010-45 is still persisting, you may want to uninstall and then reinstall Office.
To do this, you first need to open the Windows Settings.
From the available options, select Apps > Apps & features.
Now, move to the right pane and you will see the list of all installed programs.
So, scroll down and select Microsoft Office or Office 365 and then click on the Uninstall button.
If the system pop-up for the confirmation, click on Uninstall again.
This will successfully remove the Office app from your device.
Now it's time to install Office 365 on Windows PC again.
Once you complete the steps, restart your device and hopefully, the problem is ultimately fixed now.
Related: Office Update error code 30088-28 or 30016-29.
That's it.