Windows 10 PC users, most especially those using Lenovo ThinkCentre M Series computers, are reporting memory issues, whereby after installing RAM or removing an already installed RAM, when they boot their computer, two fast beeps are emitted, followed by the Error 0164: Memory size decreased screen. In this post, we will provide the most suitable solutions to this issue.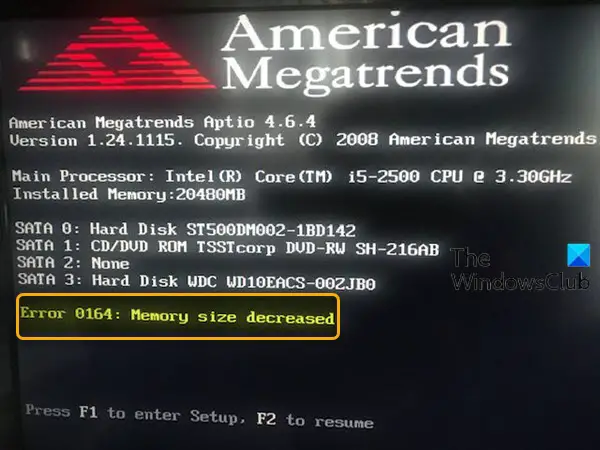 Error 0164: Memory size decreased
If you're faced with this issue, you can try either of our recommended solutions below and see if that helps to resolve the issue.
Change BIOS setting
Clear CMOS
Let's take a look at the description of the process involved concerning each of the listed solutions.
1] Change BIOS setting
Do the following:
Press F1 to enter setup (BIOS). If the computer won't boot into BIOS, see this post.
Look for Load setup defaults and select it.
Then save changes and exit.
If the Error 0164: Memory size decreased issue persists even after loading setup defaults, then it must be configured manually inside the BIOS.
Still in the BIOS, enable Configuration change notification under the Security tab.
3] Clear CMOS
You may require the services of a hardware technician.
Do the following:
Turn off all peripheral devices connected to the computer.
Disconnect the power cord from the AC power source.
Remove the computer cover.
Find the battery on the board. The battery may be in a horizontal or vertical battery holder, or connected to an onboard header with a wire.
If the battery is in a holder, note the orientation of the + and – on the battery. With a medium flat-blade screwdriver, gently pry the battery-free from its connector.
If the battery is connected to an onboard header with a wire, disconnect the wire from the onboard header.
Wait one hour, then reconnect the battery.
Put the computer cover back on.
Plug the computer and all devices back in.
Power on the computer.
The computer should boot normally without the error.
Read: Windows 10 PC will not boot up or start.
Hope this helps!