Many users are seeing Epic Games Error Code LS-0015, when playing games such as Fortnite, Fall Guys, etc. It is pretty clear from the error message itself that issue is related to the network. There can be dozens of reasons for this, but there are also solutions that you can try to resolve this error code. In this post, we will talk about them and see what you can do if the launch failed in Fortnite, Fall Guys, or any Epic Game Store title in general. Following is the exact error message that users are seeing.
Launch Failed
Unable to contact the waiting room server.
Error Code: LS-0015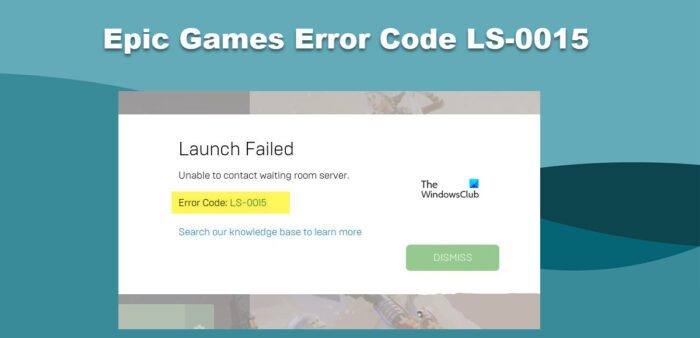 Let us go to the troubleshooting guide to resolve this issue.
Fix Epic Games Error Code LS-0015
If you see Epic Games Error Code LS-0015 and cannot contact the waiting room server, try the following solutions.
Check your Internet Connection
Check Epic Games Server Status
Disable your Firewall or add Epic Games to the exception list
Unblock your network ports
Clear Local App Data of Epic Games
Let us talk about them in detail.
1] Check your Internet Connection
Needless to say, you need a decent bandwidth to play an online game. If you do not have a proper Internet Connection, there is a high chance that the error code in question will appear. So, use one free Internet Speed tester to know your bandwidth. If the Internet Speed is slow, restart your router, and follow the given steps to do the same.
Turn off your Router.
Unplug all the cables and wait for a minute as the capacitor discharges.
Plug the cables back and turn on the router.
If this didn't fix the issue, contact your ISP and ask them to troubleshoot.
2] Check Epic Games Server Status
One of the things you should do before troubleshooting a network issue is to check if the problem can actually be repaired. You need it if the server of Epic Games is down or under maintenance. In case, it is down, the only thing you can do is wait for the engineers to actually resolve the issue and get it working. To know the server status, you can either go to status.epicgames.com or use one of the free down detectors from the list.
3] Temporarily Disable your Firewall or add Epic Games to the exception list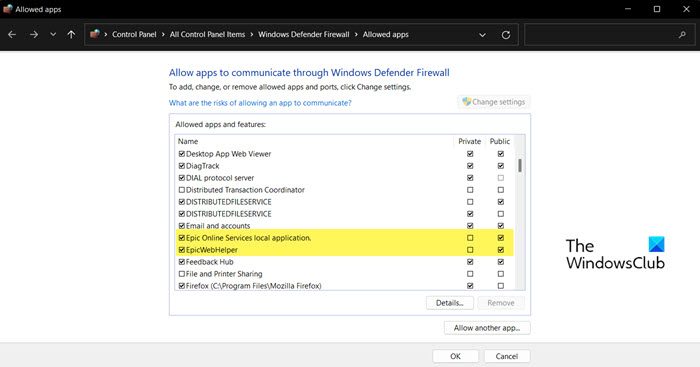 Any non-Microsoft app that connects to the server, has a high chance of getting blacklisted by a third-party antivirus or even the Windows Defender as it tries to connect to the server. This issue is very common in game launchers such as Epic Games, Steam, and GoG as they try to connect to their server. In order to troubleshoot this issue, you need to either allow Epic Game through the Firewall or disable the defender program, we would not recommend you do the latter as it makes your system vulnerable to viruses and malware. So, to allow Epic Game Launcher through Firewall, try the following steps.
Search out Windows Security from the Start Menu.
Go to Firewall & network protection.
Click on Allow a game through firewall.
Click on the Change Settings button
Add any service related to Epic Games through Public and Private networks.
Finally, open the game and see if it is launching. Hopefully, this will do the job for you.
4] Unblock your network ports
Network ports are used by Epic Games to communicate as certain types of data are sent over them. In case, the port is blocked, the communication link will not be formed and you will see the error code in question. To resolve the issue, you need to check if any port is blocked and if there is a blocked port, unblock it to fix the issue.
So, first of all, let us find the IP you need to log in to configure port forwarding. Open Command Prompt as an administrator. Type the following command and hit enter.
ipconfig
You will see Default Gateway and IPv4, note them somewhere as they will be used later.
Paste the Default Gateway in a browser and hit Enter. Now, enter your username and password. Locate Port Forwarding, and make sure that is enabled and it is different from Port Triggering, which should be disabled.
Finally, enter the ports and port ranges below with the correct protocol and local IP of that we asked you to take note of earlier.
80 (TCP/UDP), 433 (TCP), 443 (TCP), 3478 (TCP/UDP), 3479 (TCP/UDP), 5060 (TCP/UDP), 5062 (TCP/UDP), 5222 (TCP), 6250 (TCP/UDP), and 12000-65000 (TCP/UDP)
If you don't want to do all this, or can not log in to your Default Gateway, communicate with your ISP for the same.
5] Clear Local App Data of Epic Games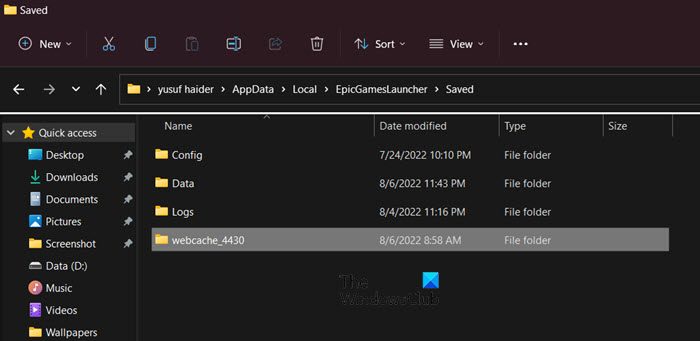 You may also see the error code in question if the app data of Epic Games is corrupted. So, let us clear the local app data or cache and see if that works.
Open Run by Win + R, type %localappdata%, and hit Enter.
Go to Epic Games Launcher > Saved.
Delete the Webcache folder.
Reopen Epic Games Launcher and log in. Finally, try launching the game that was giving you the trouble, it should launch perfectly this time.
Read: Fix Epic Games Launcher Installer error 2503 & 2502
How do you fix an Epic Game error?
Every Epic Games error comes with an error code that you should be used when looking for its solutions. If you are seeing Error Code: LS-0015 in Epic Games, try the solutions mentioned in this post for solutions. In case, you see some other error code, click on the search button, enter the error code and look for its solutions.
How do I fix error code LS 0009 on Epic Games?
LS-0009 Error code in Epic Games means that the game you are launching is not installed correctly. This can either be a glitch or your game files might be missing. We would recommend you check our guide on how to fix LS-0009 on Epic Games. You will be able to resolve the issue.
Also Read: Fix Epic Games error code LS-0003.