Microsoft has always tried to enhance their propriety browser i.e. Internet Explorer. Internet Explorer 11 available with Windows 8.1 Update has some major new features embedded inside it. Enterprise Mode is one of these new features.
Enterprise Mode for Internet Explorer 11
Enterprise mode basically removes the barrier of compatibility for web pages written for Internet Explorer 7 or 8, to make them work perfectly in the latest editions like Internet Explorer 11.
Enterprise Mode for Internet Explorer 11 extends Internet Explorer 8 compatibility for specified sites. The mode lets enterprises of any size (big or small) safely update to Internet Explorer 11 and at the same time maintain backward compatibility for specific sites developed primarily for Internet Explorer 8 or below. This, Microsoft believes will help organizations migrate to Windows 8.1, dispelling fears about adopting the OS over concerns that their Web apps could be incompatible.
In other words, along with Enterprise Mode Site List Manager, this feature makes websites and web apps compatible with Internet Explorer irrespective of the IE edition for which the website is optimized to work smoothly. This works with Internet Explorer 11 available for Windows 8.1 Update as well those available for Windows 7. It is available for Windows 8.1 Pro and Windows 8.1 Enterprise editions.

But by default, users won't see any option to choose the Enterprise mode from the browser itself. There is a Group Policy setting behind this, which you have to enable in order to use the Enterprise mode with your Internet Explorer.
In this article, we'll show you the way to configure the group policy settings such that you can enable or disable Enterprise mode on your wish. Here is how:
Enable Enterprise Mode For Internet Explorer 11
1. Press Windows Key + R combination, type put gpedit.msc in Run dialog box and hit Enter to open the Local Group Policy Editor.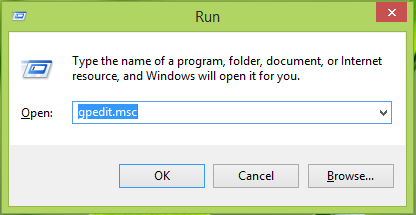 2. In the left pane, navigate here:
Computer Configuration -> Administrative Templates -> Windows Components -> Internet Explorer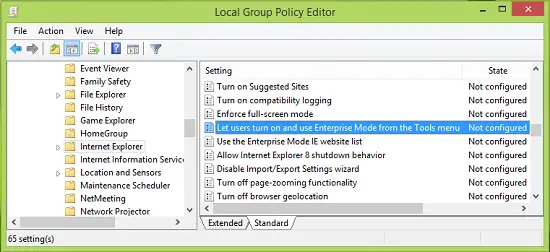 3. In the right pane of the above-shown window, look for the setting named Let users turn on and use Enterprise Mode from the Tools menu which is Not Configured by default. Double click on this policy to get this: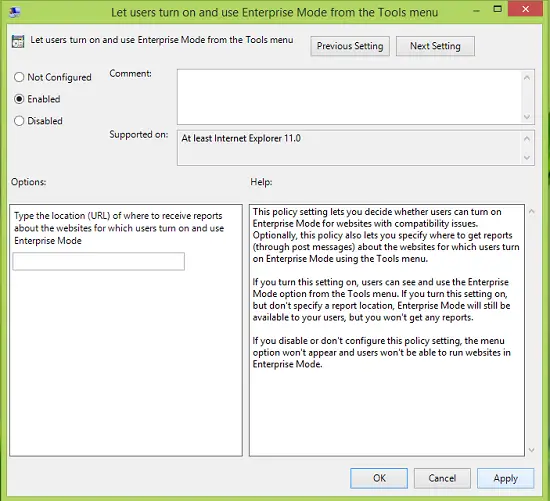 4. In the above-shown window, click Enabled in order to activate the Enterprise mode feature for your Internet Explorer.
This policy setting lets you decide whether users can turn on Enterprise Mode for websites with compatibility issues. Optionally, this policy also lets you specify where to get reports (through post messages) about the websites for which users turn on Enterprise Mode using the Tools menu. If you turn this setting on, users can see and use the Enterprise Mode option from the Tools menu. If you turn this setting on, but don't specify a report location, Enterprise Mode will still be available to your users, but you won't get any reports. If you disable or don't configure this policy setting, the menu option won't appear and users won't be able to run websites in Enterprise Mode.
Click Apply followed by OK. You may close the Local Group Policy Editor. Open Internet Explorer 11, press Alt key, click Tools and select Enterprise mode option as shown in the first image of this article to get websites in this mode.
Hope you find the feature productive!