I am sure you must have seen a warning message after you download a software and try to run an application. It is Microsoft Defender Advanced Threat Protection (Microsoft Defender ATP) warning you that the program can be dangerous. This feature is now available in the Chromium-based Edge browser, and in this post, we will show you how to enable Potentially Unwanted Application (PUA) protection in the new Edge Chromium browser.
What is PUA or Potentially Unwanted Application?
The first thing you should know that PUP or PUA is not a virus or ransomware, but they are marked as Unwanted because they can be annoying.  The characteristic behavior of PUA is as follows:
Offer other software as an advertising bundle
Install software without your consent
Actively tries to evade detection by security products or differently behave when they find a security software guarding the Windows 10 PC.
Enable Potentially Unwanted Application protection in Edge browser
PUA protection is an excellent way to keep unwanted software from getting downloaded on your Windows computer.
Enable from Edge Browser's Privacy Settings
Enable using Edge Flags.
1] Enable from Edge Browser's Privacy Settings
I am sure you don't want to install software that can annoy you. If you are using the Edge browser, it is a good idea to enable the Potentially Unwanted Application (PUA) protection.
From the toolbar, select Settings, and more > Settings
Select Privacy and services
Under the Services section, you can toggle Potentially unwanted app blocking on or off
Microsoft has kept this feature turned off as default, but you can choose to enable it. It will then block PUPs, or PUAs, from being downloaded from the browser.  It also blocks  PUA-associated URLs.
In the earlier version, I have noticed that after you download the program, which is PUA, it will block it and warn you about it. You will have the option to delete it. If you want to test it, Microsoft has official demo pages.
2] Enable using Edge Flags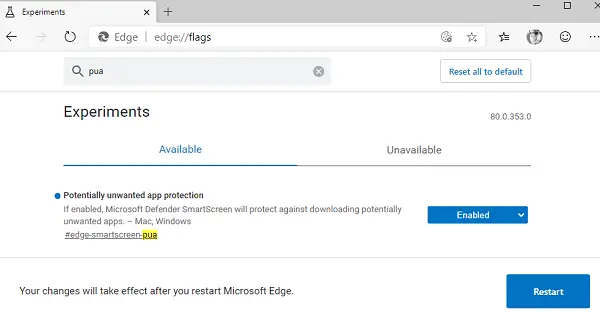 If you cannot see the settings, then you can enable it using Edge Flags.
Type "edge://flags " in a new tab, and press the Enter key.
Now search for PUA, and it will reveal the Microsoft Defender Smartscreen PUA support settings for you.
Choose to enable it from the dropdown.
Now go back to Privacy Settings and enable it if you want to use it.
How is it different from the Microsoft Defender SmartScreen option
While it may sound that they are similar, but they aren't. While SmartScreen protects from malicious sites and downloads, PUA blocks downloads of low reputation apps that might cause unexpected behaviors. The former is more concerned about sites, ransomware, virus while the later wants to prevent the downloads instantly.
Software Incorrectly flagged?
If the software you are downloading is legit, and you are sure that it has been incorrectly flagged, here is how to download it.
When you reach the point where the browser asks you to delete it, then click on the three-dot menu next to the delete button.
It will reveal the keep menu. Click on it.
It will open the download section of the browser, and again ask for a confirmation. Click on Keep to download it.
Even when you do it, the Antivirus solution will prompt you about it. You will need to click on the Keep button to download.
As of now, I don't see any settings where you can add exceptions to the PUA website list.
I hope the tutorial was easy to understand, and you were able to enable Potentially Unwanted Application (PUA) protection in the new Edge browser.
TIP: Windows 10 now allows you to disable or enable protection against Potentially Unwanted Applications (PUA) using Windows Security. You can also disable or enable PUP Protection using Group Policy, Registry, or PowerShell in Windows 10.