Transparency has been adding to the appeal of the Windows series of operating systems. If you wish to enable or disable the windows and surface Transparency effects in Windows 11, please read through this article for the procedure. Transparency effects are enabled by default in Windows 11.
Turn off or Disable Transparency effects in Windows 11
1] Through Windows Settings
The procedure to enable or disable Transparency effects through Windows Settings is as follows:
Right-click on the Start button and select Settings from the menu.
On the list on the left-hand side, select Personalization.
On the right-pane, click on Colors.
Here, you will find an option for Transparency effects with a toggle switch to Enable or Disable it.
2] Through Registry Editor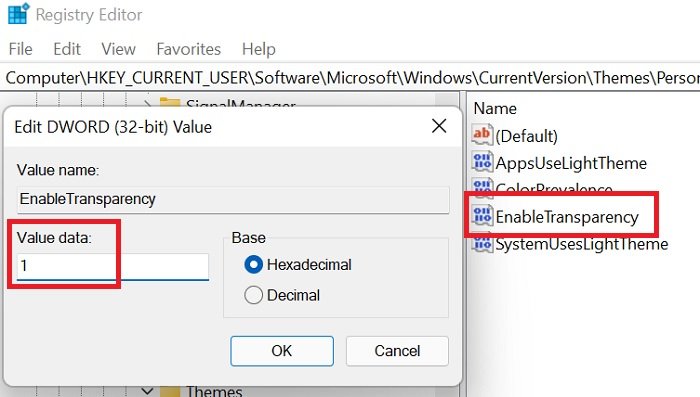 The procedure to enable or disable Transparency effects through the Windows Registry Editor is as follows:
Press the Windows key and the R button together to open the Run window.
In the Run field, type the command REGEDIT and hit Enter to open the Registry Editor window.
If it asks for administrator permissions, please click on Yes.
Now, go to the following Registry Editor path:
HKEY_CURRENT_USER\Software\Microsoft\Windows\CurrentVersion\Themes\Personalize
In the right-pane, you would find the entry EnableTransparency. Double-click on it.
The Value Data would normally be 1 which means transparency is enabled. To disable transparency, you can change the value data to 0.
Why should you enable or disable transparency effects?
The benefit of enabling transparency effects isn't just that it adds to the aesthetics. Though that surely is a factor, but the effect allows you to glimpse what is open behind the window. As for aesthetics, the translucent taskbar and interface were the USP of Windows since the launch of Windows 7.
The benefit of disabling the transparency effects is that it improves system performance. For a system with low RAM, it is advisable to disable the transparency effects.
How do I remove transparency effects for specific components only?
In many cases, users might not want to remove all the transparency effects, but only a few of them. This is possible too. Removing transparency is a subset of Performance options. So, you could access further customization as follows:
Search for "performance" in the Windows search bar and select Adjust the appearance and performance of Windows.
Here you would find options to enable and disable transparency for specific components. Eg. You could uncheck the box associated with Show translucent selection rectangle.
See this post if Transparency Effects is not working in Windows 11/10.