Chrome is now offering a Global Media Controls UI in the toolbar, which helps you control all the media playing in Chrome. So, for example, if you are watching a YouTube video or a series on Netflix, you will be able to control one or all of them from a single button. The feature works on Chrome 79 without enabling an experimental flag. In this post, we will share how to enable or disable Global Media Playback Control in Chrome.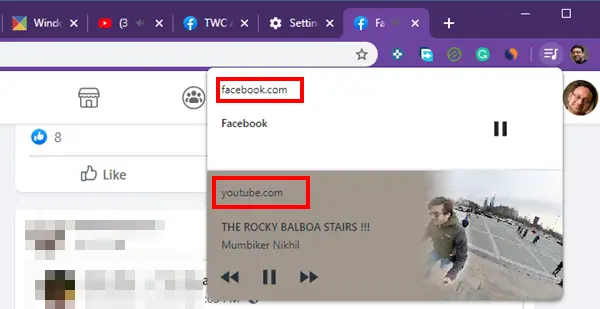 Global Media Playback Control in Chrome
While we already have the option to mute any audio or video playback in any of the tabs, but the implementation of Global Media Playback Control in Chrome is another level.  Since this feature is enabled by default, you should see a music icon next to your profile when a video starts playing. Click on it, and it will display playback control for all the video playback.
However, the option to go to the next video or previous video will differ from one website to another website.
For example, YouTube offers almost a mini player with pause, next, previous, a thumbnail for the video, and a title of the video. On the other hand, Netflix and Facebook only offer a pause and play button. It will change once more, and more websites start implementing the schema required for the playback controls.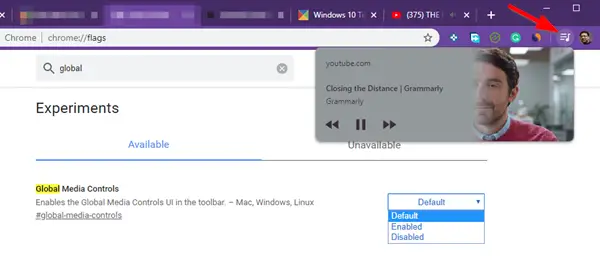 This feature is still be rolling out. It was reported in December, and I only got to see it now. Once available for you, it will prompt you with a notification as soon as you play a video.
If you are not able to see it or you want to disable the Global Media Playback Control in Chrome, follow the steps:
Open a new tab, and type chrome://flags
In the search box type Global Media Playback Control
When the flag appears, click on the default button to change it to Enabled or Disabled.
If you disable it, you will not get to see the control anymore. This feature will also become available in Microsoft Edge Chromium (version 79). As of now, it can be enabled using the flag.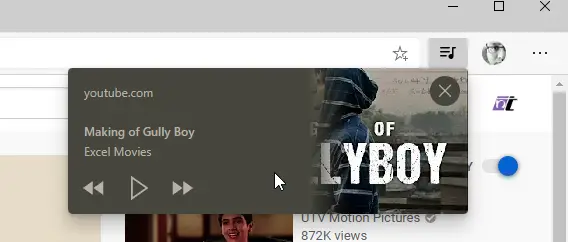 It is interesting to note that if you click on the volume icon to mute any of the tabs playing a video, the Global Media Playback Control icon will be disabled. It happens when there are no other media that is paused or playing.
Overall I think this is a handy feature. If you open a lot of web pages with media playback, you can play and pause them from a single control button.