EA Desktop is a new platform that's still in beta but because of smart and aggressive marketing by its manufacturer EA, it has gained a lot of hype in the gaming community. However, many users are skeptical about choosing between the two and want to know which one should they go for. In this article, we are going to see EA Desktop vs EA Origin and the differences.
What is EA Origin?
EA Origin is one of the most loved gaming platforms. It was launched in 2011 to compete with already existing Steam.
You can open the app purchase EA Games and play it. However, even though people loved Origin, they had some complaints that all these years of software updated were unable to rectify. One of the major issues was that the UI is pretty boring and the users wanted an upgrade
What is EA Desktop?
EA Desktop is a gaming platform introduced by Electronics Art. It is one of the most captivating gaming services with a fluent Social Media integration and an easy-to-use UI.
EA is putting all its resources into making this service the best and the response has been good. EA Desktop is in beta form right now but it got thousands of active users and many waiting for its final form.
EA Desktop was basically an answer to the complaints made by Origin users.
EA Desktop vs EA Origin: Differences & Improvement
Pretty clear from both their descriptions, EA Desktop is a step-up version of EA Origin. But is it enough of an upgrade to force you to switch platforms? Let's find out in this crucial chapter of this small war, EA Desktop vs EA Origin.
EA Desktop is better than Origin in every possible way apart from one, that we will talk about hereinafter. EA Desktop is easy to use. It is fast and transitions are smoother than ever.
Chatting and communicating with your game buds is easier than ever. You can just go to the left of the window and contact any of your connected friends. You can use voice chat and other features to amp us your socializing experience.
EA Desktop has better integration with EA Play. It is a paid service and if you are one of the subscribers, EA Desktop is better for you.
Problem with EA Desktop 'Beta'
EA Desktop has a major but temporary problem. Since it is in Beta, there will be times when you will encounter an error. These errors are just some bugs that affect a major chunk of EA Desktop users. So, it is fair to say that if you are a professional gamer, you should not solely depend on EA Desktop.
However, Electronic Art's developers are extensively working to make this experience as immaculate of bugs as possible. And it's about a time when we will have a new player competing with the likes of Steam, Origin, etc.
Origin and EA Desktop can't operate at the same time
So, EA's new gaming platform EA Desktop is refusing to work alongside Origin. Many users are reporting that while trying to open Origin with EA Desktop working in the background, they see the following error message.
Origin is unable to launch while EA Desktop is running. Please close EA Desktop and try again.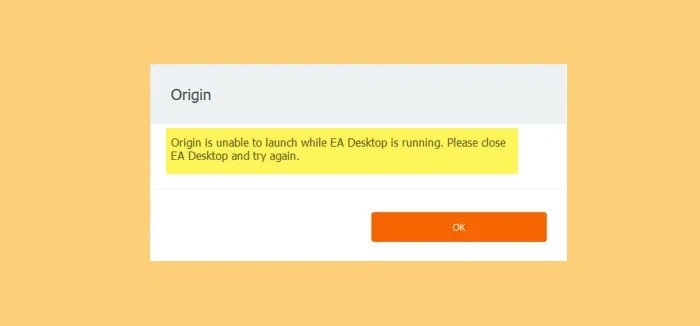 The problem that many users are facing is pretty strange but the most obvious answer would be that since the EA Desktop is in Beta, it got some obvious issues that the developers are dealing with.
However, in the meantime, you can only launch one application at a time.
Hopefully, now you know, which one to pick, EA Desktop or EA Origin.
Read Next: Fix Online login is currently unavailable – Origin error.