With time, technology keeps getting better at helping mankind. The basis of technological advancement is understanding the need and creating a solution around it. Such is the case with Dropbox which noticed that instead of sending long written emails, people prefer sending screencasting videos or video recordings of their camera to explain their suggestions. Thus, a new tool named Dropbox Capture has been introduced and we will explain it here.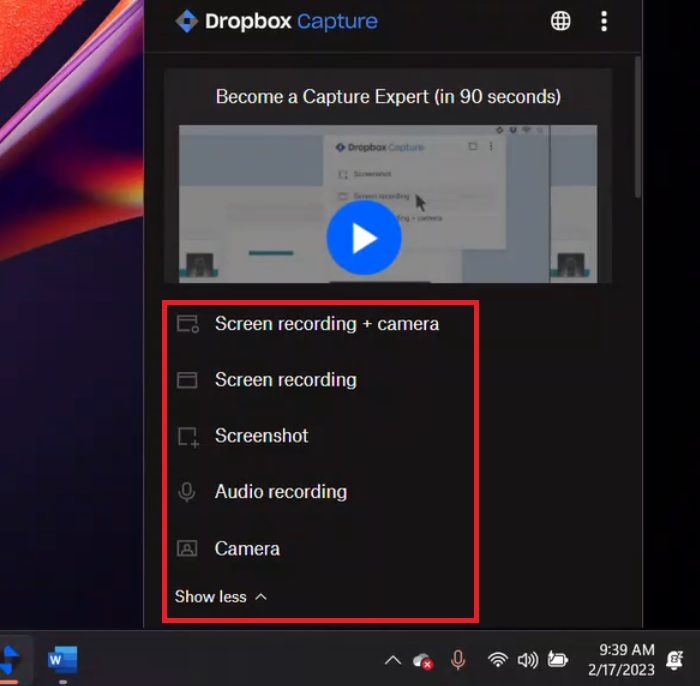 What is Dropbox Capture?
Dropbox Capture is a tool introduced by Dropbox (but separate from its original platform) which appears on the Taskbar just like OneDrive. You can use it to quickly create screenshots, screencasting videos, general videos, and audio recordings. Then, the same can be sent to other people. Interestingly, you can send the link and the same can be viewed by other people even if he/she does not have a Dropbox account.
Why do we need Dropbox Capture when similar tools already exist?
We have tools to take screenshots. Rather, the Snipping tool with all the support it gets from Microsoft is way more convenient than Dropbox Capture. However, for sending video messages, you would have to use a separate tool for creating them, another one for uploading and creating a link, and a third one for sending them. Dropbox Capture combines all three actions into one.
How to use Dropbox Capture
Dropbox Capture has five options which are as follows:
Screen-recording + camera
Screen-recording
Screenshot
Audio recording
Camera
Record Videos, GIFs with voice-over and Share them using DropBox Capture
1] Screen-recording + camera
You can use this option to record your screen and create a screencasting video while your face appears in the corner and is captured by the camera. Interestingly, Dropbox Capture allows you 3 options here. To record the entire screen, you can click anywhere on the screen or hit Enter. To capture a part of the screen, use the mouse for dragging and selecting the part of the screen just like you do it with the Snipping tool. If you wish to capture a specific window, hit the Spacebar.
Shortcut: SHIFT+ALT+C
2] Screen-recording
A lot of users could be shy of the camera and that's fine. If you are one of these users, then simply recording the screen would be the best option for you. The settings are similar to the previous option, i.e. Enter for recording the entire screen, dragging to record a part of it, and Spacebar to record a specific window.
Shortcut: SHIFT+ALT+R
3] Screenshot
Just like the Snipping tool, Dropbox Capture can take a screenshot in a simple manner. You can send it easily using a link (or downloading and via email). When you whose the option to take a screenshot, the tool prompts you to either capture the whole screen, a part of it, of a specific window. To capture the whole screen, hit Enter. To capture a part of it, drag the mouse, and to capture a window, hit the Spacebar key.
Shortcut: SHIFT+ALT+S
4] Audio recording
The audio recording option omits the video camera and screen recording. It simply records your voice, and you will be able to send voice texts easily. This is similar to the voice note option you get with WhatsApp and Facebook messenger. The difference is that this option is integrated into your computer and you can record voice notes directly from your computer without having to use your phone.
Shortcut: SHIFT+ALT+V
5] Camera
I have always been skeptical about the Camera application, which comes with Windows 11. The application has been buggy and shows problems while picking new cameras. Thus, third-party camera software products were my preference.
The camera option of Dropbox Capture is an excellent alternative to the Windows Camera app. Simply click on the option and start recording your video.
Shortcut: SHIFT+ALT+F
You can download it here from dropbox.com.
Pros of DropBox Capture: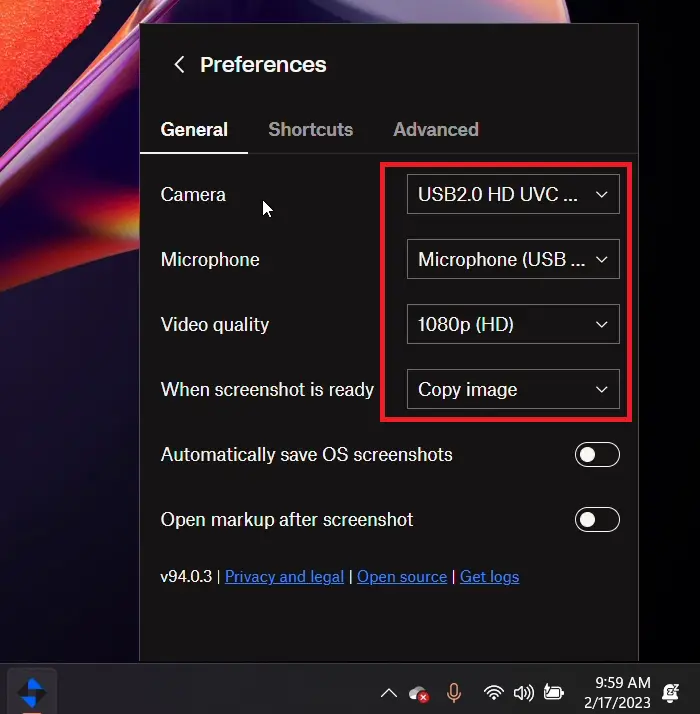 1] DropBox Capture is easy to use. It shows as a ready-to-use icon in the Taskbar and you can quickly create media using it.
2] It takes over a lot of controls on your computer automatically. Eg. The Fn+PrtSc shortcut can easily create media for you.
3] Sharing DropBox capture files do not require the other person to have a DropBox account.
Con of DropBox Capture:
The main drawback of the DropBox Capture tool is that it allows only 120 minutes of free recording. Many other third-party tools like OBS don't have this limit. However, other tools are cumbersome to use.
Also read: How to run multiple Dropbox accounts in Windows.