From time to time, Google Chrome will display a downloading proxy Script Error message, and it usually confuses the user. The good news is, the issue here is not unfixable since it is proxy-related; therefore, the ways we can solve it are pretty simple.
But before we discuss how to fix the proxy script error message, there are a few things we need to explain.
What is a proxy?
To put it simply, a web proxy, also known as a proxy server, is a way for users to filter their connection between the internet and the computer.
A web proxy, in many cases, is used for security reasons. It can protect private information and increase internal network performance, among other things.
Downloading Proxy Script error in Chrome
From our understanding, the Google web browser does because it is configured to use a proxy, but it is failing to locate a proxy script. Bear in mind this is not activated by default in any commercial version of Google Chrome. To disable this error notification, do the following:
Launch Chrome browser
Open Chrome Settings
Click on Advanced
Locate & Turn off Automatically detect settings
Let us discuss this in greater detail.
Alright, so the first step you should take here is to open your Google Chrome web browser, then click on the menu button located at the top-right section of the browser. The menu button is the one with the three dots.
After clicking on the three-dotted button, a dropdown menu will appear. From it, select Settings.
The next step is to scroll down until you've come across Advanced. Click on it to showcase a new section.
From here, scroll down some more and stop at System; then be sure to select Open your computer's proxy settings after that.
A new window will appear, one that opens outside of Chrome. You will notice that this is a section from the default Settings app in Windows 10.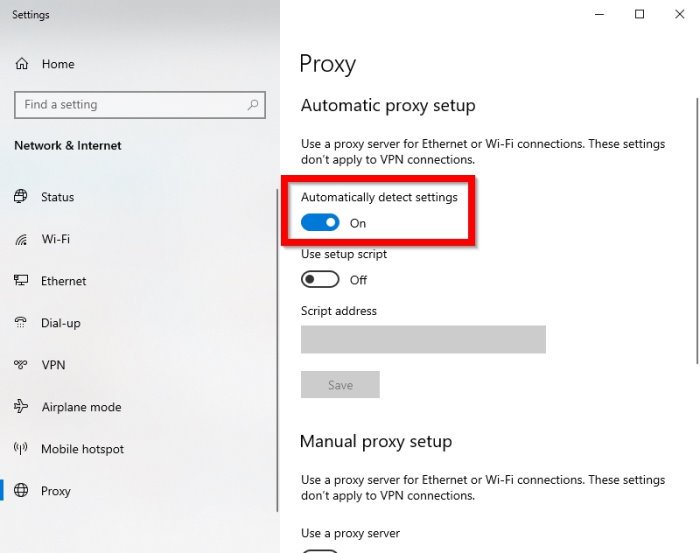 The final step to make here is to turn off the box that reads, Automatically detect settings.
We suspect your proxy is already set up because that is the only reason, you'd see the proxy script error message in the first place.
Read: The proxy server is refusing connections error in Firefox or Chrome.
Hope this helped you.