Transport Tycoon Deluxe was a very popular strategy game released way back. It has been revived for modern computers and made available for free as OpenTTD. The game was converted into C Language by reverse engineering it by a developer named Ludvig Strigeus. The project is still in active development, and various BETA and nightly builds are released regularly. The game revolves around running a business where the players will be earning money by transporting passengers and freight by road, rail, water, and air.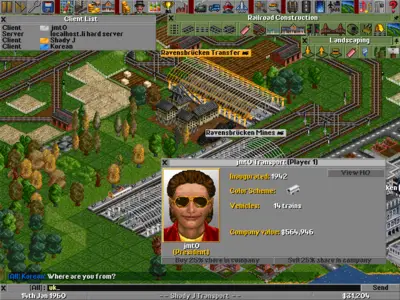 OpenTTD – New Transport Tycoon Deluxe game
Downloading and installing OpenTTD was pretty simple. When you first launch the game, you land on the home screen like this:
Talking about the gameplay, it was smooth. The only issue was the graphics were not able to scale properly on my Surface Pro 6. But when I switched to my laptop with a 1080p display, things started to get a little better.
Other than that, you get what you come for. The period of the gameplay is from 1950 to 2050. In this virtual duration, you will get a variety of newer and better logistics to run your business.
A total of about 20 hours is what it takes to complete the game. And I liked how to color production was improved over the classic version.
When you land on the home screen of the game, you can either Play a new game, load, or create a scenario.
Once the game starts, you can start running your business.
All you need to do is build Rail or Bus stations or depots to transport people and goods from one place to another.
There will be subsidies and tenders offered by the local administrative authorities which one can take advantage of, to make extra profits.
The computer will build the rival companies giving the user a good competition and hence make the gameplay interesting.
As you go on making more and more profit, just upgrade your logistics as they are offered during the gameplay. Once you reach a certain level of profits, you can invest in transportation using Sea and Air as well.
Features
Some of the major features that are introduced in OpenTTD from the original Transport Tycoon Deluxe are:
Bigger maps (up to 64 times in size)
Stable multiplayer mode for up to 255 players in 15 companies, or as spectators
A dedicated server mode and an in-game console for administration
IPv6 and IPv4 support for all communication of the client and server
In-game downloading of AIs, NewGRFs, scenarios, and heightmaps
New pathfinding algorithms that make vehicles go where you want them to
Autorail/-road build tool improved terraforming
Canals, shoplifts, aqueducts
Larger, non-uniform stations and the ability to join them together
Mammoth and multi-headed trains
Different configurable models for the acceleration of vehicles
Clone, auto-replace and auto-update vehicles
The possibility to build on slopes and coasts
Advanced/conditional orders, share and copy orders
Longer and higher bridges including several new designs, plus fully flexible tracks/roads under bridges
Reworked airport system with many more airports/heliports (e.g., international and metropolitan)
Pro signals, semaphores, path-based signaling
Support for TTDPatch NewGRF features offering many options for graphics and behavior configuration/modification
The drive-through road stops for articulated road vehicles and trams
Multiple trees on one tile
Bribe the town authority
Many configuration settings to tune the game to your liking
Save games using zlib compression for smaller sizes, while not interrupting gameplay
Significant internationalization support. OpenTTD has already been translated into over 50 languages
Dynamically created town names in 18 languages, plus NewGRF support for additional languages
Freely distributable graphics, sounds, and music
Framework for custom (user) written AIs
Zooming further out in the normal view and zooming out in the small map.
You can download it from the official website here and have a nice time playing OpenTTD.