News about Windows 11/10 S has already been around for a while now. And you can expect Surface Laptops with Windows 11/10 S installed with them anytime soon in the market. Windows 11/10S is the latest operating system designed to focus on the security and performance of Windows Store Apps. You cannot run non-store applications and other programs. Enthusiasts are excited about this OS's release, and Microsoft recently made it available for all devices.
How to get Windows 11/10 S
You might need to know a few things before installing the new OS. First, you can download and install it on your current installation of Windows 11/10 Pro, Windows 11/10 Education, and Windows 11/10 Enterprise editions. Windows 11/10 Home is not yet supported, and you cannot install Windows 11/10 S on top of it.
Secondly, you will not be able to run any other third-party non-store applications and custom drivers on the new operating system.
You may also lose some functionality.
We also recommend that you back up your apps and other files as only some personal files will be kept during the installation. The rest of the files and apps will be deleted.
So please use Windows 11/10 S for educational and testing purposes only.
Once ready to install Windows 10 S, you can download the installer from Microsoft.
Install Windows 11/10 S on your PC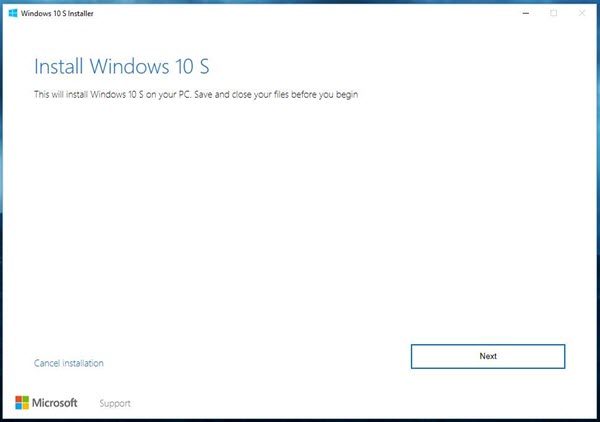 The installer itself is explanatory, and you must follow the steps. The installer will automatically check your computer and download the required files from the internet. Once installed, you can use and benefit from the all-new Windows 11/10 S features.
To start using the Office applications, you must use the Setup School PCs app to install Office 365. But you need a valid license to use Office applications.
How to switch back from Windows 11/10 S
Switching back to your original OS is also very simple. The steps are easy to follow, and you can switch to your Windows 11/10 Pro or Education in no time. You can use the Windows Recovery option from Settings to go back to Pro or Enterprise editions. Remember that this option will only be available for 10 days after you've installed Windows 11/10 S. After that, you may need to use other options to get back to your original Windows 10 Pro or Education edition. Also, making an entire system recovery drive is recommended if anything goes wrong and you don't want your computer to be affected.
You should know that this is not a full-fledged release, and you may face some issues with it. So, it is advised to use this only for testing purposes. You can try it out to check the current compatibility with your device's hardware. And do not forget to keep a recovery method handy if anything goes wrong.
Download Windows 11/10 S installer setup
You can download Windows 11/10 S here from Microsoft. You may go here to read the complete guide about Windows 11/10 S installation.
How to Switch Out of S Mode in Windows 11/10?
You can change it by going to Settings > Windows Update > Activation and switching to Windows Home or Pro. You will then need to click on the Go to the Store link. Lastly, you will need to select Switch out of S mode.
Is Windows 11 in S Mode available for all the editions?
Windows 11 in S mode is only available in the Windows 11 Home edition. If you have the Pro, Enterprise, or Education editions of Windows 10 in S mode, you will need to permanently switch out of S mode to upgrade to Windows 11.