When trying to join the voice channel to communicate with our peers, Discord keeps waiting for the endpoint and doesn't establish the required connection. In this post, we will talk about the same and see what should be done if we see Awaiting Endpoint in Discord.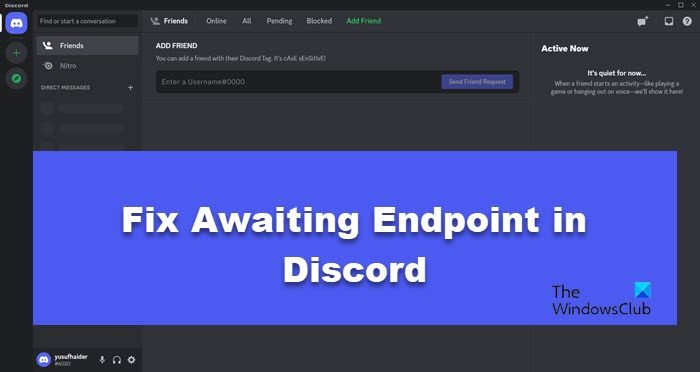 Awaiting Endpoint can be caused when your computer fails to create a proper connection with the Discord Voice server. This can be due to poor Internet connection or server failure. Whatever it is, you can follow the solutions mentioned here to resolve the issue.
Fix Discord
Awaiting Endpoint error
If you get Awaiting Endpoint in Discord, follow the solutions mentioned below to resolve the issue:
Restart your app and device
Check and resolve your Internet connection
Check the Discord Server Status
Switch to a different Voice Channel Server
Reinstall Discord
Let us talk about them in detail.
1] Restart your app and device
The moment you get this error, your instant response should be to close Discord completely and then reopen it. This will flush out any glitches that have plagued your app and halted the communication stream. So, go ahead and close Discord, go to Task Manager (Ctrl + Shift + Esc), check if any related app is running, and then click on End Task. Finally, launch the app and see if you can communicate. In case this doesn't work, restart your computer and retry.
2] Check and resolve your Internet connection
After restarting your computer, it's time to check if the Internet connection you are connected to is responding to your request or not. To do the same, use any of the mentioned Internet Speed Testers to know your bandwidth.
In case, you are getting low bandwidth, hard reset your router. Hard resetting includes turning off the device, removing all the cables, waiting for a few seconds to allow the capacitors to discharge, and then plugging all the cables back in.
3] Check the Discord Server Status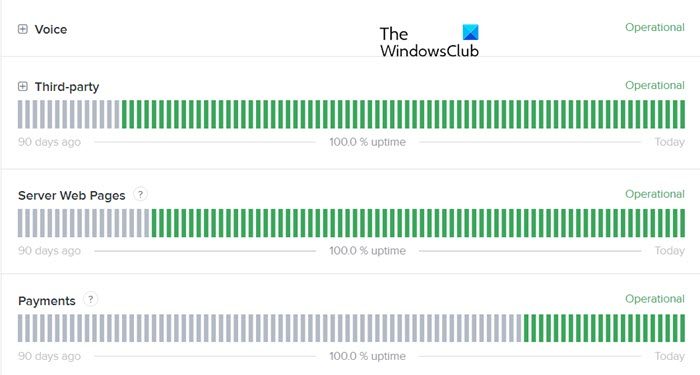 Next up, we need to check the Discord Server Status because if it is down, no further solution will make any difference. So, use any one of the down detectors to know if the server is down. You can also go to discordstatus.com and scroll down to see the Voice section. There you can see if the Voice server is facing some issues. In case, the server is down, wait as the developers resolve the issue as there is nothing you and I can do.
4] Switch to a different Voice Channel Server
It is very likely that even though the Voice Channel Server is up, the one that you are getting is facing some issues. We can switch to a different server manually and stay connected to it until the default server is restored. Do keep in mind that switching to a different server increases latency but that's still better than not being able to communicate at all. With that being said, follow the below steps to switch to a different Voice Server.
Open Discord.
Go to the settings of your Voice Channel.
In the Overview tab, scroll down to reach Region Override.
Use the drop-down menu to select a different server.
After switching to a different server, check if the issue is resolved.
5] Reinstall Discord
If nothing worked, your last resort is to reinstall Discord from your computer. Reinstalling the app will remove any corrupted files that may have been causing this issue. First of all, let us uninstall Discord from our Windows computer using the following steps.
Open Settings.
Go to Apps > Installed apps or Apps & Features.
Search for Discord.

Windows 11: Click on the three dots and select Uninstall.
Windows 10: Click on the app and select Uninstall.

Click on Uninstall again to confirm your action.
After removing the app, go to discord.com, download the app, and install it. Once you have installed Discord on your computer, log in and try communicating with your friend.
Hopefully, you are able to resolve the issue using the solutions mentioned in this article.
Read: Fix Discord Connection issues on Windows PC
Why am I stuck on Connecting in Discord?
You will get stuck on the connection in Discord when either your request is getting lost somewhere or when the server is not responding to your request. The latter will happen when the server is down and can not be resolved. As for the former, we recommend you check our guide on what to do when stuck on connecting in Discord.
Also read: Fix Discord login problems.