As Microsoft changed a few things internally regarding the Windows activation, now users can use Windows 11 and 10 forever without activating it with a purchased license key. If you plan to do so, you must know the disadvantages and limitations of unactivated Windows 11 and Windows 10 before finalizing your mind.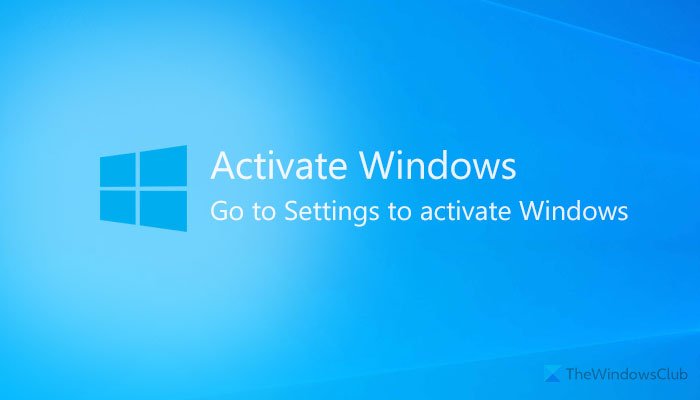 What is unactivated Windows 11/10?
The popular computer operating system, Windows, requires a valid license or product key to be activated entirely. Like a paid software, Windows 11, 10, or other older versions require a license purchased from Microsoft. If you do not buy the license or enter the product key while or after installing the Windows operating system on your computer, it is called unactivated Windows.
Although Microsoft allows users to use Windows 10 and 11 forever without using a product key, there are some limitations that you need to prepare for. There are one significant and multiple minor setbacks, and you may want to know about them before deciding not to buy a product key.
As per the Microsoft retail license agreement,
You are authorized to use this software only if you are properly licensed and the software has been properly activated with a genuine product key or by other authorized method.
However, you want to ignore this statement to continue using Windows 10 or 11; you should know the backend of it.
Disadvantages and Limitations of Unactivated Windows 11/10
These are some disadvantages and limitations of unactivated Windows 11/10:
The Activate Windows watermark
Activation message on Windows Settings
No Personalization settings
Frequent notification to activate Windows
To learn more about these limitations or disadvantages, continue reading.
1] The Activate Windows watermark
Your Windows computer will continue showing an Activate Windows watermark in the bottom-right corner of your screen. Although there are some ways to remove Activate Windows watermark, it may come back when there are some issues with the Registry files. On the other hand, if you do not want to change files in Registry Editor, you would need to live with this watermark.
For your information, it will be visible when you take screenshots or share your screen with someone remotely.
2] Activation message on Windows Settings
A similar Activate Windows message appears all the time in Windows Settings if your copy of Windows is not activated. Whether you are using Windows 11 or Windows 10, you can see the same message. Upon clicking the respective link, you would end up opening the Windows activation panel in Windows Settings.
Like the desktop watermark, this message would appear in every screenshot you capture or videos you record.
3] No Personalization settings
If you do not activate Windows 10 or 11, you cannot change any Personalization settings. In other words, you cannot change wallpaper, theme, title color, Start Menu color, transparency, etc. It shows an error message saying:
You need to activate Windows before you can personalize your PC.
If you often change the desktop wallpaper, lock screen background, theme, etc., you might face troubles doing it on an activated Windows 11/10 – but then there are ways to do this too.
4] Frequent notification to activate Windows
It is probably the most irritating part of not having an activated copy of Windows. You may get countless notifications at a particular interval, asking you to activate your Windows installation with a valid product key. Whether you are watching a movie or reading an article on the internet, you may confront this popup message.
Read: Why not to use a Pirated copy of Windows OS?
Is it OK to use unactivated Windows 10?
If you want to use Windows 10/11 permanently, it is highly recommended to purchase a product key for activation. Otherwise, you may get some issues in the future since the official license agreement doesn't comply with your usage of Windows.
How long can I use unactivated Windows 10?
Technically, you can use unactivated Windows for a lifetime. Gone are the days when Microsoft asked users to buy a license to continue using the operating system.
That's all! Hope this article helped you decide whether you should buy a product key or not.