There is a feature in Microsoft Edge using which you can switch the view mode of tabs from horizontal to vertical view mode. You can add the vertical tabs button via Edge settings and then turn on vertical view mode for tabs. While some users find it useful, others like to keep the traditional horizontal view for opened tabs. If you also like the horizontal mode, then you can completely disable vertical tabs in Microsoft Edge using the Registry Editor.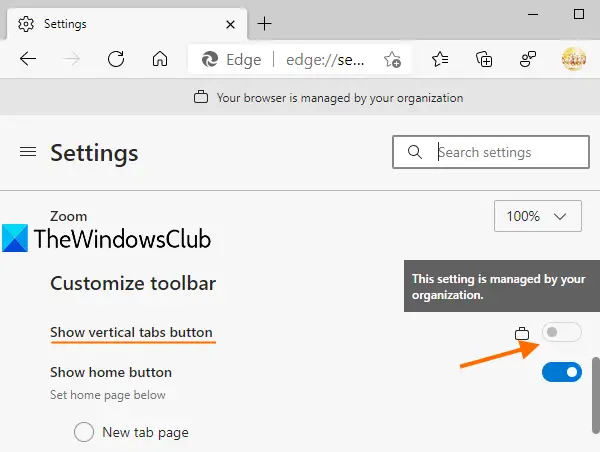 Once the Registry tweak is applied, the Show vertical tabs button in the Edge browser won't work. That Show vertical tabs button will be greyed out or disabled, just like it is visible in the screenshot above. The changes are applied to all the profiles you've created in Microsoft Edge. You can also enable vertical tabs in Microsoft Edge anytime. This post includes all the steps.
Disable Vertical Tabs in Edge using Registry
Before performing any Registry tweak, it is advised to keep a backup of Registry that will help you restore it if something goes wrong. Now follow these steps:
Launch Registry Editor
Access the Edge key
Create VerticalTabsAllowed DWORD value
Add 0 in its Value data to disable vertical tabs.
In the first step, you can use the Search box, type regedit, and press Enter key to launch Registry Editor. You can also use some other ways to open Registry Editor.
In the Registry Editor window, access the Edge key. That key is present under Microsoft key. The path is:
HKEY_LOCAL_MACHINE\SOFTWARE\Policies\Microsoft\Edge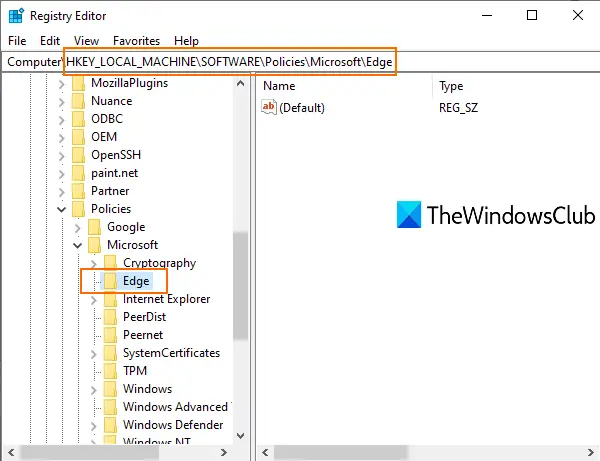 Do note if the Edge key is not visible there, then you need to create a new Registry key, and rename it to Edge.
Now on the empty area of the right-hand section of the Edge key, do a right-click, use the New menu, and click on DWORD (32-bit) Value. This will create a new DWORD value. You need to rename it to VerticalTabsAllowed.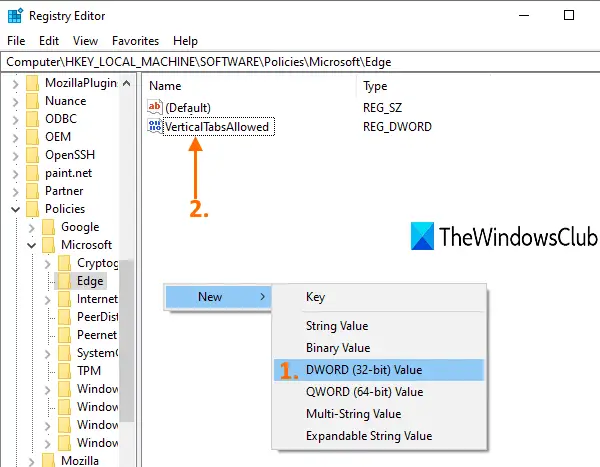 Double-click on that value and you will see a small box. Add 0 in the Value data field of that box and press OK.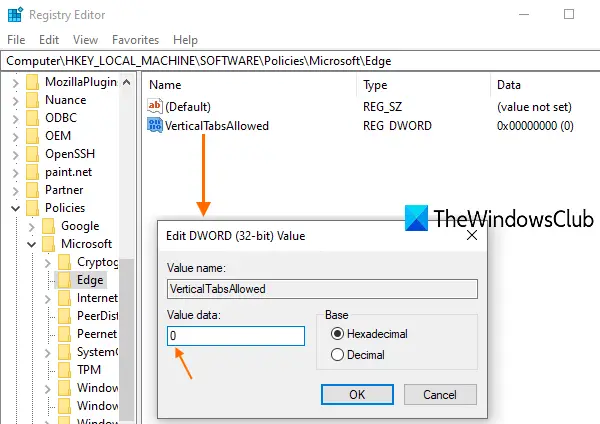 Close all windows of Edge browser if opened already.
Now restart File Explorer or your PC. The changes are applied and the vertical tabs option will be disabled.
To enable vertical tabs again in Microsoft Edge, you can simply delete VerticalTabsAllowed DWORD value, and restart PC or File Explorer to apply the changes.
Hope this tip is helpful.