Like Firefox and Google Chrome, Microsoft Edge also comes with a Data sync feature. You can create multiple profiles on Edge and then sign in with your Microsoft account for any profile, as well as manage data sync. The sync feature lets you sync your Favorites, browsing settings, passwords, history, extensions, collections, etc., across all the devices. If you want to disable sync for all the User profiles, using Registry Editor then this post will help you.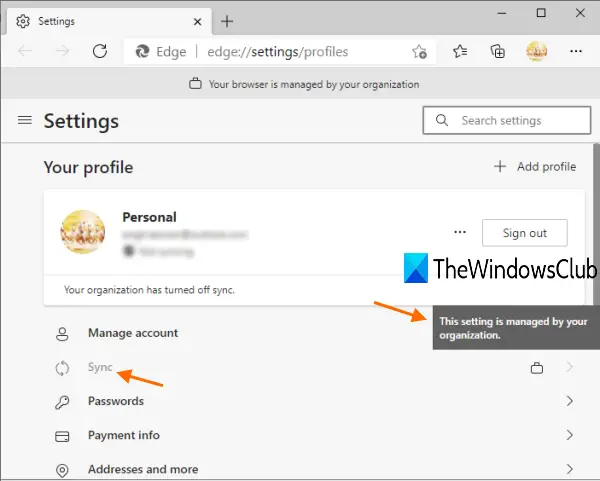 When the sync feature is completely disabled, the Sync option for all profiles will be greyed out (See the screenshot above).
That means neither you can turn on sync nor you can adjust any type of sync settings. This will be applied automatically for all new profiles that you will create. Later, you can also enable data sync again anytime.
Disable sync for all Profiles in Edge using Registry Editor
You should backup Registry before doing any changes so that you restore it later if required. After that, follow these steps:
Open Registry Editor
Go to the Microsoft key
Under Microsoft key, create Edge name Registry key
Create SyncDisabled name DWORD value under Edge key
Add 1 in Value data of SyncDisbable value
Re-start Microsoft Edge browser.
Use the Search box or some other option to open Registry Editor.
Now go to the Microsoft key. The path is here:
HKEY_LOCAL_MACHINE\SOFTWARE\Policies\Microsoft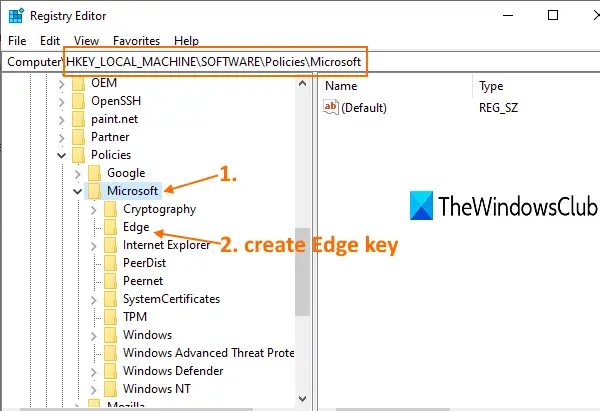 Under Microsoft key, there should be an Edge named Registry key. If it is not present, then create a new key, and then set its name to Edge.
On the right-hand side of the Edge key, right-click on an empty area, select New, and use the DWORD (32-bit) Value. After you've created that value, rename it to SyncDisabled.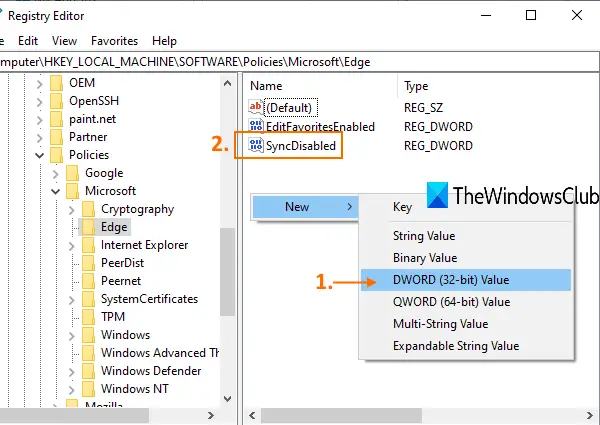 Double-click on SyncDisabled and a box will open. There, add 1 in its Value data field, and press OK.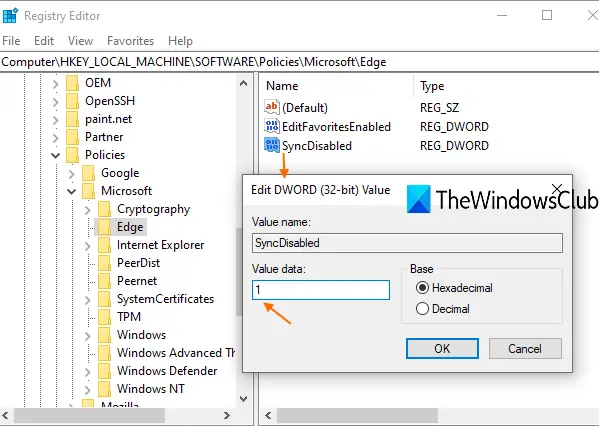 Re-launch Microsoft Edge if it is already running.
Now when you will access the Profiles section for a user profile, you will find that the Sync feature is not accessible.
To re-enable data sync in Microsoft Edge, follow all the above steps, and add 0 in the Value data of SyncDisabled value, and press OK.
Hope this will be helpful.
Related: Fix Microsoft Edge sync issues on Windows.