It is possible to block chat notifications from your Skype profile and let your contacts know you are currently unavailable. Likewise, you can also disable 'Missed call reminders' and 'Missed Message reminders' alerts feature in Skype to stop receiving email notifications. The post shows you how exactly to do this.
Disable Missed call reminders & Missed Message Reminders in Skype
Skype Settings are managed differently depending on your device, i.e., it varies from device to device (PC, Smartphone, etc.) So, if you're unsure how to check your device settings, you may need to check the manufacturer's website.
Skype has introduced an option to send email notifications about missed calls and messages. So, every time you miss a Skype call or message, you receive an email notification for that. If you do not like this feature or find it disturbing, you can easily disable it. Please note that if you have enabled automatic updates for the Microsoft Store apps, this update will be automatically visible on your device.
Assuming you have the Skype app installed on your PC, launch the app.
Click the 'Menu' visible as three dots in the upper-left corner of the Skype window.
Choose 'Settings' from the list of options displayed there.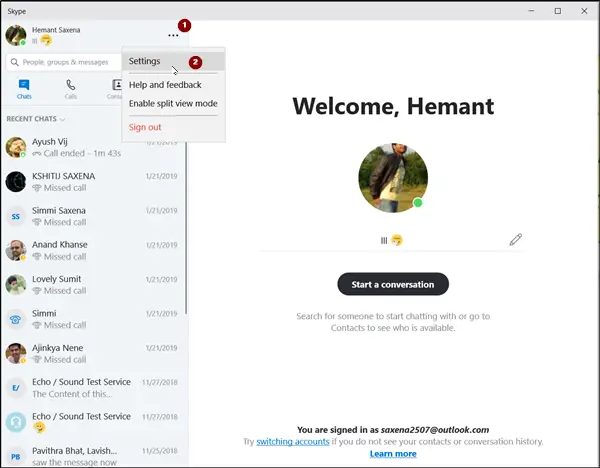 Instantly, the 'Settings' screen should be visible to you. Switch to the 'Notifications' tab, present just below the 'Messaging' tab.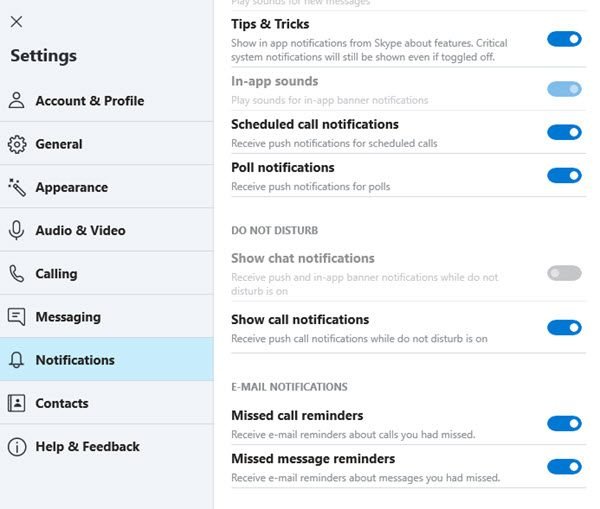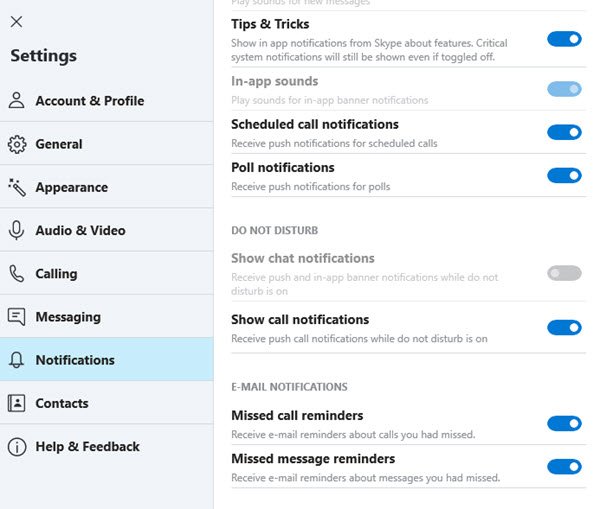 In the right panel, locate 'E-Mail Notifications' heading. Under this heading, you can find two options that we are looking for:
Missed call reminders
Missed message reminders
As you can see in the image above, these options are enabled by default. To disable them, move the slider to the opposite position.
This is how you can disable 'Missed call reminders' and 'Missed message reminders' alerts in Skype and stop receiving an email for every missed call or message.