Hot corners has been one of the salient features of Windows 8 and now its upgrade – Windows 8.1. Despite the benefits, the feature has received intense criticism from some quarters. many users search for a way to disable these hot corners. There are dozens of third-party applications out there that promise to disable hot corners in an instant but downloading them from unknown publishers and then using it doesn't appear to be a good option. Even the registry hack method seems old.
Windows 8.1 comes with some additional navigation controls that make the process of disabling the hot-corners a snap. Here's how to go about.
Disable Hot corners in Windows 8.1
If you are on the 'start Screen', switch to the Desktop mode. There, anywhere on the taskbar right-click and select the 'Properties' option from the context menu.
Next, under the 'Taskbar and Properties' window you will find the 'Navigation' tab just adjacent to the 'Taskbar' tab. Switch to the 'Navigation' tab.
Here, uncheck the box of the description reading- "When i point to the upper-right corner, show the charms" & "When I click the upper-left corner, switch between my recent apps"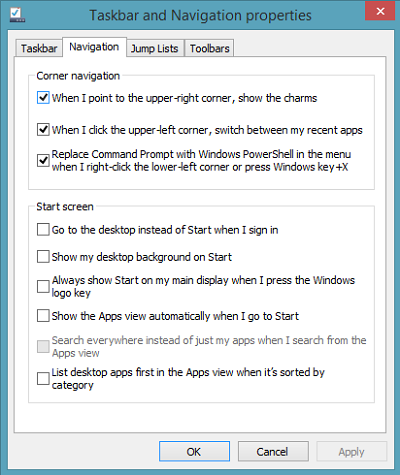 Click 'OK' button when you are done. That's it! You won't find the upper left & right hot corners active anymore when you point the mouse cursor there.
However, at any given time, you can still pull up the charms bar by using the Win + C keyboard shortcut.