Examining the web cache stored on the users' computer can reveal the browsing activity of the user and so to stay private, like other browsers, Microsoft Edge too offers the privacy-focused Edge InPrivate browsing mode. It is a good way to browse the Internet if you want to cover your online tracks, But if you do not find this feature useful or if you would like to disable it in your corporate network for some reason, we show you the way to disable Edge InPrivate browsing mode using Windows Registry or the Group Policy Editor.
Disable InPrivate browsing mode in Edge
Private browsing is provided for a purpose. It ensures all your web searches and online history are not visible to you or others, the next time you log in. InPrivate Browsing helps prevent Edge browser from storing data about your browsing session. This includes cookies, temporary Internet files, history, and other data. Toolbars and extensions are disabled by default. See Help for more information.
To turn off InPrivate Browsing, you need to simply close that browser window. To permanently disable InPrivate browsing, you will have to use REGEDIT or GPDEIT.
Using Registry Editor
To disable this feature, Run regedit to open the Registry Editor and navigate to the following path:
HKEY_LOCAL_MACHINE\SOFTWARE\Policies\Microsoft
When there, right-click on the Microsoft key, click New, and choose Key. Name this new key as MicrosoftEdge.
Now right-click on MicrosoftEdge key, click New, and then click Key to create a sub-folder and name it as Main.
After that, select Main and right-click in an empty space on the right pane. Next, click New > DWORD (32-bit) Value and name it as AllowInPrivate.
Finally, double-click on AllowInPrivate value and ensure its value data is set to "0" (zero). This will disable the InPrivate mode in Edge browser.
The following are the supported values:
0 – Not allowed.
1 (default) – Allowed.
When you restart your computer, you will observe New InPrivate window option is greyed out.
Using Group Policy Editor
You can also disable Edge InPrivate browsing mode via Group Policy method also, To do so, Run gpedit.msc to open the Group Policy Editor.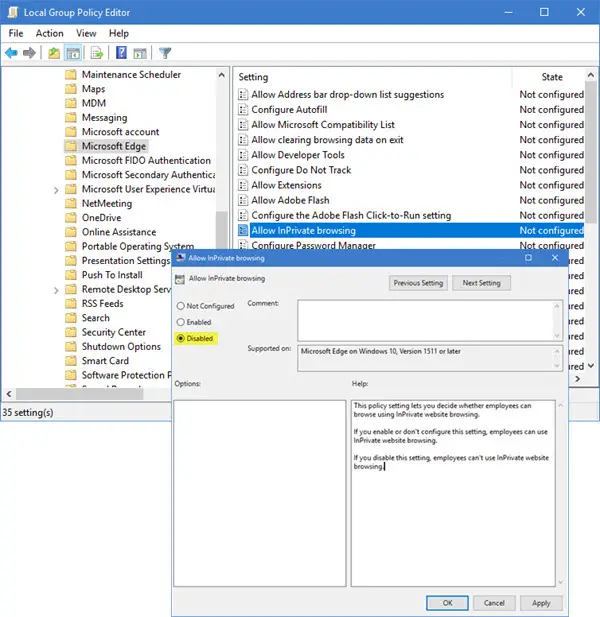 Now navigate to the following setting:
Computer Configuration > Administrative Templates > Windows Components > Microsoft Edge
Double-click on Allow InPrivate browsing and set it to Disabled.
This policy setting lets you decide whether employees can browse using InPrivate website browsing. If you enable or don't configure this setting, employees can use InPrivate website browsing. If you disable this setting, employees can't use InPrivate website browsing.
Click Apply and exit.
Hope this helps.
Users of Chrome and Firefox can see this post if they want to Disable Private Browsing.